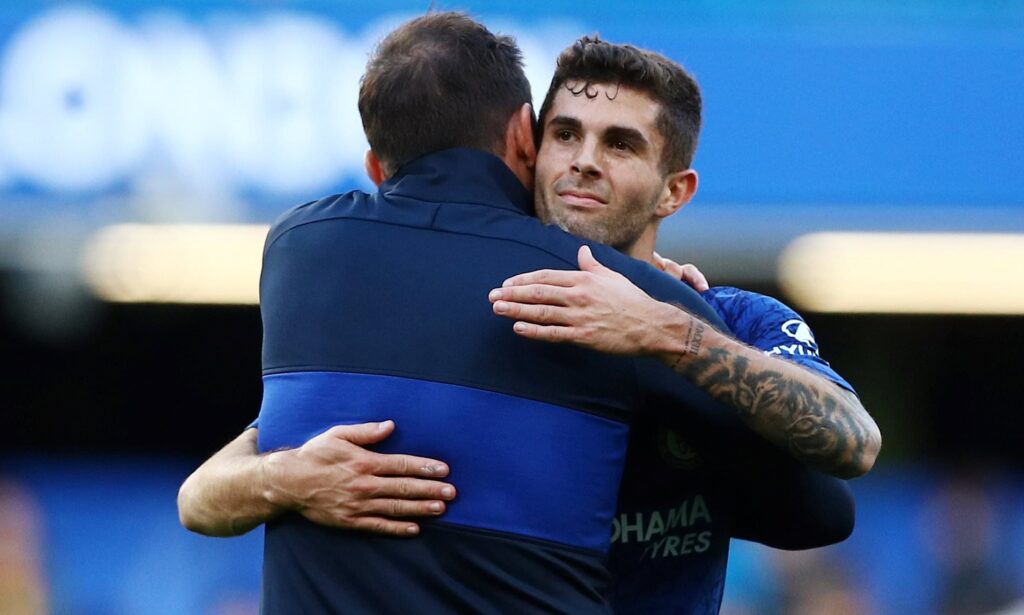 Christian Pulisic has been asked what to do to become one of the "stars in the country" with Chelsea manager Frank Lampard asking even more from the young 21-year old American.
The United States International in English Premier League has celebrated a fruitful debut campaign at Stamford Bridge from the summer of 2019.
Pulisic realizes he always has a long way to go until he can pose among the legends of the game.
Lampard told media his expectations for Pulisic before Sunday's FA Cup semi-final battle with Manchester United:
"Well I have seen a real improvement in his all-round game." – Frank Lampard said.
"Coming to the Premier League is very difficult because of the physical nature of the league and we have to remember how young he is and the summer he had." – he added.
Within the Blues camp, though, there is trust that excellent growth can be sustained. Helping himself to attach even more attributes to his game and reach ever higher elevations says Lampard.
Also read: Arteta looking forward to transfer window
"I think he found those physical demands pretty strong in the beginning and now you are seeing him deal with it better. A lot of that can be credit to himself and how he has approached it.
Pulisic is overcoming as the future of Chelsea with his brilliant performances this season. The US International seems to fit the role of former Blues man, Eden Hazard says Lampard.
"He has worked a lot with our strength and conditioning coach, Adam Burrows, who is fantastic. They have worked a lot together, but it is Christian who has to take on that responsibility and he has. Physically that has helped him.
"Also, just his talent is coming through. Looking forward, I probably want to see more of what he has shown in recent times, which is goals and assists, because that is what the best in the world do in that position.
"I feel he has the capability to do that as he improves. That can be the edge as his game goes on and moves on levels." – the Blues manager concluded.
Chelsea will face Manchester United in the FA Cup semi-finals in their next match this weekend.
Also read: Ruben Loftus-Cheek will stay at Chelsea