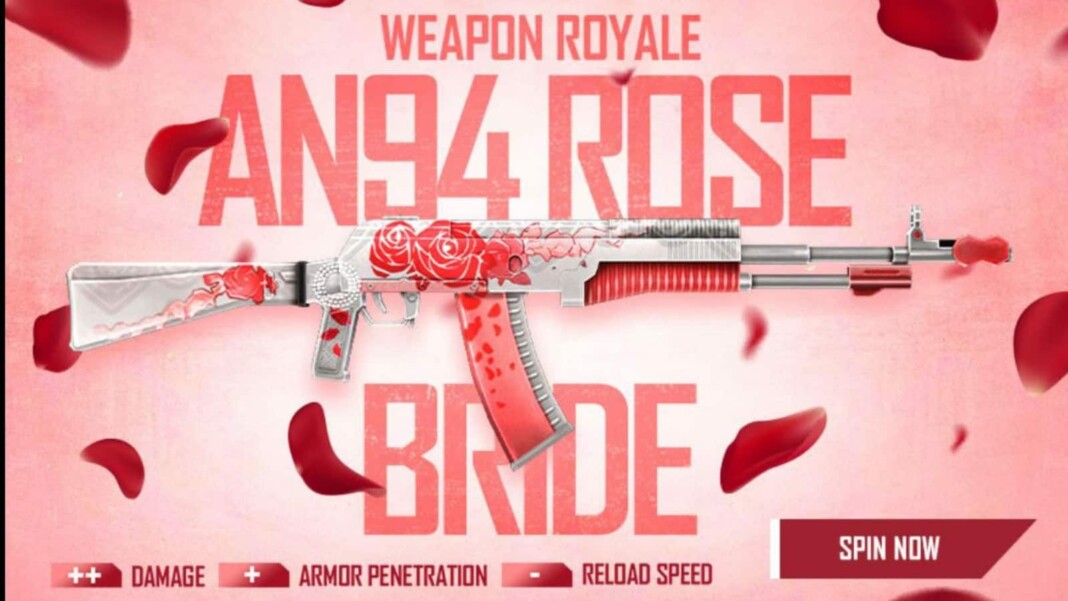 Free Fire has a ton of on-going events cause of the recent OB28 update and the events keep coming to reward the players! In this article we take a look at the Free Fire AN94 Rose Bride Weapon Royale and how to get the weapon cosmetic.
Free Fire is a massively popular battle-royale survival shooter and has garnered a massive fan-base. Likewise, players like to collect cosmetics and more for their weapon and characters. Many events in the game reward the players with cosmetics and more and players need to play within the time period to obtain them.
Down below we take a look at how to get the Free Fire AN94 Rose Bride Weapon Royale.
Free Fire AN94 Rose Bride in Weapon Royale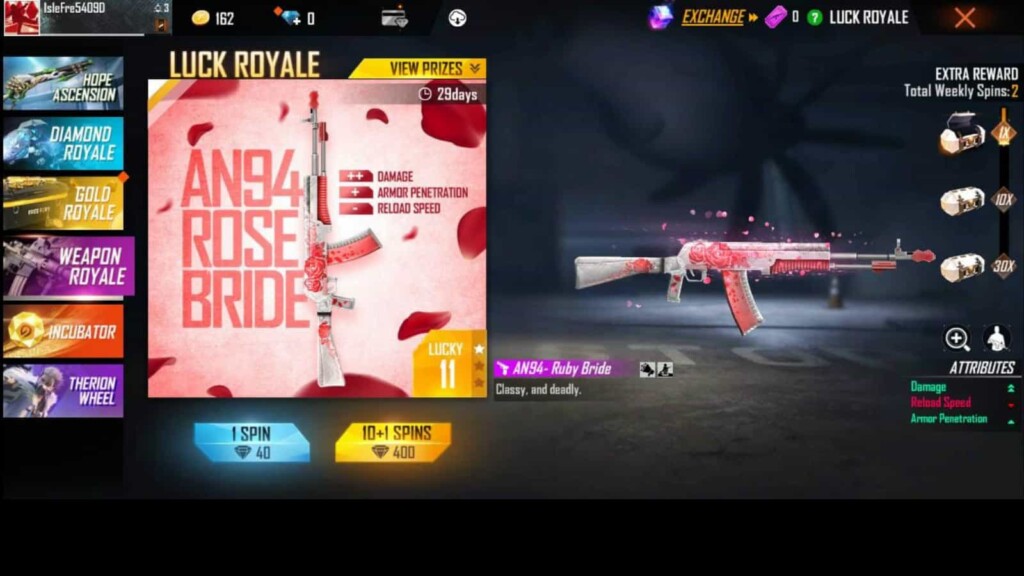 The weapon royale spin receives new weapon cosmetics for the players to get very often and the latest one is the Free Fire AN94 Rose Bride.
Related: Top 5 Most Expensive Characters In Free Fire After OB28 Update
The new weapon royale gun skin, the AN94 Rose Bride has the following buffs:
Damage ++
Armor Penetration +
Reload Speed –
Players can spin the wheel in the Weapon Royale lucky spin 1 time for 40 diamonds and 10+1 time for 400 diamonds. Players can fill the Luck Meter to increase their chance of winning the grand prize.
The complete prize pool contains:
AN94-Ruby Bride
Urban Ranger (SKA, SPAS12, AK47)
Imperial Rome (FAMAS, Kar98k, MP5, AK)
Bumblebee (Sting, Swarm, Rattle)
Pharaoh's (Eyes, Wings, Rage, Eye)
Bounty Token Playcard
Resupply Map playcard
Summon Airdrop playcard
Bonfire Playcard
Scan Playcard
Bounty Token
Resupply Map
Summon Airdrop
Bonfire
Scan
The weapon royale in Free Fire will be here until 13th July, 2021.
How to access the Weapon Royale?
Players can open their Garena Free Fire app and navigate to the Luck Royale section on the left of the home-screen.
After this select the Weapon Royale tab from the left side and the spin will open.
Players can spin the wheel to get the Grand prize.
Follow our Instagram page for more updates on gaming and esports!
Also read: Free Fire redeem codes for June 15, 2021: Get Free Rewards!