Despite of being busy arranging several special events on Diwali for the players in India, Garena has made it certain that the Free Fire Asia Championship 2021 begins with full vigour. The tournament which is set to take place this month features a whopping prize pool of 3 Crore and now the officials have announced the prize pool distribution.
Free Fire Asia Championship 2021 as well Free Fire EMEA Championship 2021 is knocking on the door to fill the void of Free Fire World Series 2 which was unfortunately cancelled due to the pandemic. Both of these tournaments will decide the ultimate champions from each region, therefore professional players are highly looking forward to it. Let us now look at all the details of FFAC 2021.
Free Fire Asia Championship 2021: Qualified Teams
Free Fire Asia Championship 2021 or FFAC 2021 will be played in two stages- Play-Ins and the Finals. The former will commence from 20th November,2021 whereas the latter is scheduled to take place from 28th November,2021. The teams who will be able to qualify at the Play-Ins as well as the Finals were decided from regional tournaments of each country.
Play-Ins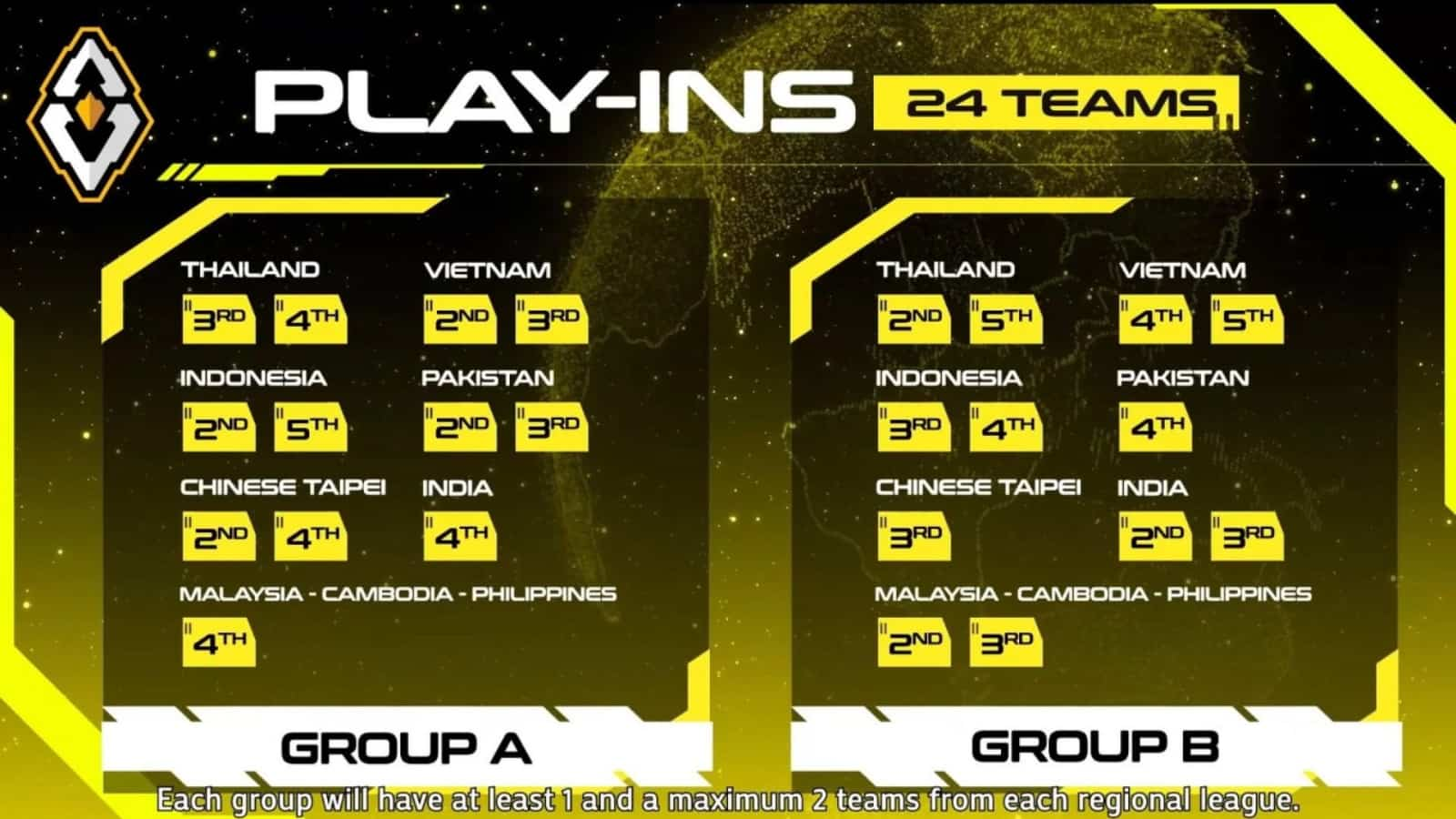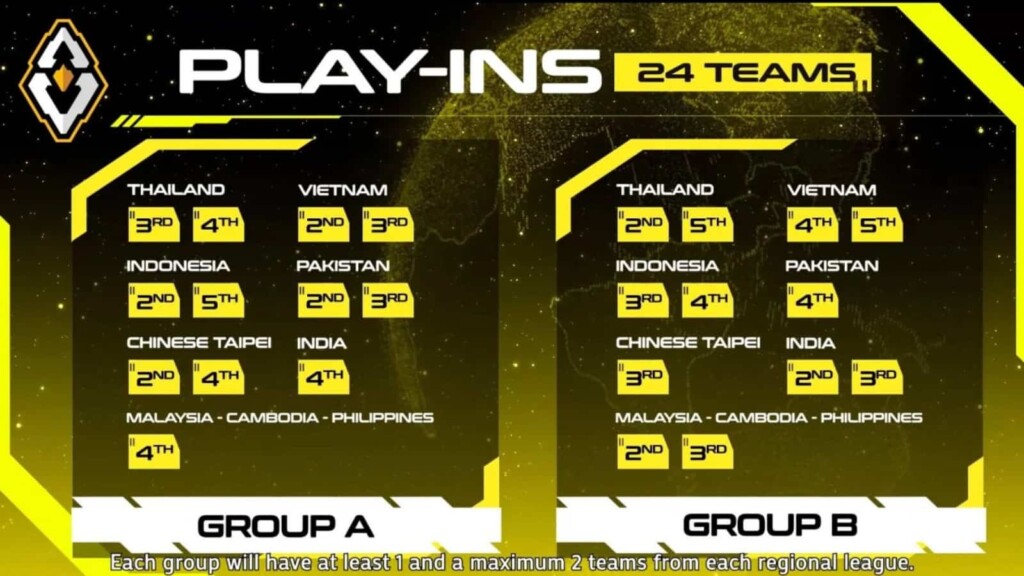 HQ Esports (Vietnam)
God of Wolf (Vietnam)
Heavy (Vietnam)
BOX Gaming (Vietnam)
SES Alfaink (Indonesia)
Siren GPX (Indonesia)
The Pillars Rapier (Indonesia)
DG Esports (Indonesia)
EVOS Pheonix (Thailand)
SYZYGY (Thailand)
King of Gamers Club (Thailand)
CGGG (Thailand)
EPIC (Taiwan)
回遊仔也想打比賽 (Taiwan)
台灣總冠軍 (Taiwan)
DoEasy (MCP)
4X Men Xpert (MCP)
Supreme Assault Forces (MCP)
PVS Gaming (India)
Total Gaming Esports (India)
Desi Gamers Esports (India)
Five Mutants (Pakistan)
No chance ES (Pakistan)
House of Blood (Pakistan
Related: Free Fire Max redeem codes for 3rd November, 2021: Get Weapon Royale Voucher!
Finals
Team Elite (India) – from Free Fire India Championship 2021 Fall
EVOS Divine (Indonesia) – from Free Fire Indonesia Masters 2021 Fall
eArena (Thailand) – from Free Fire Pro League Thailand Season 5
Hotshot Esports (Pakistan) – from Free Fire Pro League Pakistan Season 2
Blacklist International (MCP) – from MCP Majors Season 2
LGDS (Taiwan) – from Free Fire Summer cup 2021
Burst the Sky (Vietnam) – from Vietnam Free Fire League Series A 2021 Winter
These teams have qualified towards the finals as they were the winners of their respective regional leagues.
Prize Pool Distribution
As Free Fire Asia Championship 2021 features a massive prize pool of $400,000 (3 Crore), the winner will take a lion's share of $80,000 (60 lakhs). Moreover, the MVP as well as the participating teams will be given a cash prize. The total prize pool has been distributed in the following way: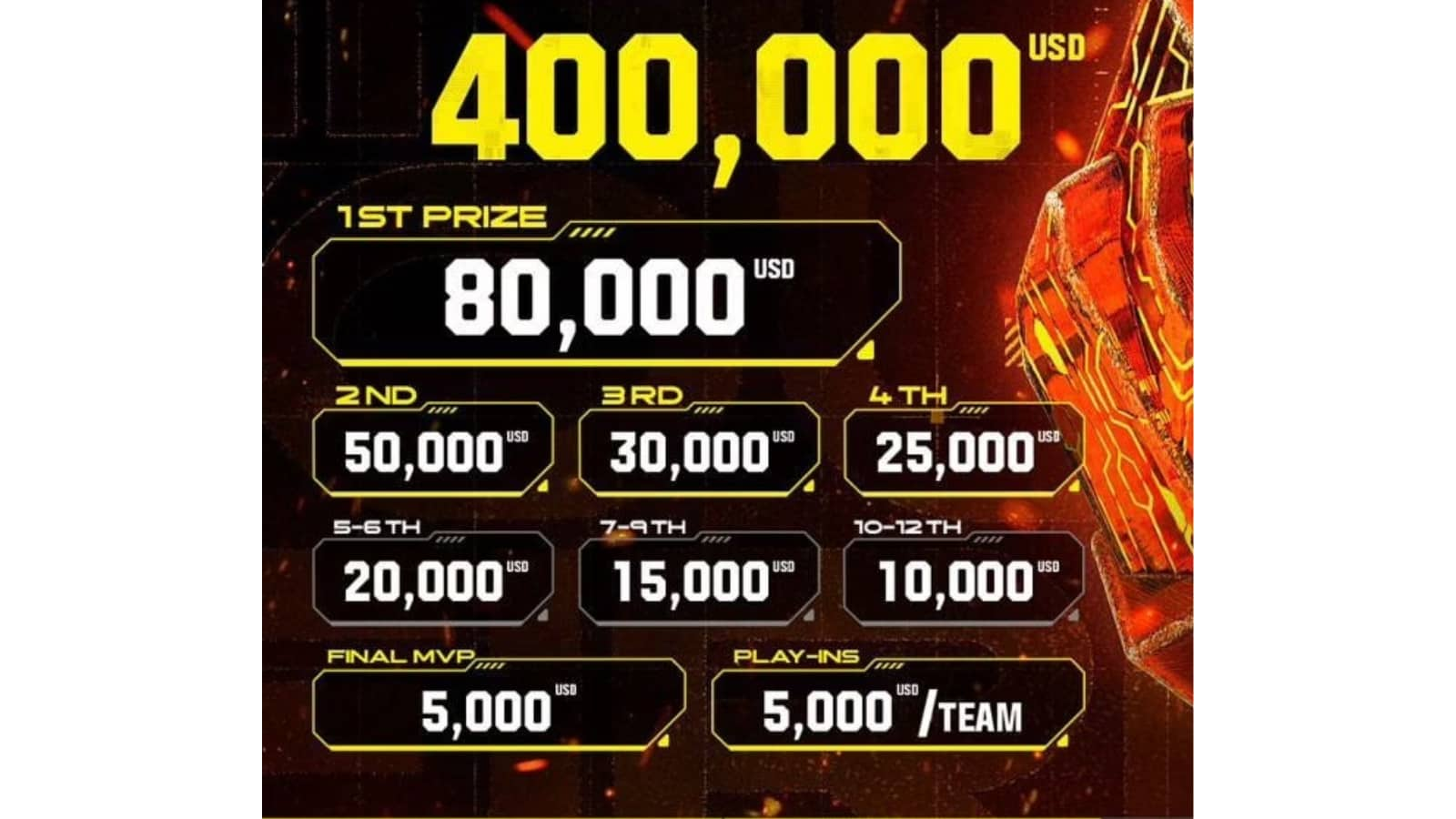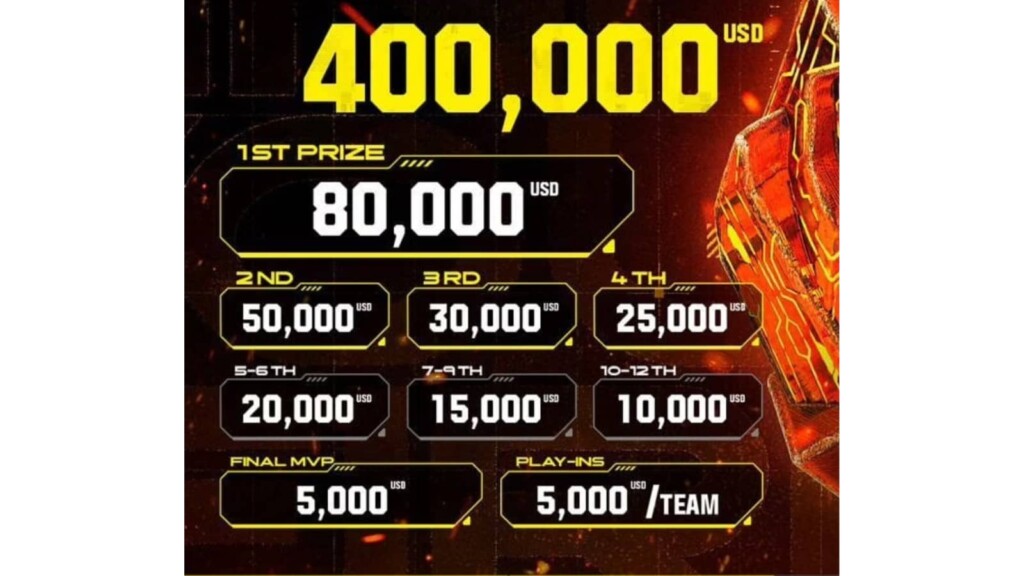 1st Position (Winners) – $80,000 (₹60 Lakhs)
2nd Position (1st Runners-up) – $50,000 (₹38 Lakhs)
3rd Position – $30,000 (₹22.5 Lakhs)
4th Position – $25,000 (₹18.7 Lakhs)
5th Position – $20,000 (₹15 Lakhs)
6th Position – $20,000 (₹15 Lakhs)
7th Position – $15,000 (₹11.2 Lakhs)
8th Position – $15,000 (₹11.2 Lakhs)
9th Position – $15,000 (₹11.2 Lakhs)
10th Position – $10,000 (₹7.5 Lakhs)
11th Position – $10,000 (₹7.5 Lakhs)
12th Position – $10,000 (₹7.5 Lakhs)
Finals MVP – $5,000 (₹7.5 Lakhs)
Play-ins participating team – $5,000 (₹3.75 Lakhs)
Also Read: Top 5 Best Characters With Active Ability For Free Fire Clash Squad Mode For November 2021