Free Fire City Open Chennai Finals have been concluded with the Jallikattu TN being victorious and as the champions. Topping the overall points table by 85 points, the team has confirmed their spot in the National Finals, which are scheduled to held on August 15.
After the conclusion of six matches on the Finals day, Jallikattun TN have dominated the Chennai finals points table and have secured a total of 85 overall points and 38 kills. Slumber queen followed them closely, and has managed to clinch the second spot with 75 points and 37 kills. Badge 99 and Raven eSports finished third and fourth spots of the Finals with 65 points each.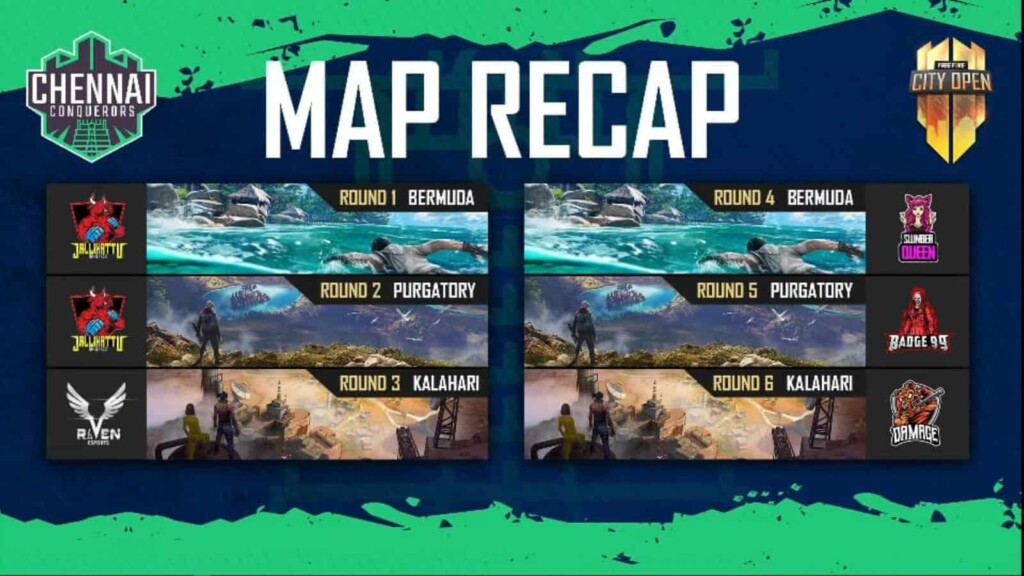 Read More: Free Fire Has Got 100 Million Downloads In The First Half Of 2021
Free Fire City Open Chennai Finals 2021: Overall Standings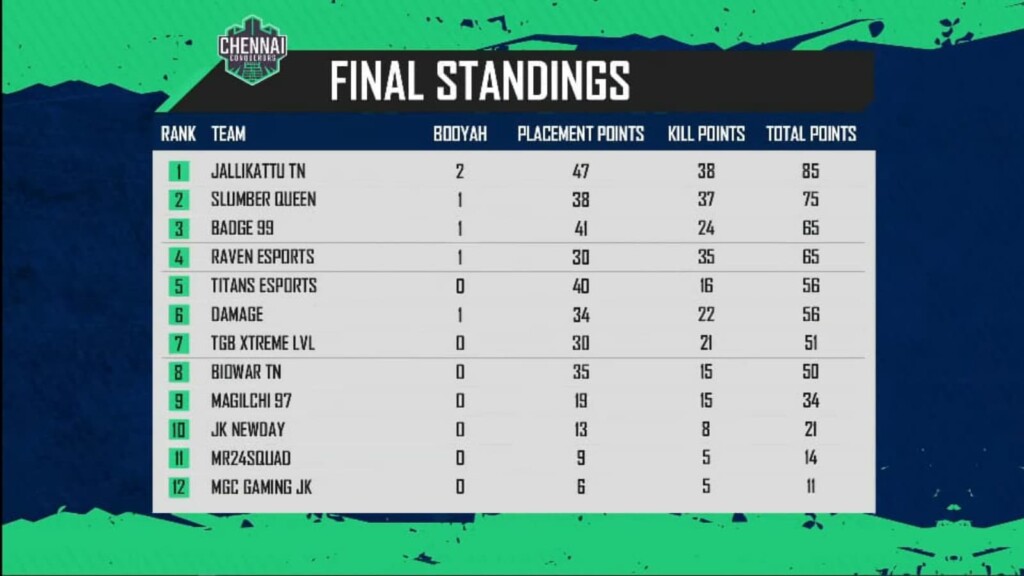 The first match of the Finals was claimed by Jallikattu TN team with eight kills to their name which was played on Bermuda Map. Badge 99 finished second in this match with 3 kills.
The second match, was played on Purgatory was again won by Jallikattu TN team with 10 frags to their name, where Nikhil from the team alone took 6 kills. Titan eSports secured the second position with 2 kills.
The match match was claimed by Raven Esports with 12 kills which was played on Kalahari. Jallikattu TN finished at fourth spot with 2 kills in this match.
The fourth match was won by Slumber Queen with nine kills, followed by Raven Esports being finished at the second position with 8 kills.
Badge 99 emerged victorious in the fifth match with a total of 9 kills where the winners and Slumber Queen have secured 10 kills each.
Team Damage has clinched the top spot and won the final match of the day with eight kills. Team Jallikattu TN has finished in fourth spot where as Titan eSports at the second and Badge 99 at the third place.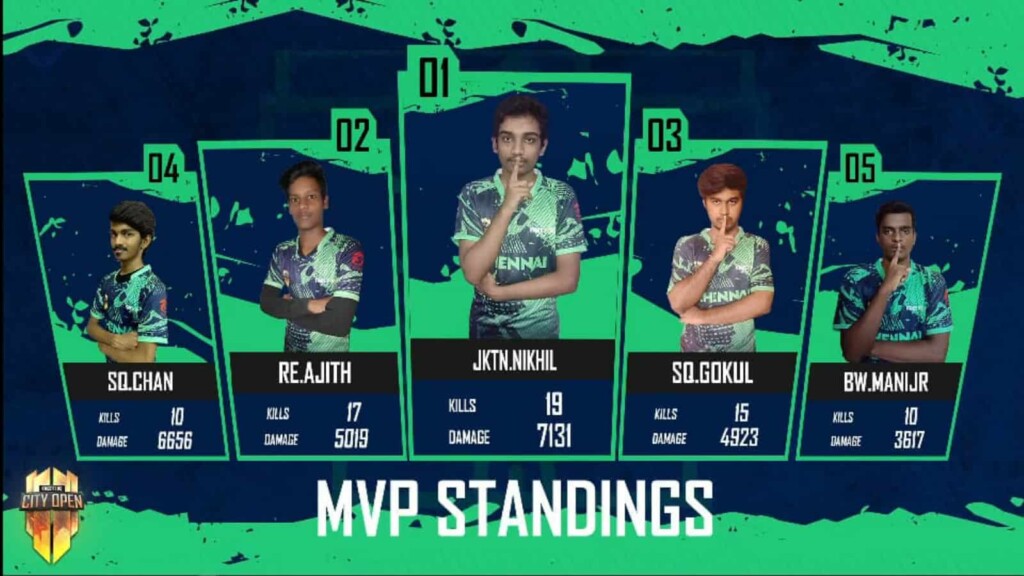 Nikhil, from the dominating team Jallikattu TN, awarded with the MVP title of the Chennai finals for a remarkable performance of dealing 7131 damage and securing 19 kills.
Free Fire City Open 2021 Prize Pool Distribution
Position
Team
1st
Jallikattu TN
₹1,00,000
2nd
Slumber Queen
₹50,000
3rd
Badge 99
₹25,000
4th
Raven Esports
₹25,000
Also Read: Slumber Queen vs BlackPink Gaming: Who Has Better Stats In Free Fire In June 2021?