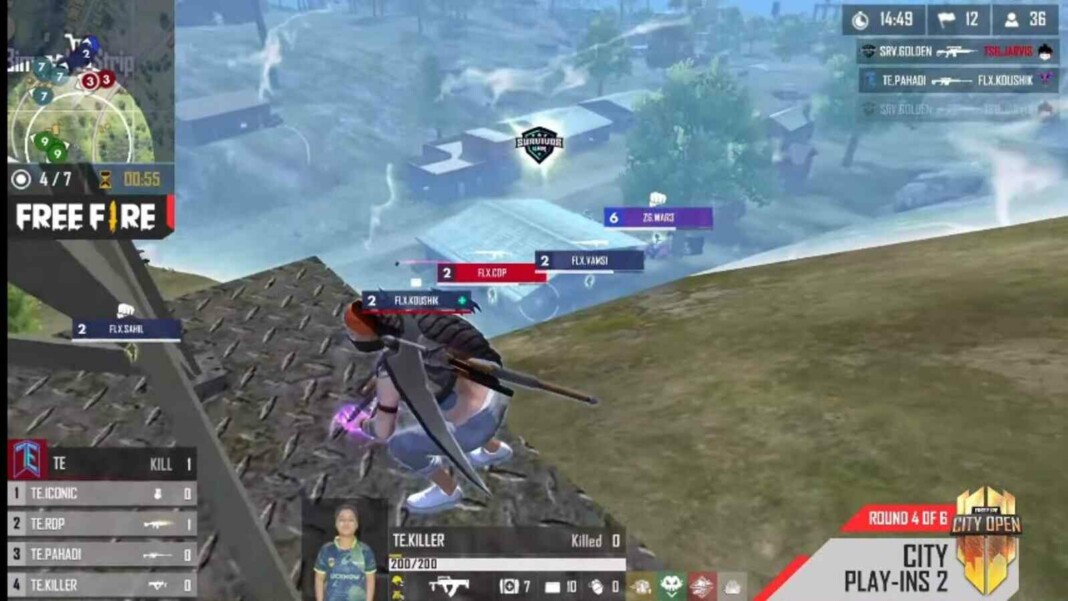 Free Fire City Open Play-Ins 2 has been concluded with 6 top teams in the overall standings table marking their spots in the City Play ins Finals which are set to be held on July 30. Check out the top six teams qualified for Play ins finals and more here.
The day was concluded with six matches played by 12 teams who ranked 2-4th spots in the overall standings table of Mumbai, Lucknow, Vizag and Chennai Finals.
Here are the teams qualified for Free Fire City Open play-Ins Finals from Today's Play-Ins 2:
Team Elite
Badge 99
Slumber Queen
TSG Army
Raven Esports
4Xtraordinary
Following are the teams who battled for their spot in the Play-Ins Finals: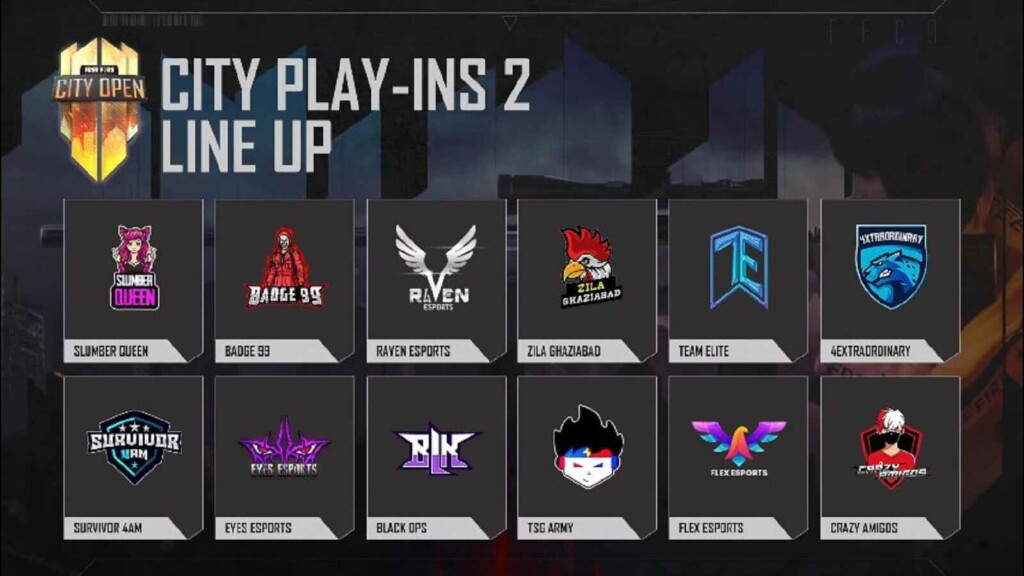 1. Team Elite
2. Crazy Amigos
3. TSG Army
4. Black Ops
5. Zila Ghaziabad
6. Raven Esports
7. Survivor 4 AM
8. Slumber Queen
9. Eyes Esports
10. 4xtraordinary
11. Flex Amigos
12. Badge 99
After six matches of bloodshed gameplay, the day concludes with Team Elite picking the top spot in the overall standings table with 94 points and 43 kill points. Badge 99 has managed to secure the second spot with 71 points and 26 kills. With no points difference, Slumber Queen took the third spot with 71 points as well. Let us know how the day got played.
Read More: Top 5 Mistakes Players Do In Free Fire Ranked Mode
Free Fire City Open Play Ins 2 Overall Standings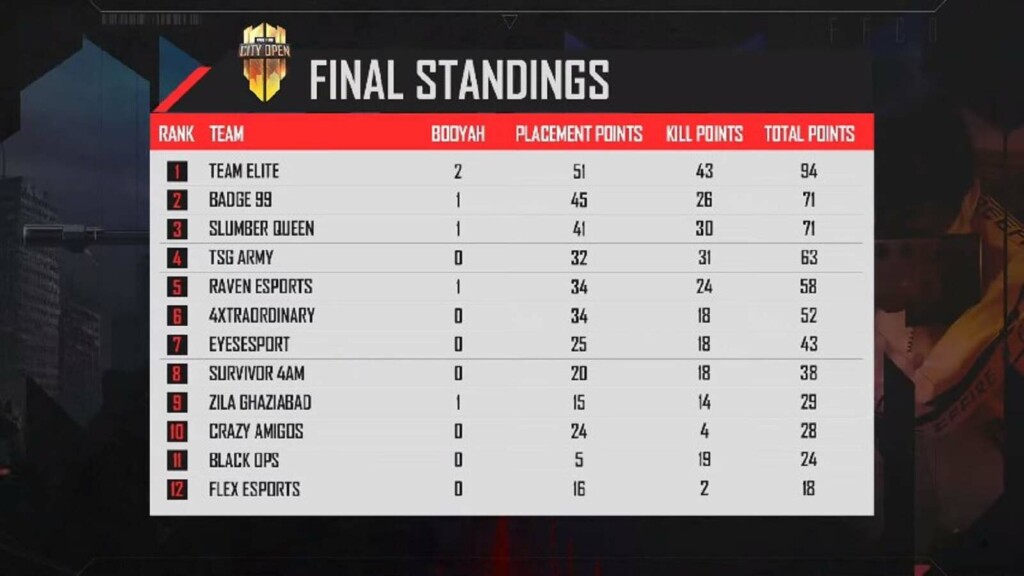 The day started with the first match being played in Bermuda, which was won by Team Badge99 with 13 kills. TSG Army finished being at second place with 8 kills. Eyes Esports did play well and secured 6 frags but they have got an early elimination.
The second match was played on Purgatory map and this match was claimed by Team Zila Ghaziabad with 5 kills under their name. Team Elite has got #2 in this match who had secured 6 kills, whereas Team Survivor 4 AM took 7 kills but received an early elimination.
Slumber Queen emerged victorious in third match whih was played on Kalahari map. The team secured an impressive number of kills i.e., 16 in number. Team Elite has shown a decent gameplay and managed to pull out 11 kills by etting #2 in third match.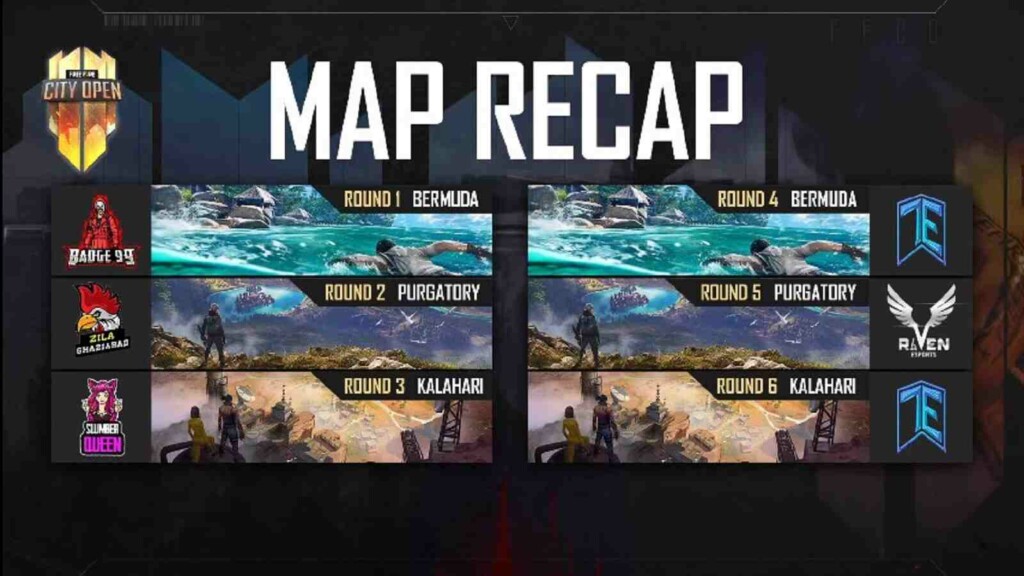 The fourth match has seen Team Elite getting the booyah with 7 frags. Badge99 took #2 with only 2 kills. Slumber queen was eliminated at no.3 spot with only 1 kill.
Coming to the fifth match, Team Raven Esports got the win with a total of 11 kills under their name. Team TSG Army was eliminated at 4th spot with 10 kills whereas Team Badge 99 and Slumber queen finished at 2 and 3rd places respecitvely with 4 kills each.
The last and finals match of the day was dominated by Team Elite with ten kills. Slumber Queen finished at second place with 6kills, Meanwhile, Team Revolution finished at 3rd spot with three frags.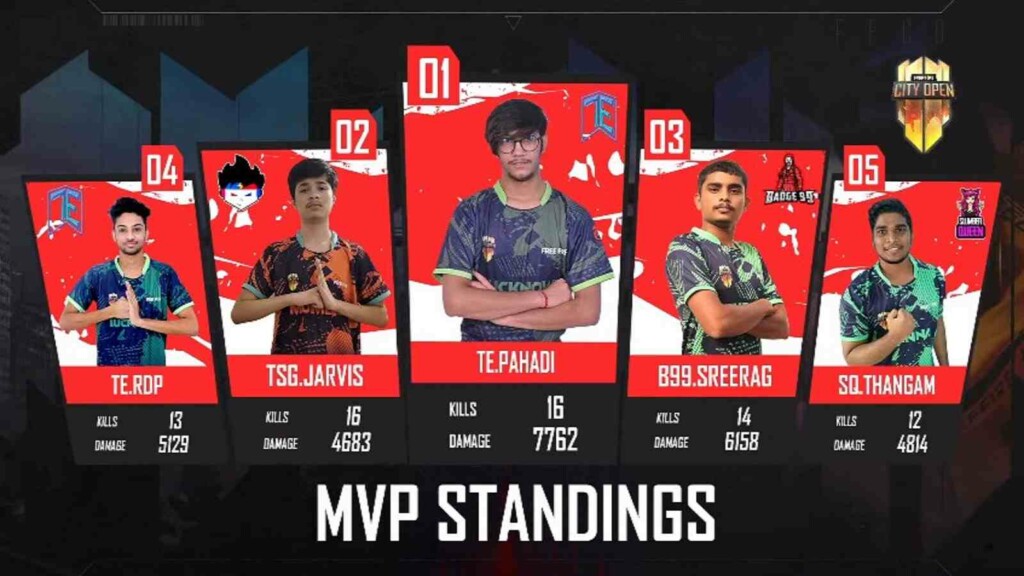 Pahadi, from Team Elite, was awarded the MVP title of the City Play-Ins 2 for a remarkable performance of dealing 7762 damage and securing 16 kills.
12 teams from both the Play-Ins rounds will qualify for the Play-Ins Finals which are scheduled to take place on July 30. You can watch the Play-Ins Finals on Free Fire Esports India YouTube channel.
Also Read: Free Fire 4th Anniversary Everything You Need To Know