Free Fire City Open 2021 is an ongoing region exclusive tournament in India. So far, a total of 8 regional finals have been completed and today the Wild Card Finals have been concluded with two teams bagging their seats in the National Finals which are scheduled to be held on August 15.
Wild Card Finals is one of the tournament stages of FFCO 2021 where 12 teams competing for their place in the National Finals. The top 12 teams which did not represent any region from the FFC Mode Qualifiers had been given a chance to grab their direct spot in the National Finals.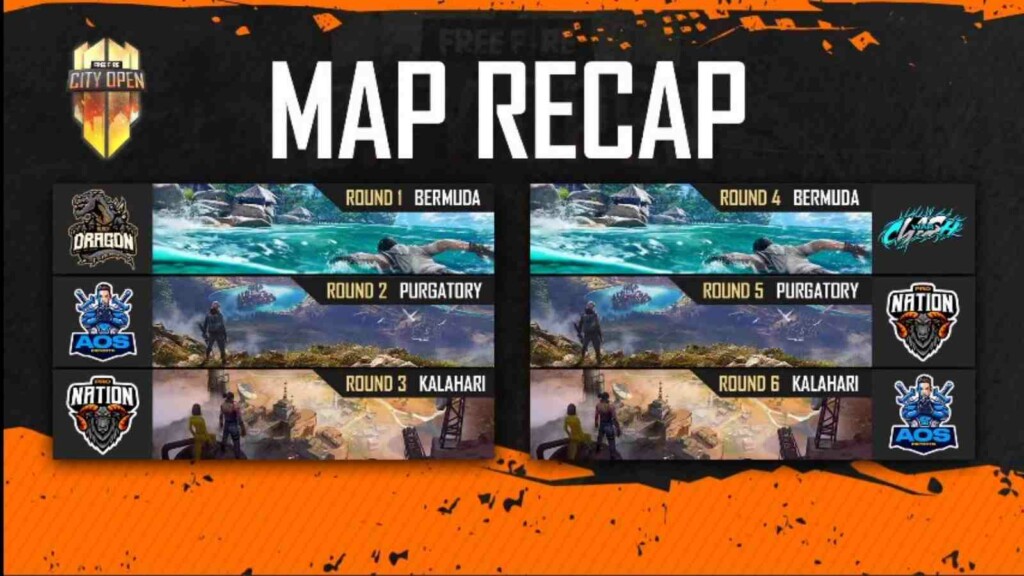 At the end of the day, Pro Nation had qualified for the FFCO 2021 National Finals by securing 45 kills and 95 overall points with 2 booyahs. Following them is Team Titanium Army which secured the second spot with just a single point higher than AOS Esports which stands at number 3. Team Titanium Army finished second with 79 overall points (37 kills) whereas Team AOS Esports finished third with 78 overall points (28 kills).
Also Read: Helping Gamer Free Fire ID, Stats, K/D Ratio, YouTube Earnings And More Fore July 2021
Free Fire City Open Wild Card Finals Overall Standings: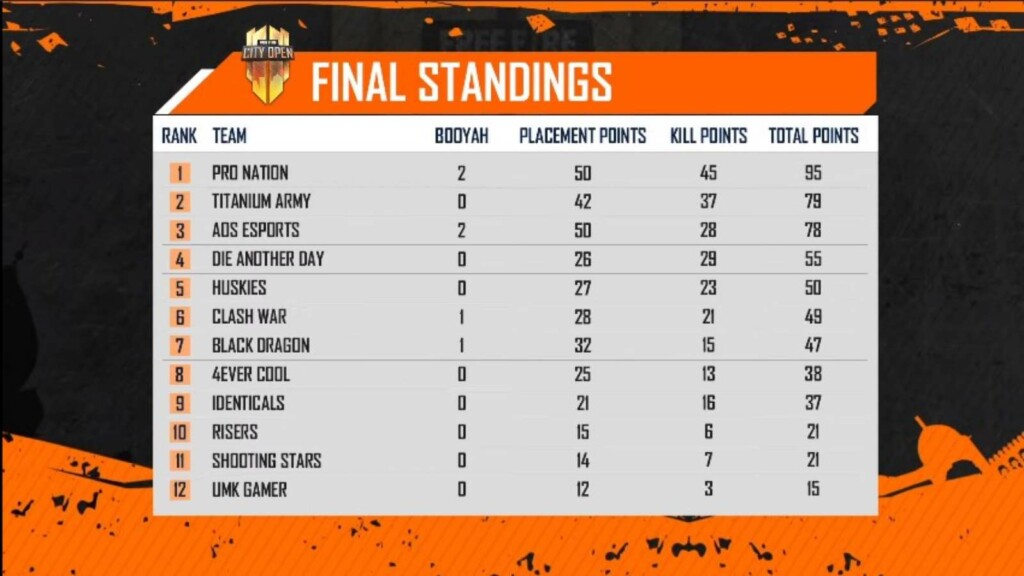 The first match of the Wild Card Finals was played on the Bermuda map, it was claimed by Team Black GDragon by taking 7 kills to their name. Team Titanium Army finished second with a total of 14 kills.
The second match of the day was played on Purtagory Map which was won by AOS esports by taking a total of 10 frags to their name Titanium Army clinched the second spot with 4 kills. Pro Nation has played well in this match and they have made 10 kills o their name.
The third match was won by Pro Nation by securing 14 frags whereas Titanium Army again finished second with 4 kills. This watch was played on Kalahari.
Clash War emerged victorious in the fourth match of the day by taking a total of 9 kills to their name. AOS Esports finished at the second spot with 2 kills whereas Titanium Army got an early elimination but have secured 9 kills in this match.
The fifth match was won by Pro Nation again with 7 kills whereas Die Another Day has stood at the second spot in this match with 9 kills.
The last and sixth match of the wild card finals was won by AOS Esports where they have taken 9 kills. Die Another Day and 4ever cool has finished at second and third places with 6 kills each.
FFCO 2021 Wild card Finals MVP Standings: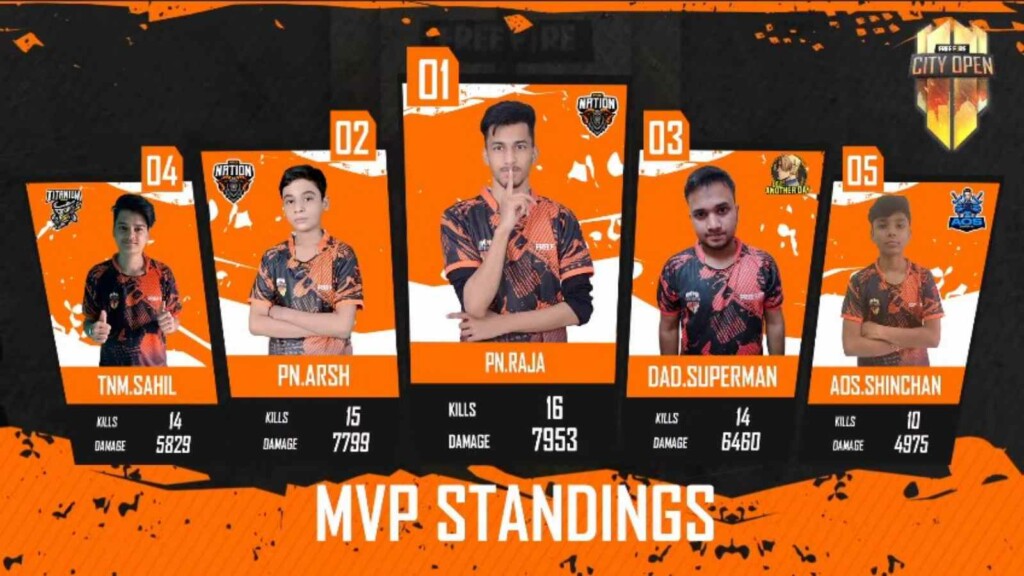 Raja, from the Top team Pro Nation was awarded the MVP title of the Wildcard Finals for a remarkable performance of dealing 7953 damage and securing 16 kills.
Prize Pool Distribution: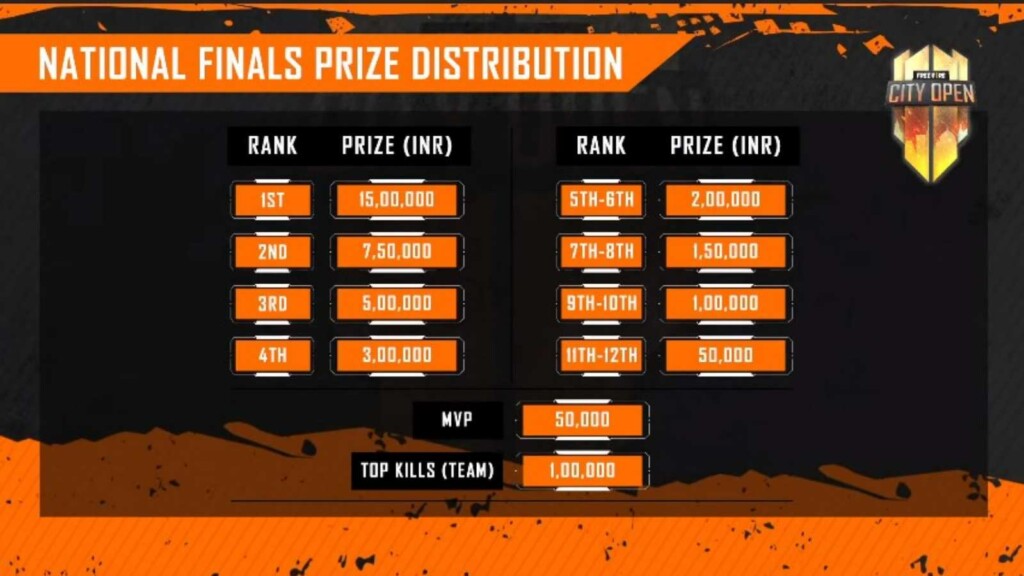 | | | |
| --- | --- | --- |
| Position | Team | Prize Money |
| 1st | Pro Nation | ₹1,00,000 |
| 2nd | Titanium Army | ₹50,000 |
| 3rd | AOS Esports | ₹25,000 |
| 4th | Die Another Day | ₹25,000 |
Also Read: Garena Free Fire bans 1,348,888 users for using cheats and hacks in the last two weeks