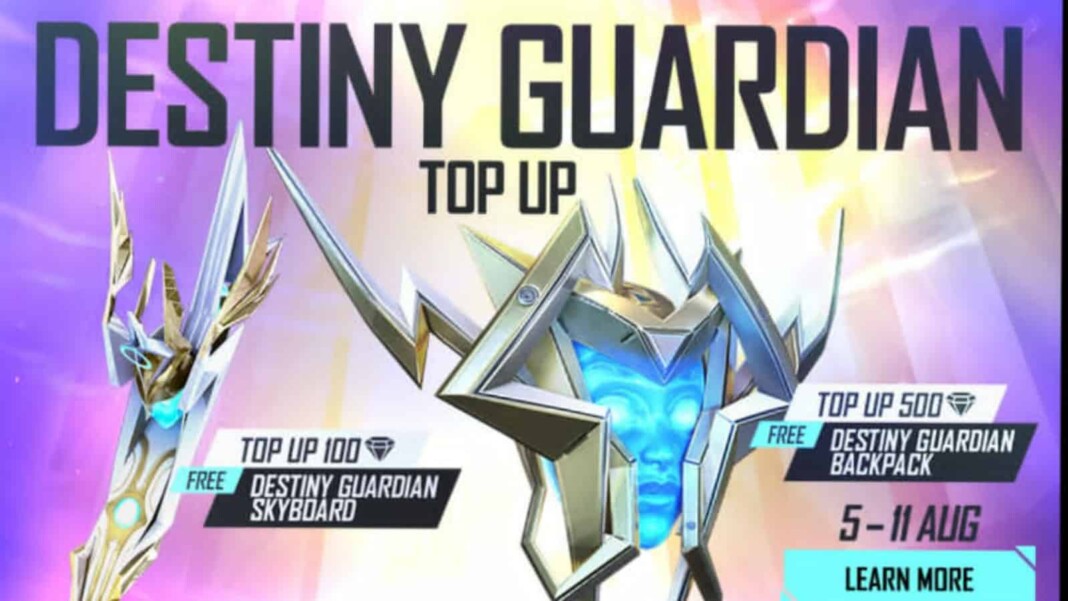 Free Fire has brought in a new Top up event today after the OB29 update. Here, in this article, we will look at how players can complete Free Fire Destiny Top up event to get Destiny Guardian skyboard and backpack skin for free.
Free Fire developers never fail to amuse their users. They bring several luring items into the game to keep the game's content fresh and engaging. The game has a ton of partnerships under their name with popular brands and personalities. The new OB29 patch notes and update have brought so many changes to the game.
Top Up events are not a newbie in the game and we have seen some of the legendary skins under top-up events. McLaren P1 Helios car skin was made available in the game under a top-up event soon after the release of the OB28 update. This time, the developers have brought in Destiny Guardian skin and a backpack skin under the new Destiny Top-Up Event. Let us know how you can get them for free.
Read More: Free Fire 4th Anniversary Details And Date Revealed
Free Fire Destiny Top up Event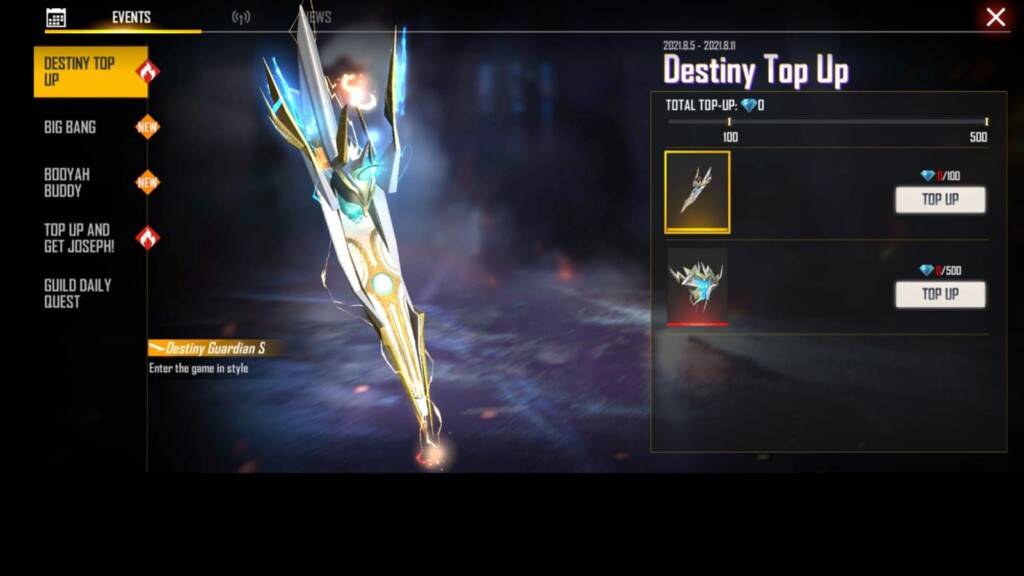 A new Destiny Top Up event has been released today and will go live for a few days. The event commences from today i.e., August 5, 2021, and will go live up to August 11, 2021. During the event duration, players can grab the chance of getting the Skyboard and backpack skin for free.
In order to get the Destiny Guardian (surfboard skin), Players have to top up an amount of 100 diamonds to unlock the skin and play with it. The Destiny Guardian backpack skin will cost you an amount of 500 diamonds top-up. But the skins are unlocked if you top up diamonds and there is no need to buy these skins. You can use the diamonds for other purposes in the game.
Destiny Guardian Skyboard skin: Top up 100 diamonds
Destiny Guardian Backpack: Top up 500 diamonds
Top-up event start and end dates:
Starting date: August 5, 2021
End Time: August 11, 2021
---
How to access the event
Follow the given steps below to access the event
Step 1: Open Garena Free Fire on your device. Once you are in the main lobby, click on the 'Calendar' icon present on the right side of the screen.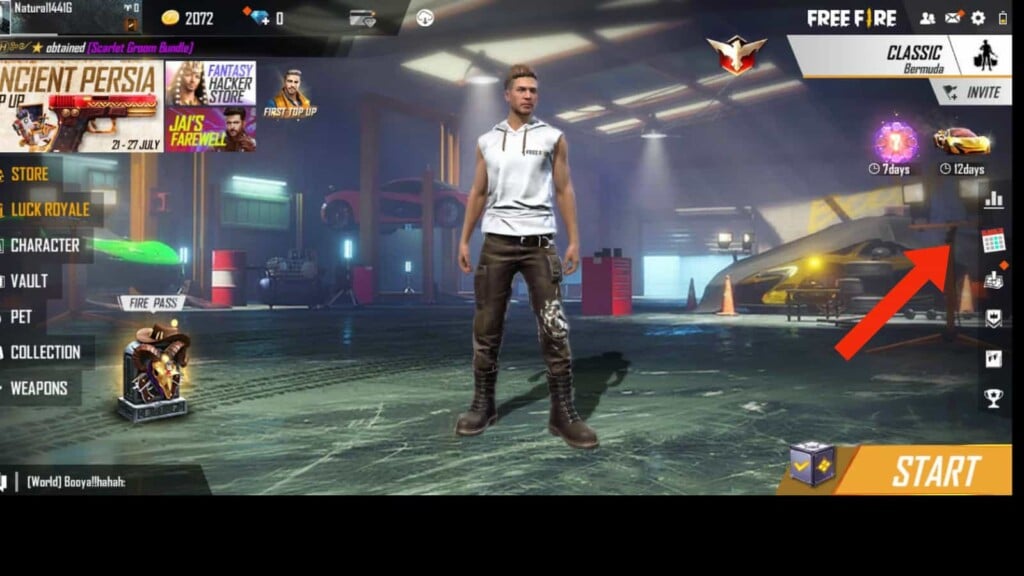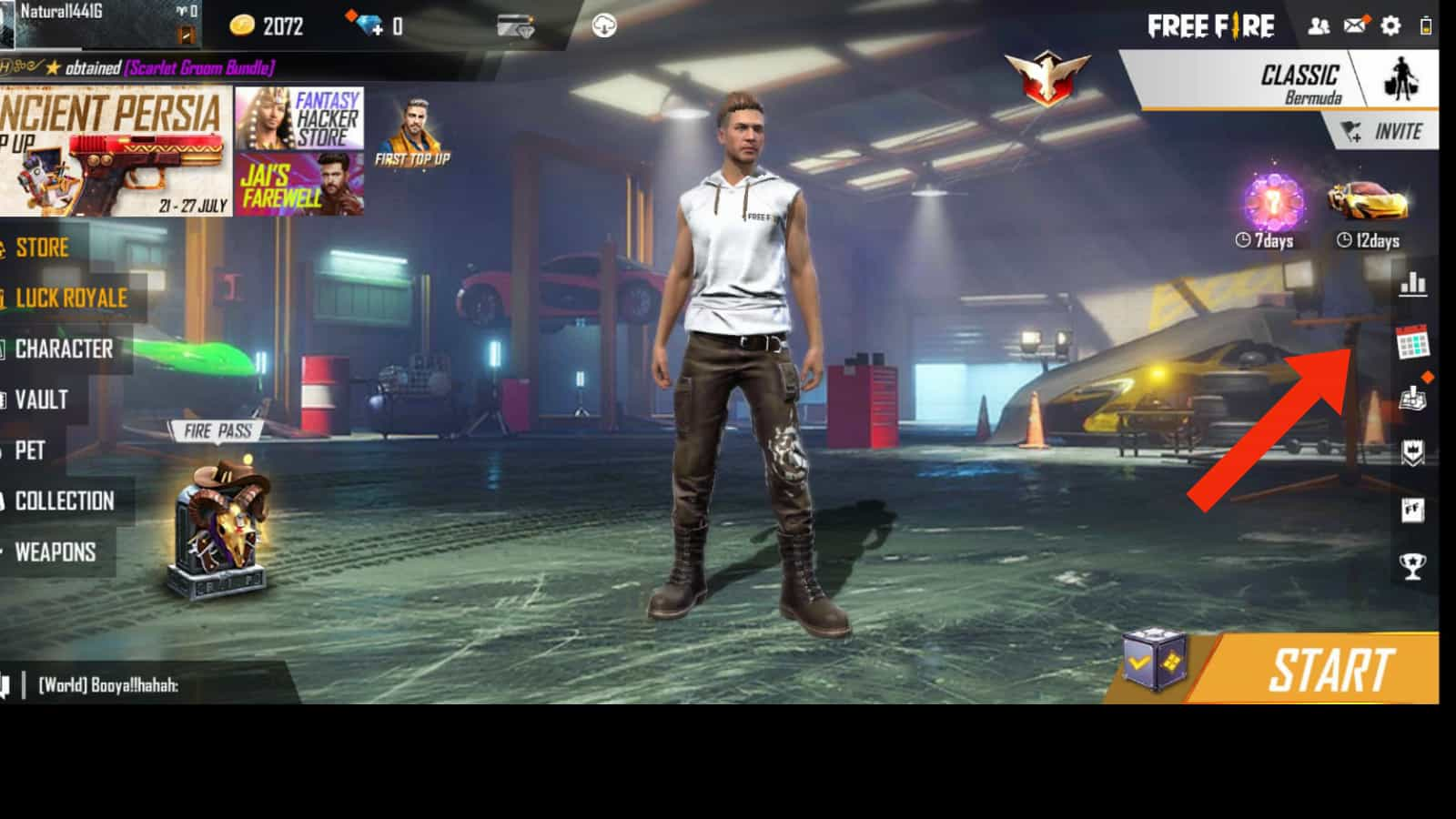 Step 2: Under all sections, tap on the 'Destiny Top up' event section to proceed.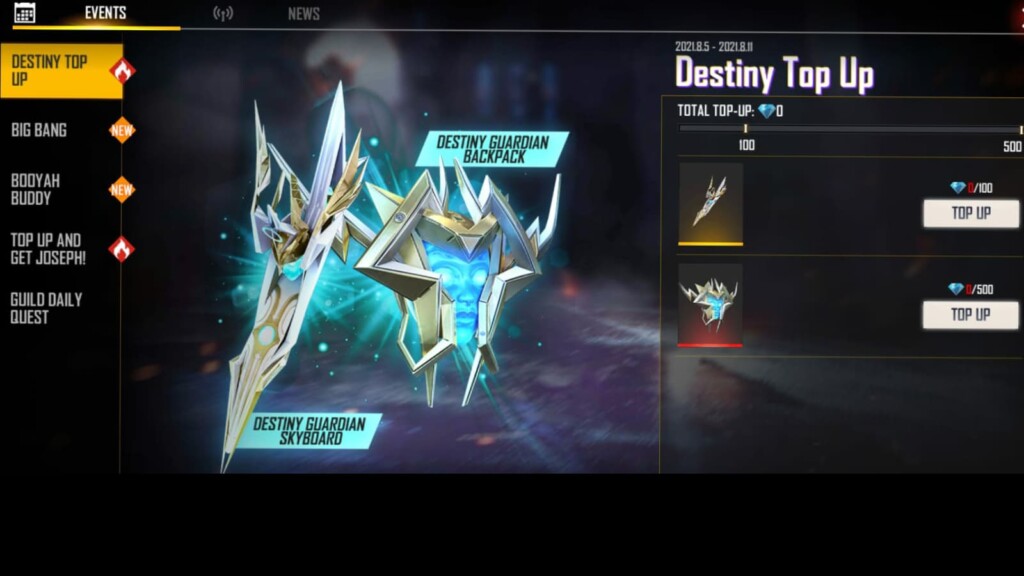 Step 3: After recharging the required amount of diamonds in your account, you will be shown the 'claim' which is not greyed out. Upon a successful diamond top-up, you will be able to avail the skins.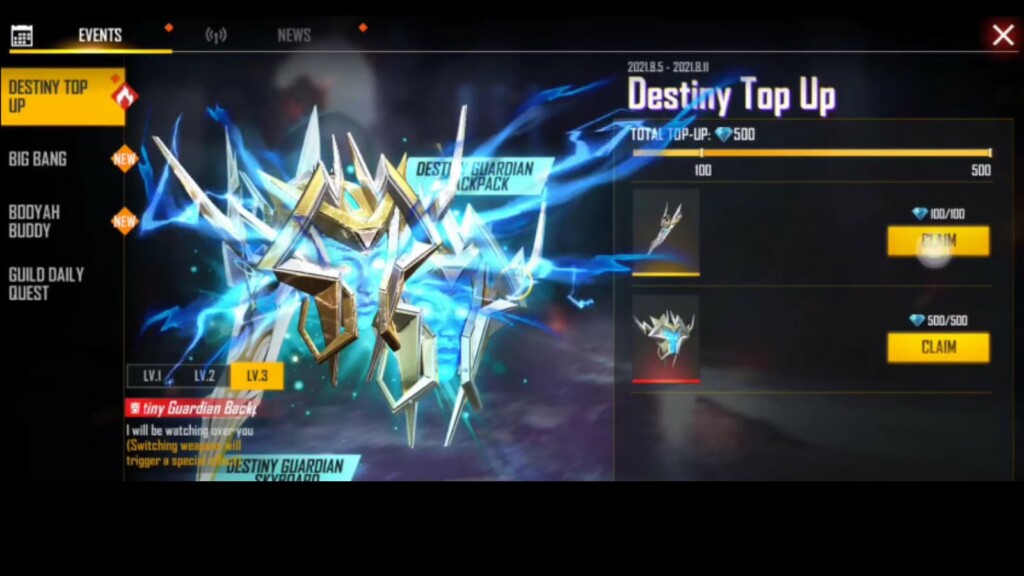 Download Free Fire OB29 update form here
Also Read: How to get the new Gold Royale Imperial Malikah Bundle in Free Fire?