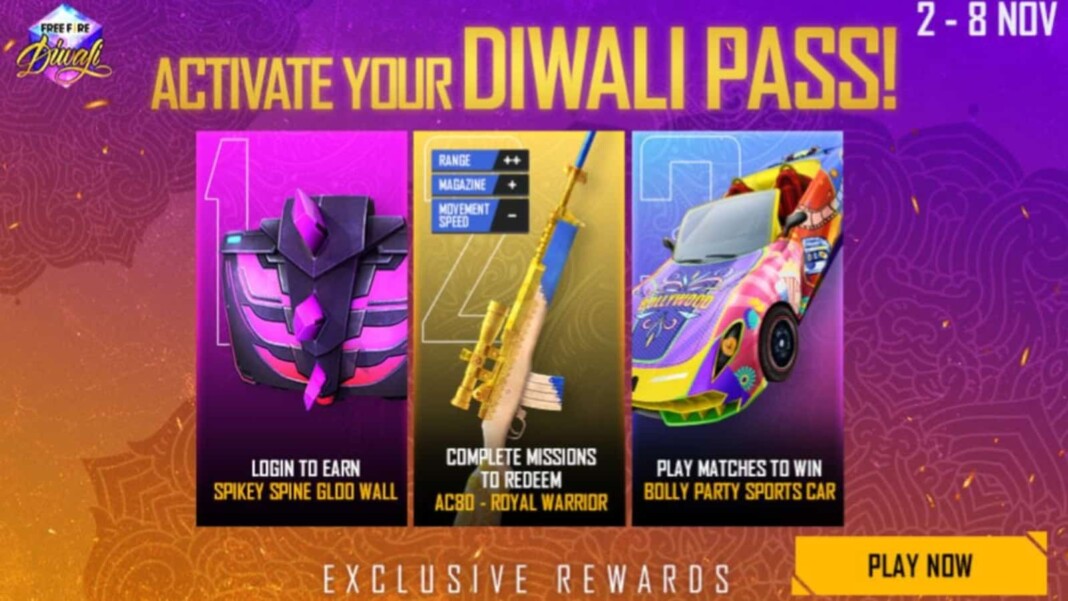 Free Fire Diwali is in full gear with many events and rewards being circulated in the game. The latest event to arrive in the game is the Free Fire Diwali Pass which features three separate unique prizes for the players to get.
The Free Fire Diwali Pass event requires the player to buy the pass for 99 diamonds and enjoy the benefits over the next 7 days. The event started on 2nd November, 2021 and will end on 8th November, 2021. There are 3 sections in the event and three different mission corners to finish. The pass will be valid for 7 days after purchasing and each day will get over at 12 am IST.
Here are all the features for the Free Fire Diwali Pass and all the rewards!
Free Fire Diwali Pass event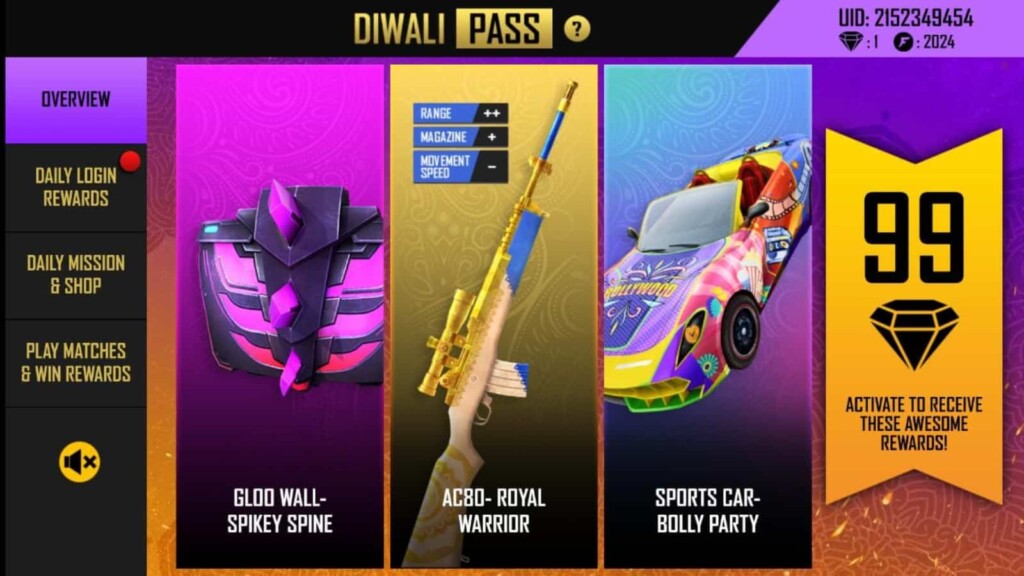 The Free Fire Diwali Pass event features three sections which has separate and unique prize pools. Players need to buy the Pass for 99 diamonds in order to start or claim any rewards from the events.
Related: How to get the Light Surfer Surfboard in Free Fire Diwali event?
Daily Login Rewards
The Daily login event features 8 total rewards which can be acquired by buying the pass and simply logging into the game everyday! The rewards pool features:
Day 1: AN94 – Tornado Bolt (1 day)
Day 2: Diwali Dino (1 day)
Day 3: AN94 – Tsunami Bolt (1 day)
Day 4: Cricket Master (1 day)
Day 5: AN94 – Twilight Bolt (1 day)
Day 6: Bhangra (1 day)
Day 7: AN94 – Wildfire Bolt (1 day)
Bonus Reward (can be claimed after finishing the 7 days): Gloo Wall – Spikey Spine
Daily Mission & Shop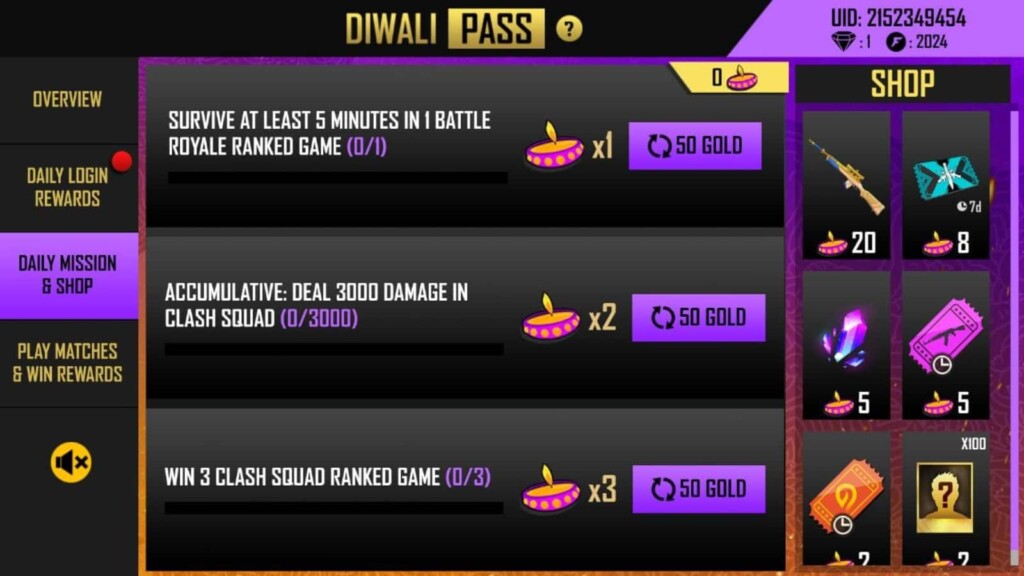 Players can complete three missions daily in order to earn Tiger Tokens. But the missions can be refreshed using gold coins for better missions. Players can then in turn use the Tiger Tokens to redeem prizes from a pool.
The reward pool for the redeem section contains:
Memory Fragments x100: 2 Tiger tokens
Incubator Vouchers: 2 Tiger Tokens
Weapon Royale Voucher: 5 Tiger Tokens
Cube Fragments: 5 Tiger Tokens
Bounty Playcard token: 8 Tiger Tokens
AC80 – Royal Warrior: 20 Tiger Tokens
The grand prize for this section is the AC80-Royal Warrior!
Play Matches & Win Rewards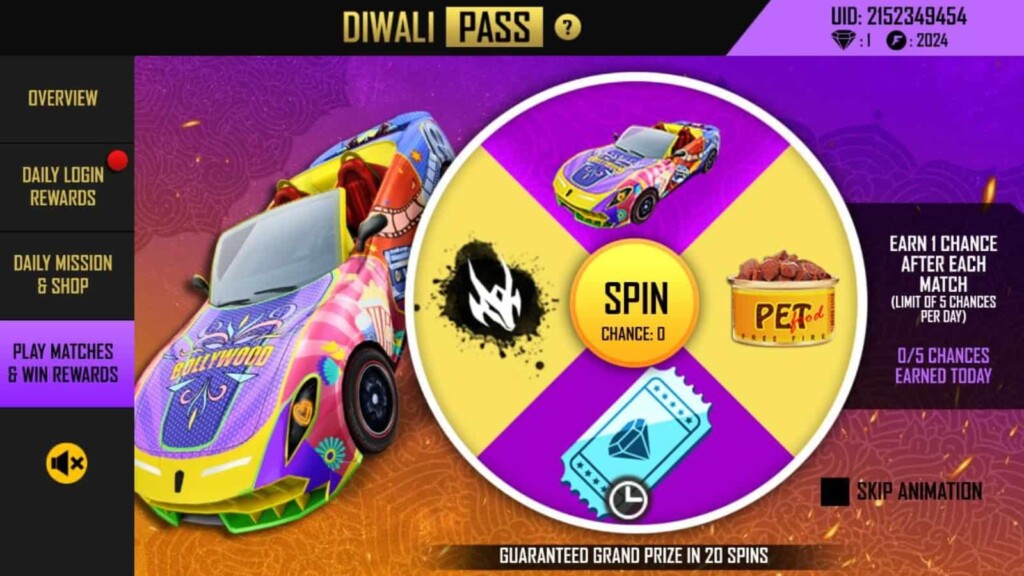 Players can play a match to earn 1 spin on the wheel. A total of 5 spins can be obtained daily. The wheel contains:
Sports Car: Bolly Party
Inferno Badges
Diamond Royale Voucher
Pet Food
The grand prize is the Sports car: Bolly Car and is guaranteed in 20 spins!
Follow our Instagram page for more updates on gaming and esports!
Also read: Free Fire redeem code Milestone Rewards for "Kill Chori" video out now!