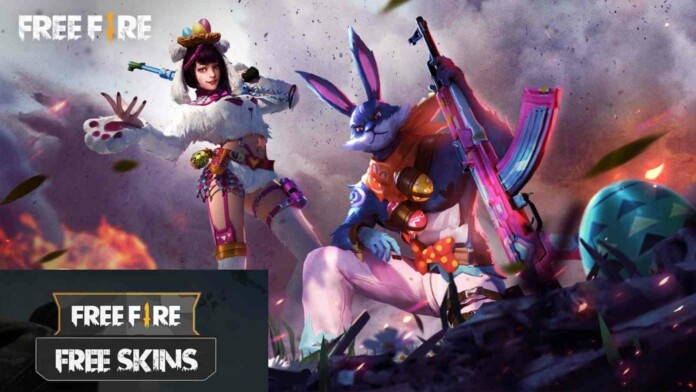 Many players search for Free Fire Gun skin Generator websites or tools for procuring gun skins for free in the game. But none of them is legal or safe to access which ultimately get your Free Fire account banned. Let us know more about such proclaiming sites.
Let us all admit that Free Fire has come a long way and it has set its high standards on the mobile gaming platform. Free Fire has arsenal of weapons and the weapons have various appealing skins which players go crazy about them and would be desperate to get them. However most of the skins are not available for free and they require in-game currency diamonds.
But many players could not afford to buy diamonds and thus the weapons. This is why players search for all alternative or possible ways to get them for free. Players who are doing so must note that there are some cheaters who take this as an advantage. They and their websites, tools claim that they would offer Free Gun skins in Free Fire. It is a completely wrong claim and players who visit their site might get a permanent ban on their account.
Read More: Will Free Fire get banned in India? Free Fire Bangladesh server might terminate soon
Free Fire Gun skin Generator Websites or Tools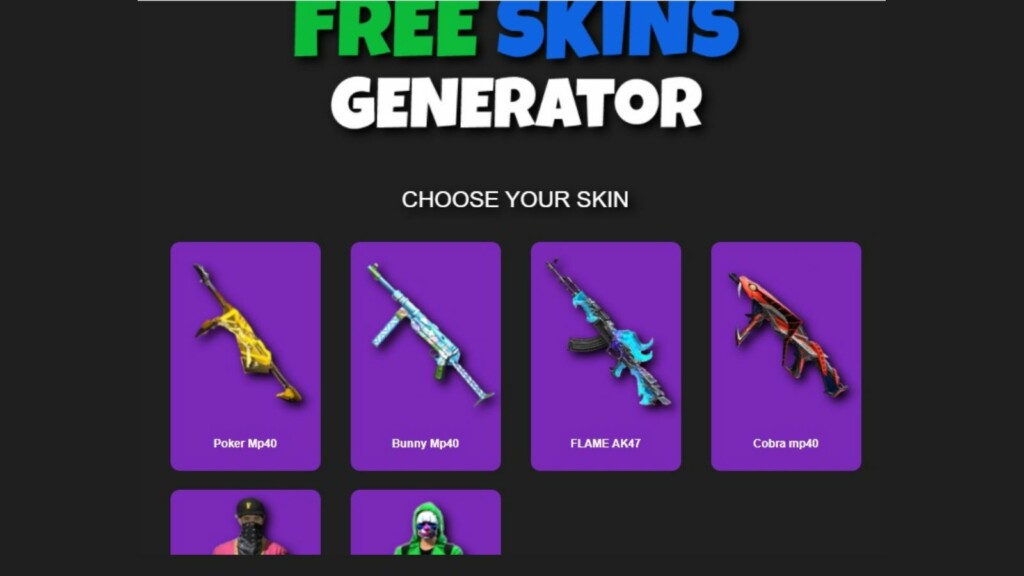 Several Free Fire skin generator tools or websites are floating on the Internet stating that they would offer free skins in the game. You must note that all these tools are truly illegal and 100% fake sites. They will not get you anything and moreover you have high probability chance of getting banned by using such sites.
When you visit such sites, they ask for your FF account and to login with your FF ID and most of them might ask your personal information which you should not trust sharing with such anonymous/fake sites. Furthermore, you will face tons of ads while accessing this site which may contain virus or malware that can cause damage to your private information or your device itself.
Garena does not hold any responsibility for these sites or any damage caused to you by these sites while accessing them. They have also stated a few lines regarding this context which reads:
"Free Fire has a zero tolerance policy against cheating. We will permanently ban their accounts used for cheating. Devices used for cheating will also be banned from playing Free Fire again using any other accounts."

"Using any unauthorized third party programs which are not released by Garena, modifying of the game client and/or playing in a modified game client in order to use functions which are not existent on the official game."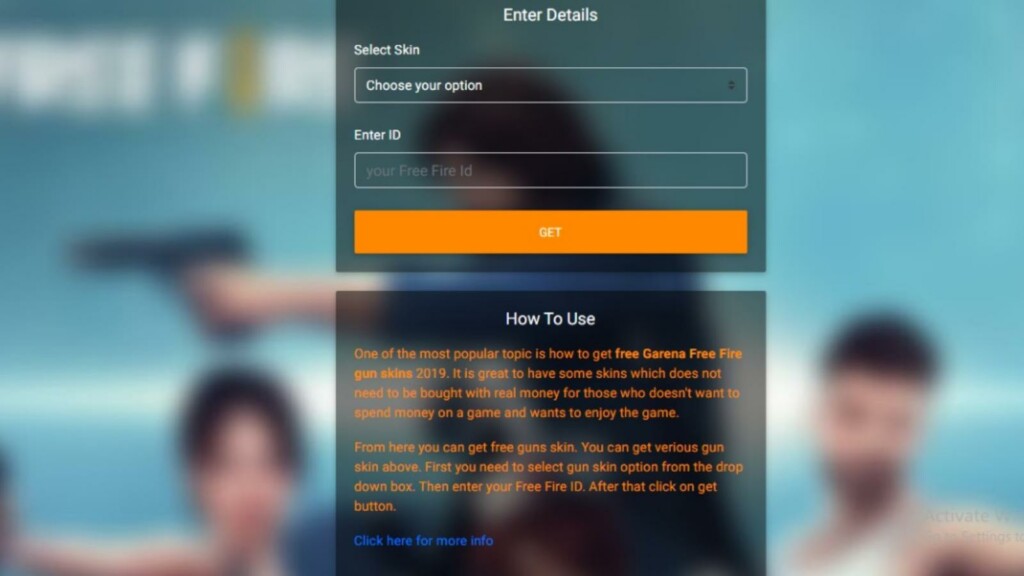 As these Free Fire gun skin generator websites are not handled or belong to Garena, it is obvious that these are third-party websites which as per the above terms accessing these Free Fire skin generator tools is treated as cheating. Furthermore, you will be banned permanently from the game if you try accessing these Free Fire skin generator tools.
We suggest you stay away from such fraudulent sites as they cause you no good in anyways and of course they are of no use. Garena Free Fire bring several events which have these epic gun skins and it is a safe & legal way of getting skins on the game. Moreover, Garena releases redeem codes that may have these skins in them and it is better to try them daily. Otherwise, users can follow Firstsportz for regular Free Fire Redeem codes.
Can we get free skins in free fire?
Gun skins can be availed from Free Fire events, elite pass, purchasing them via diamonds or Redeem codes, But they are not obtained via Free Fire Gun skin generator.
Is Lulubox harmful?
Yes, using Lulubox can be a reason to get banned from games. Using it carries risks. So it is better to not use it.
---
Follow our Instagram handle to participate in the huge DJ Aloks Giveaway and to stay updated with the latest news of the gaming and eSports scene.
Also Read: Free Fire Season 37 Elite Pass: Pre-order, rewards, and more