The fourth League stage matchday of Free Fire India Championship 2021 Fall has been concluded successfully on September 24. Teams from Groups B & C had been seen taking head-to-head competition to grab the most points on the League table.
The day was concluded with Team Blind Esports from Group B leading the points table with 74 points and 26 elimination points. Following them are Team Head Hunters securing the second position on the League table with 71 points and 35 elimination points. The third spot was taken by Team UG-Empire with 61 points and 25 elimination points.
Following is the Map Recap of League Stage Day 4: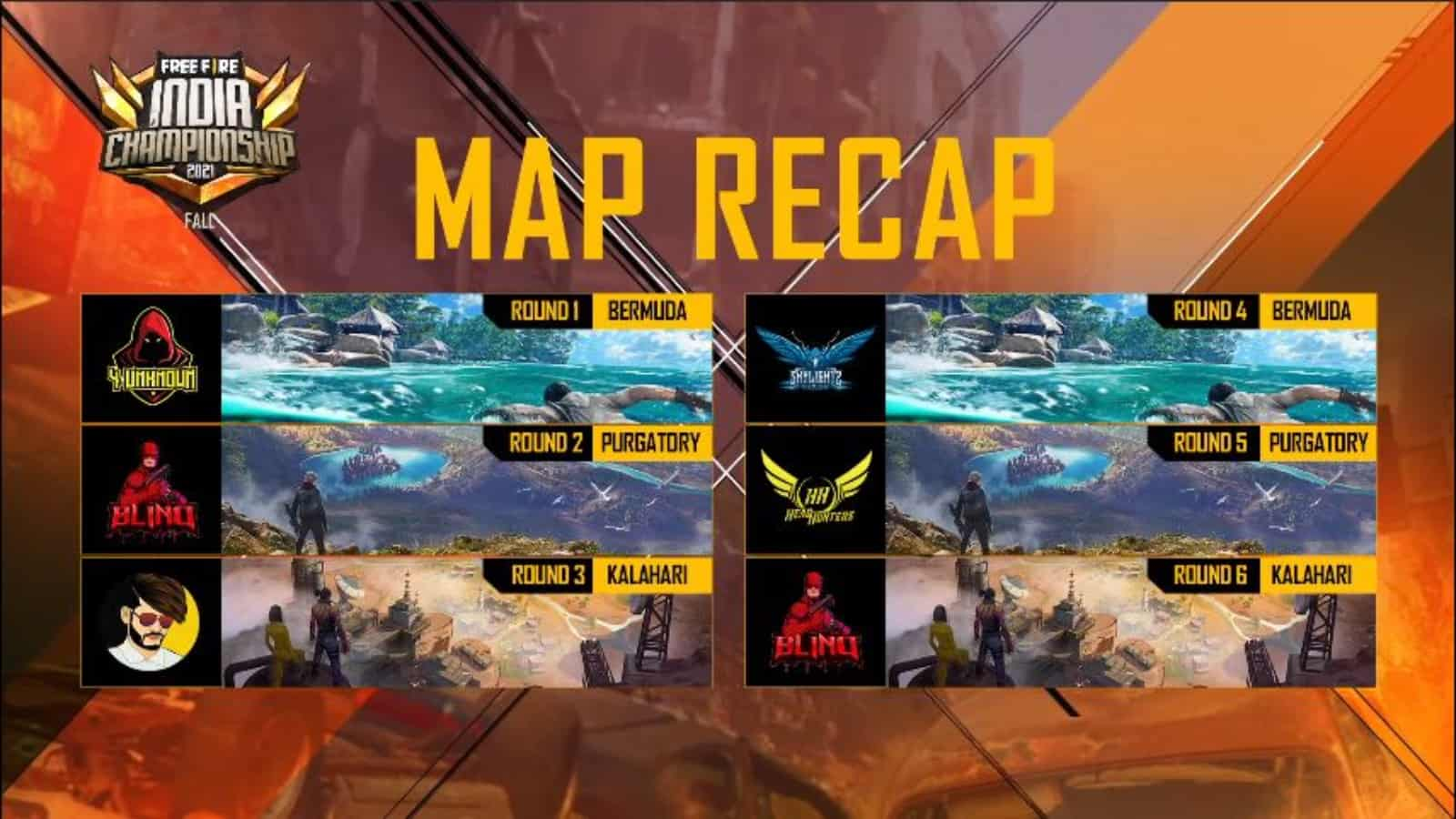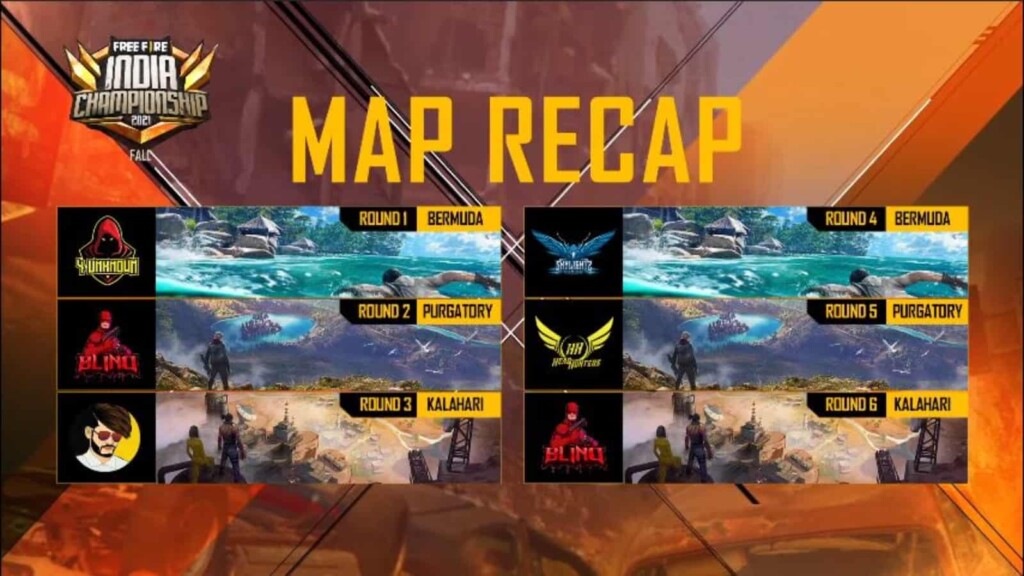 Read More: Free Fire OB30 update release date New characters, pet, weapons and more revealed
Free Fire India Championship 2021Fall League Stage Day 4: Overall Standings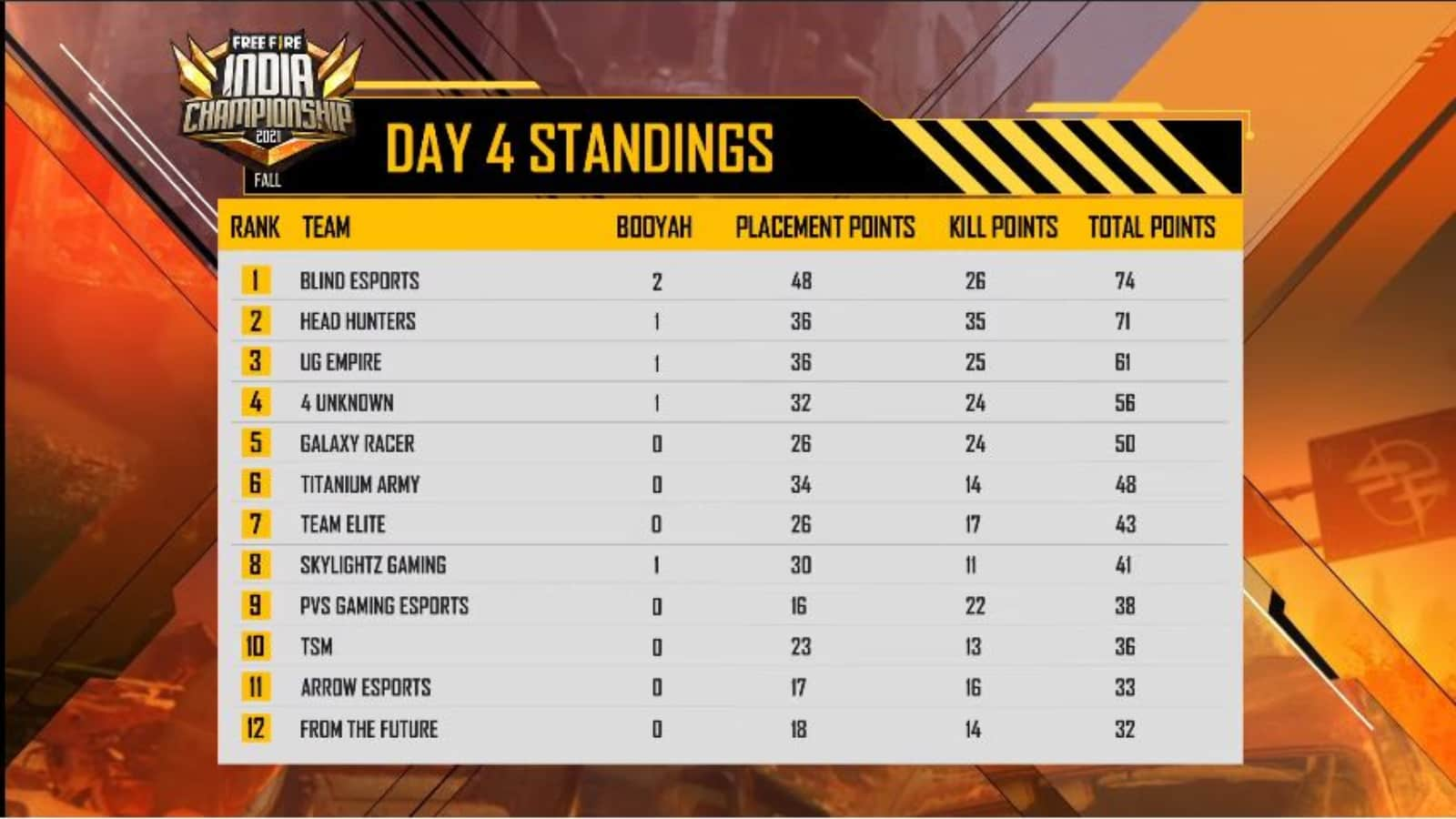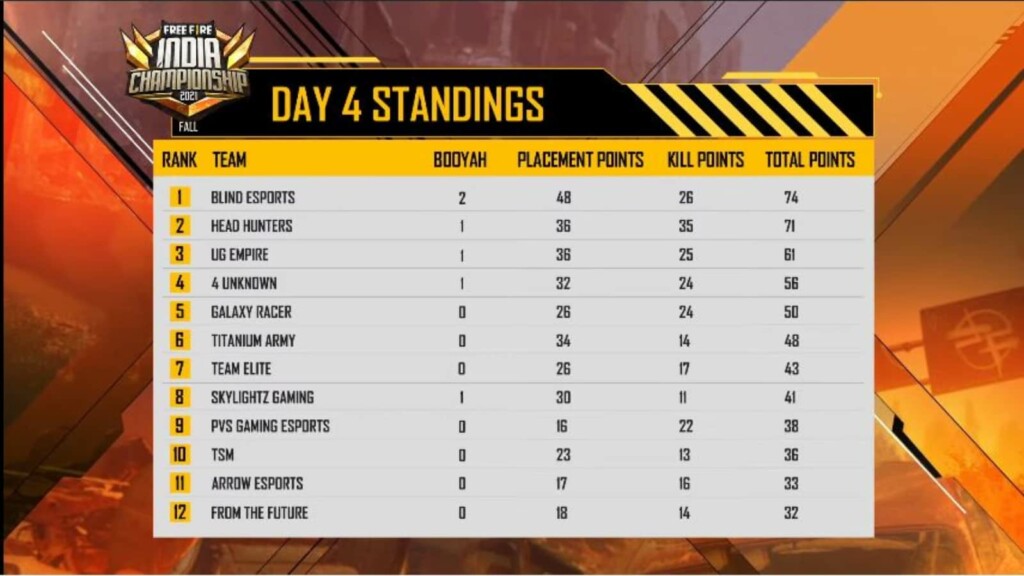 The first match of the day was played on Bermuda Map and it was won by Team 4 Unknown taking the booyah from Galaxy Racers. Galaxy Racers were finished at the second spot with 10 kills while Blind Esports was eliminated at no.3 position.
The second match was played on the Purtagory map and Team Blind Esports have taken #1 with 10 eliminations. Team Galaxy Racers have finished at no.2 spot again with 8 kills under their name, with XDivine being the top-fragger of the team in both matches.
Kalahari is the map on which the third match was played and this match was claimed by Team UG-Empire with 10 elimination points. Team Titanium Army was eliminated at #2 spot while Team Head Hunters were finished at #3 position.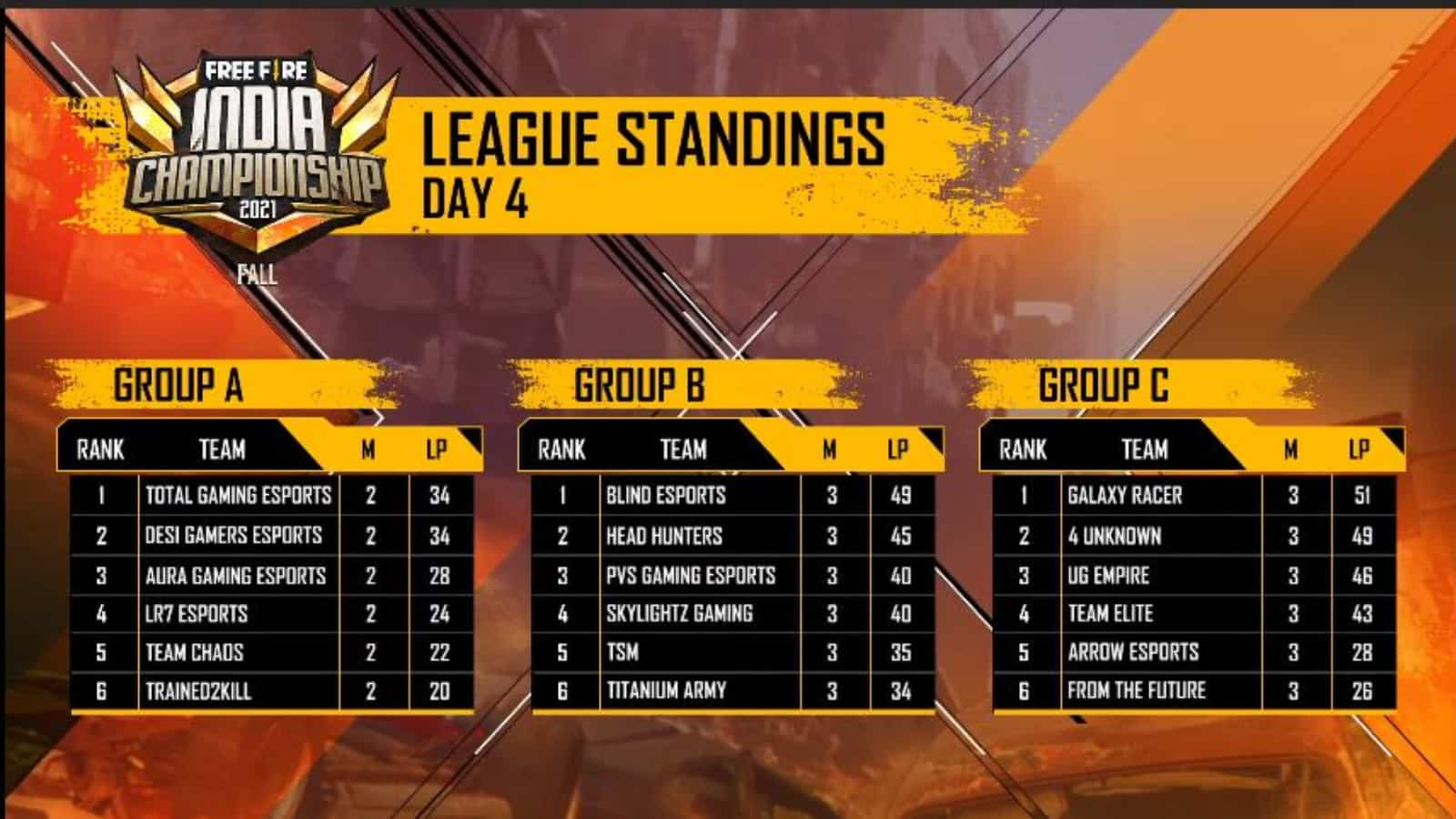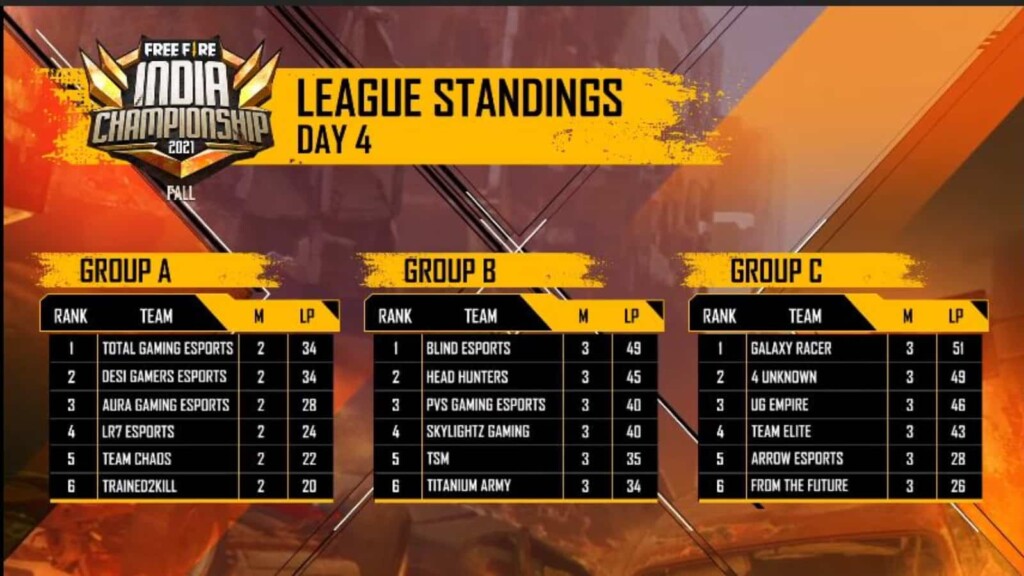 Team Skylightz Gaming emerged victorious in the fourth match of Day 4 with 7 frags. Team PVS Gaming has secured the second spot with 13 kills under their name.
After Match 4, Blind Esports was leading the points table with 49 points and 18 kills.
The fifth match was seen won by Head Hunters with 9 frags. Team TSM has got the second elimination in this match with 6eliminations, while Team Titanium has finished at no.3 position.
The last and final match of Day 4 was won by Team Blind Esports with 2 elimination points. Team Elite has got #2 in this match with 3 frags while Team UG-Empire was finished at #3 position.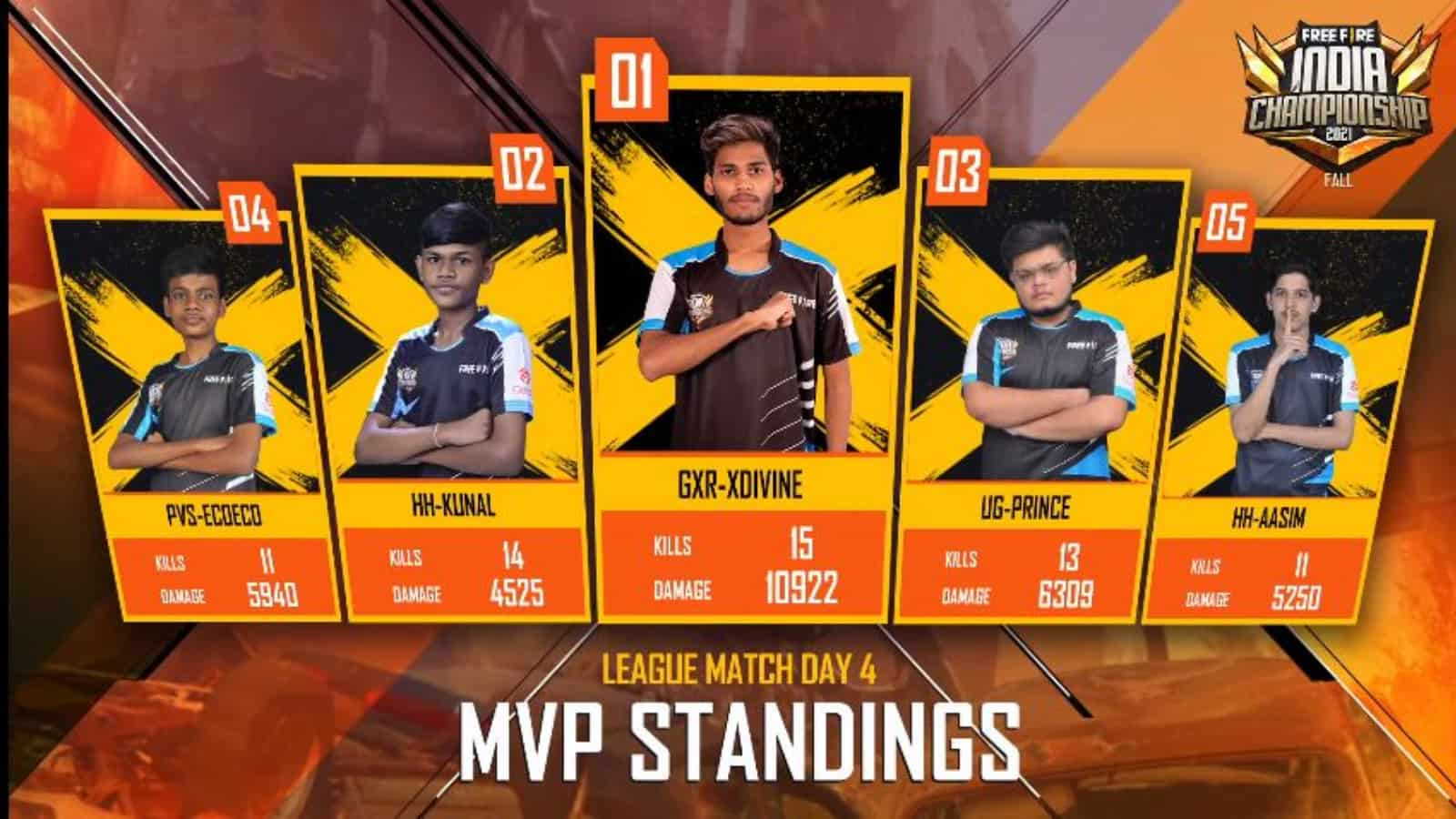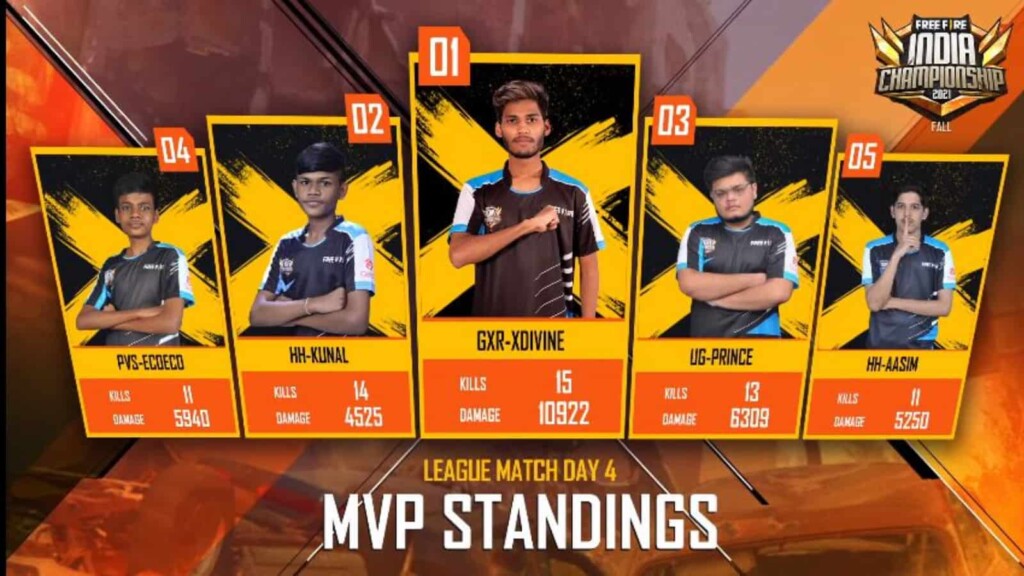 XDivine from Team Galaxy Racers have got the MVP title for securing a total of 10000+ damage and 15 kills on the Day 4 of FFIC 2021 Fall League Stage.
The next matchday 5 will be conducted on September 25, 2021, between groups A and C. The matches will be streamed live on the official YouTube channel of Free Fire India Esports from 6:00 PM IST.
Also Read: Garena teases Free Fire x Venom 2 collaboration: Here are its rewards