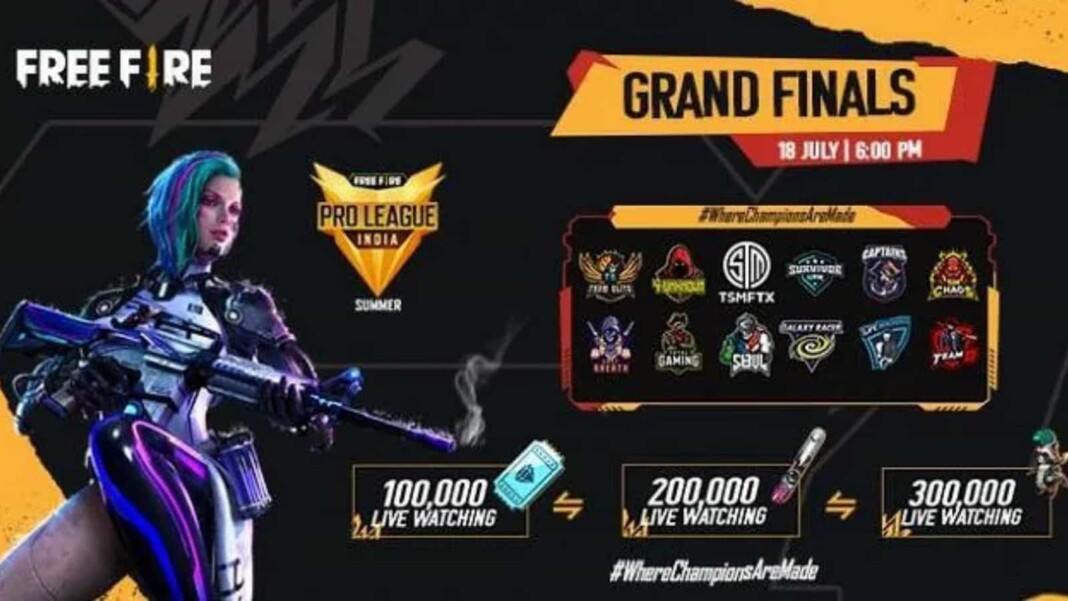 Free Fire Pro League 2021 Summer is a first-ever pro league tournament conducted exclusively for the Indian and Nepal regions. The tournament has begun with top 18 teams from both the regions. Here in this article we will take a look at the FFPL Summer 2021 teams qualified for grand finals, schedule, prizes and more.
After six days of intense action and thrill the group stages of FFPL 2021 has concluded. Twelve teams have qualified for the grand finals for the championship title and the huge prize pool. The Grand Finals of Free Fire Pro League 2021 will take place on Sunday, 18th July from 6:00 P.M. IST.
Free Fire Pro League 2021: Schedule, Prize Pool and More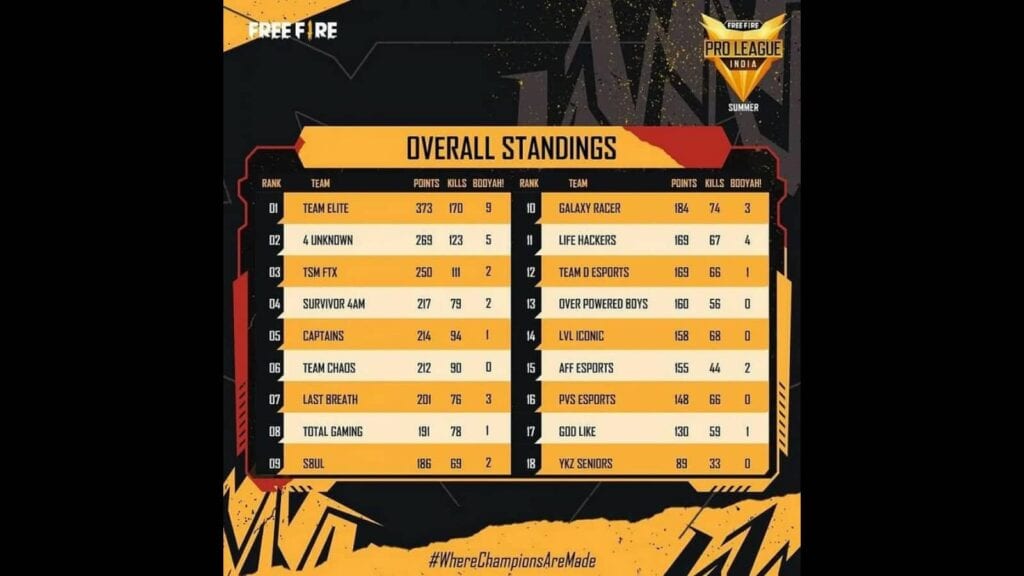 The tournament holds the huge prize pool of 35 Lakh and the ultimate trophy with the championship title. The champion team will be awarded with the FFPL championship title and 15 lakhs in prize money, the second and third-place teams will receive 7.5 lakhs and 3.5 lakhs, respectively.
Teams Qualified For FFPL 2021 Grand Finals
1. Team Elite
2. 4 Unknown
3. TSM FTX
4. Survivor 4 AM
5. Captains
6. Team Chaos
7. Last Breath
8. Total Gaming Esports
9. S8UL
10. Galaxy Racer
11 . Life Hackers
12. Team D Esports
Team Elite has dominated the league stages and come out on top from the league stage with 373 points. They are the primary contenders of winning the tournament. 4 Unknown has acquired the second place while Total Gaming and S8UL had a lackluster showing with eighth and ninth place.
Related – BlackPink Gaming Free Fire ID, Stats, K/D Ratio, Headshot Rate, YouTube Earnings And More For July 2021
The top team in the group stage will have a whopping 14 points lead over the 12th placed team. The points allocation for Grand Finals based on group stage results is as follows:
1st place: 14 points
2nd place: 12 points
3rd place: 10 points
4th place: 10 points
5th place: 8 points
6th place: 6 points
7th place: 6 points
8th place: 4 points
9th place: 4 points
10th place: 2 points
11th place: 2 points
12th place: 0 points
The tournament will be streamed on the official Free Fire Esports Youtube Channel/ Facebook page and Booyah App. Fans who will tune in to watch the final will get exclusive rewards on 1 Lakh, 2 Lakh, and 3 Lakh live watching.
The Grand Finals will be a treat to watch as they fan favorite Total Gaming eSports is yet to perform their ace game and Team Elite will have a huge advantage with a 12 points lead before the first match of the Grand Finals.
Follow our Instagram handle to participate in huge DJ Aloks Giveaway and to stay updated with every latest news of gaming and eSports scene.
Also Read – Daddy Calling Free Fire ID, Stats, K/D Ratio, Headshot Rate, YouTube Earnings And More For July 2021