With the introduction of the new OB28 update in the game they have announced Free Fire Rampage 3.0 event. This year's campaign is named Rampage: New Dawn. After the successful Rampage campaigns: Rampage: Redemption in 2019, and Rampage: Uprising in 2020.
The Rampage: New Dawn event will roll out from June 18 2021 in the game. Here in this article we will discuss about the new log-in event and it's rewards in Rampage 3.0.
Free Fire Rampage 3.0: Event and Rewards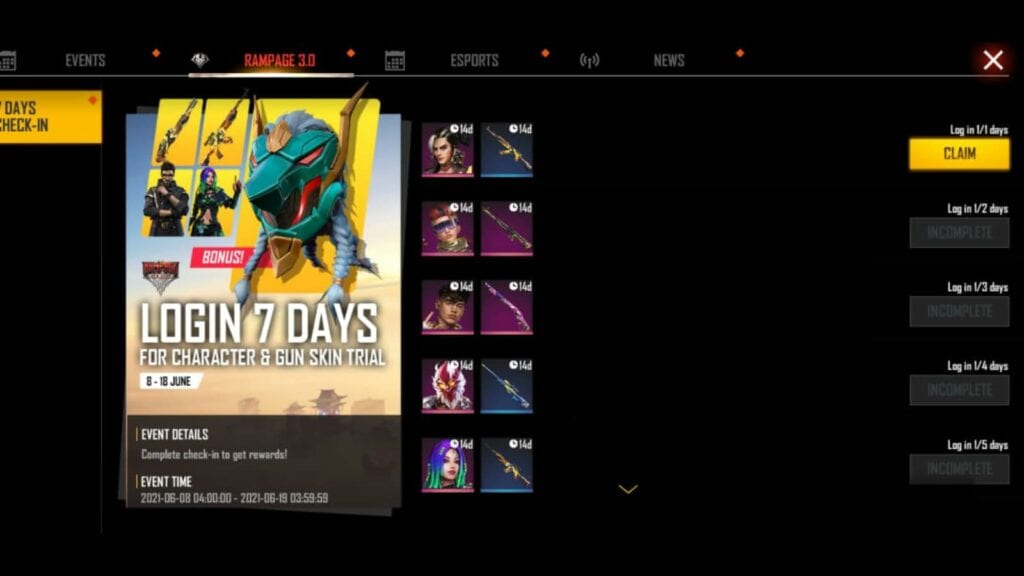 The new log-in event of Rampage New Dawn went live after the OB28 patch update and will go on till June 18 2021. During the event players can claim the rewards by simply logging in to the game daily for seven days. The rewards include different gun skins, DJ Alok (for seven days) and a new Dragon Azure upgraded helmet.
The new Rampage: New Dawn event is set in a futuristic city filled with despair. Here four individuals named Drakem, Rajah, Speedy, and Aurora becoming vigilantes that the world needs. They were tricked into an experiment during this journey and kept confined in a lab for a mutation program. Here they are monitored in a controlled environment as they get strong, faster, and smarter.
Related – Top 5 Best Sniper Rifles In Free Fire After OB28 Update
The new Rampage 3.0, aka Rampage: New Dawn event, will start in the game on June 18, 2021. It will bring various free rewards to the players, including Shadow Earthshaker Bundle, Phoenix Skyboard, and Black Tortoise Pan. The new mode 'Rampage: New Dawn' will be released in Free Fire on June 26, 2021. It is the same day as the peak day of the Rampage: New Dawn in-game event. In this mode, players will be able to experience the full potential of the 4 protagonists.
The gameplay of Rampage 3.0 mode is similar to Classic Battle Royale mode with a twist: users will be able to pick up runes across the map and receive runes to unlock special attributes to their characters. By gaining more experience and leveling up to further unlock attributes, users can be prepared for more intense battles with their friends and foes.
Follow our Instagram handle to participate in huge DJ Aloks Giveaway and to stay updated with every latest news of gaming and eSports scene.
Also Read – How to get McLaren P1 Helios skin, Win and Chill emote in Free Fire?