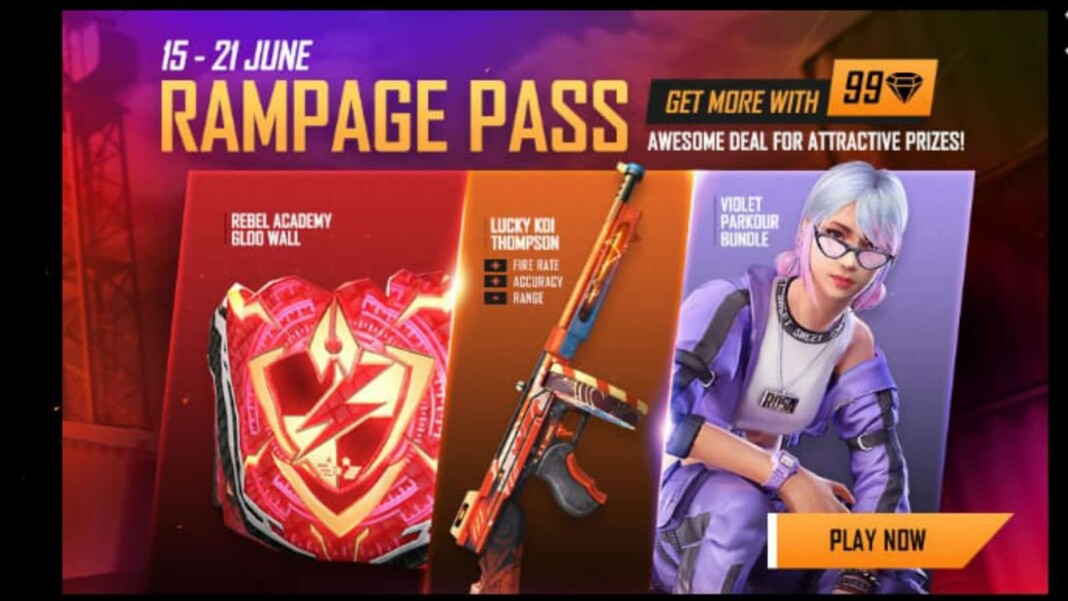 Free Fire has been launching several events after the OB28 update offering various exclusive rewards for players. Today, a new event titled Rampage Pass has been released which we will discuss details regarding the new event.
Free Fire has emerged as the most played battle royale games on the mobile gaming platform. The BR title has a great community with millions of active users. A set of new events would be launched featuring various exclusive rewards up for grabs. Since these events are time-limited, players have to claim the rewards before the event runs out.
Let us take a look at the new Free Fire Rampage Pass event and its rewards.
Free Fire Rampage Pass Event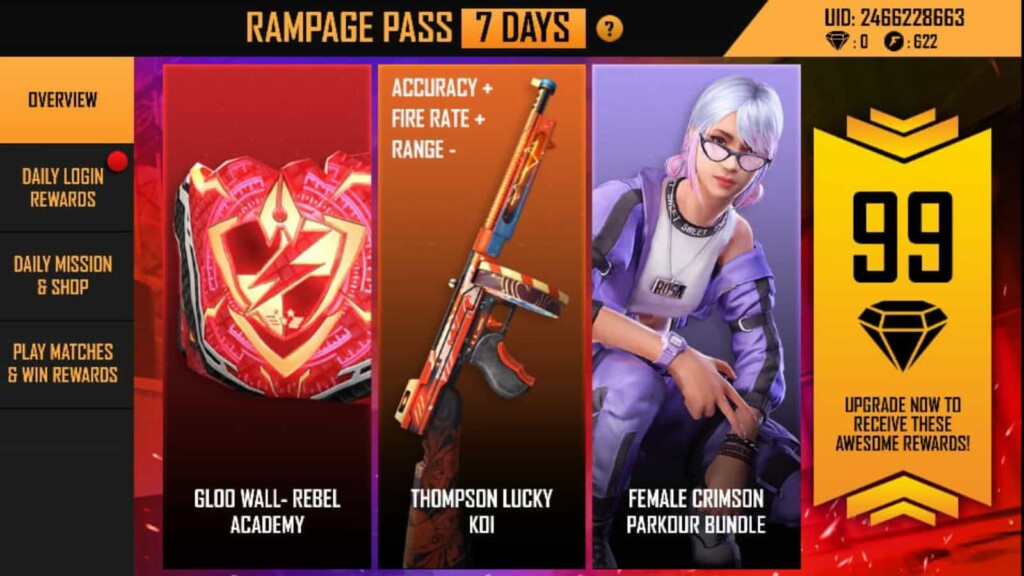 Free Fire has released a new event Rampage Pass event that commences from today i.e., on June 15 ad goes live up to Monday i.e., on June 21. The event does not take much weight from your wallet and all it takes is an amount of 99 Diamonds. At such a prize, players can stand a chance to win Rebel Academy Gloo Wall, Lucky KDI Thompson Skin along with a Crimson Parkour female bundle. All you need to do is invest 99 diamonds to win these exclusive rewards.
There are three sections in total of this new event which are titled as:
Daily Login Rewards: Contains Rebel Academy Gloo Wall
Daily Mission & Shop: contains Thompson skin
Play matches & Win rewards: contain crimson parkour female bundle
From the above 3 rewards, you can get Bundle for free just by playing matches daily during the event period. You are given 5 spin chances in a day for playing 5 matches. After 20 spins, you are guaranteed to win the bundle. Before knowing how to win the rewards let us know how to open the event.
---
Read More: Free Fire AN94 Rose Bride Weapon Royale: All you need to know
---
How to access the Rampage Pass event
Step 1: Launch Garena Free Fire on your device and tap on the 'Calendar' icon present on the right side of the main lobby.
Step 2: Navigate to the 'News' section and tap on 'Rampage pass' event then click on 'Go To.'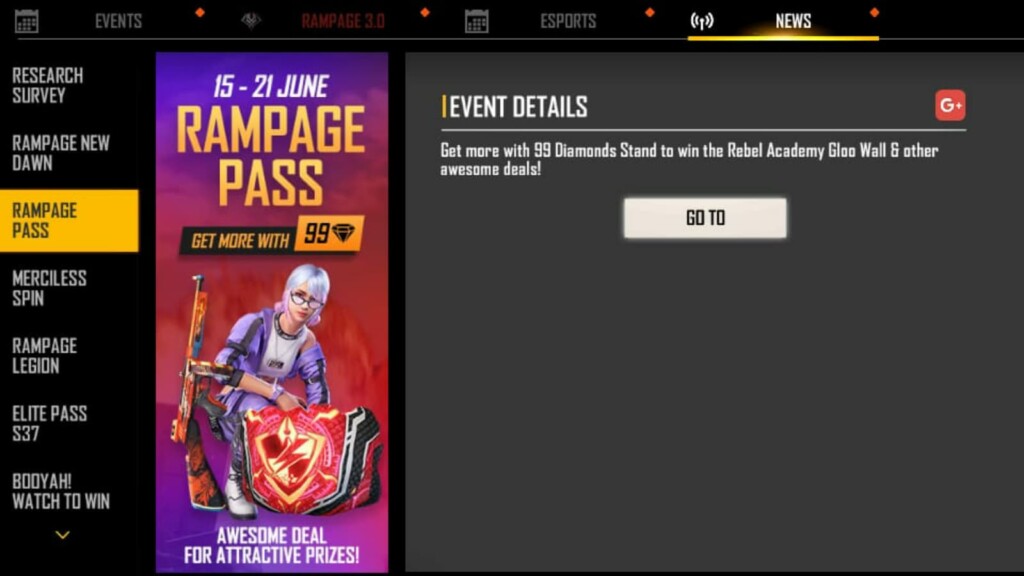 ---
How to get Crimson Parkour Bundle in Free Fire?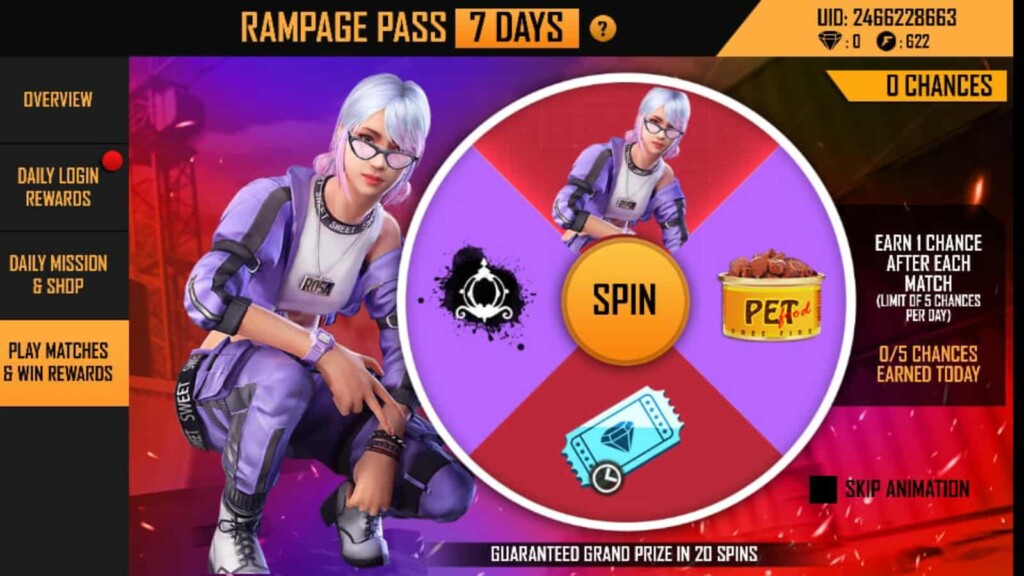 Play Five ranked matches in the game. Then you will get 5 spin chances to spin the wheel for free
Open the event with the above-mentioned process and head to the last section titled 'Play Matches & Win Rewards.'
You can try your luck by spinning the wheel to win the prize with the spins you have won.
However, the bundle can be obtained after 20 spins
---
How to get Thompson Lucky KDI skin?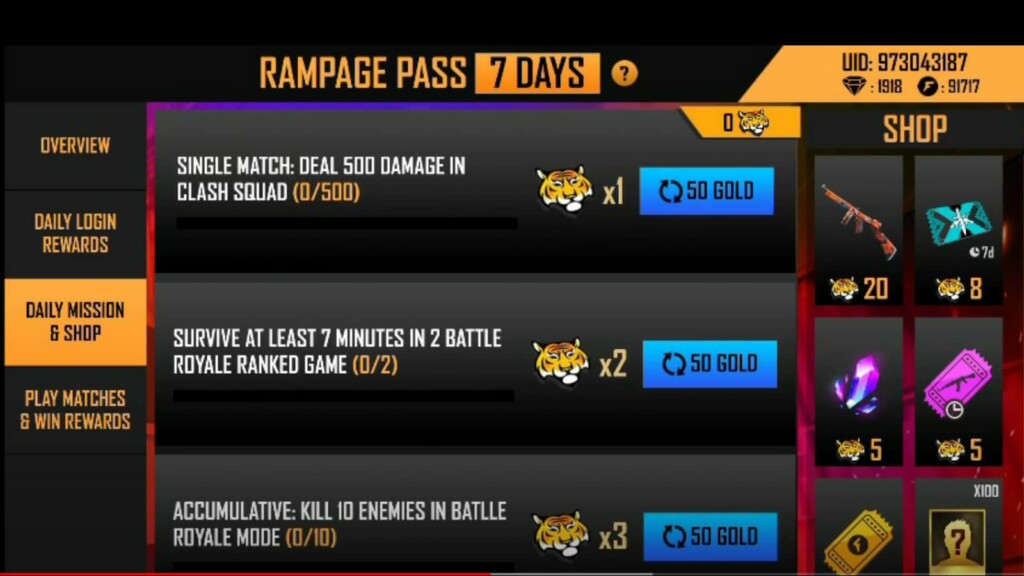 Open the event and buy the pass for 99 diamonds.
Head to the Daily Mission & Shop section in the event.
Thereby you can find 3 mission that rewards you tiger tokens upon completing them. Redeem the skin with tiger tokens
The skin requires x20 tokens and you can win 1 token for 1 mission. However, you can get new missions by exchanging gold coins.
---
How to get Rebel Academy Gloo Wall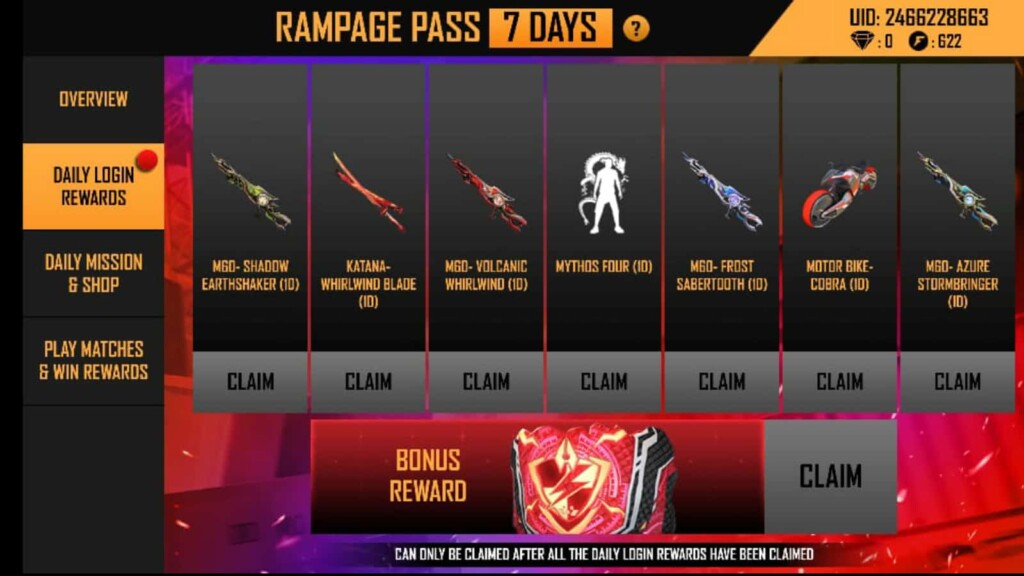 Buy the pass for the event for 99 diamonds and head to the Daily Login Rewards.
You can have 7 free time-limited rewards that you can claim for logging-in to the game.
After collecting the 7-days rewards you can claim the gloo wall skin. Make sure that you don't skin any login rewards otherwise, you will have to pay for missed log-in rewards
---
Follow our Instagram handle to participate in huge DJ Aloks Giveaway and to stay updated with every latest news of gaming and eSports scene
Also Read: Free Fire Frost Sabertooth Bundle in the Therion Wheel spin: All you need to know