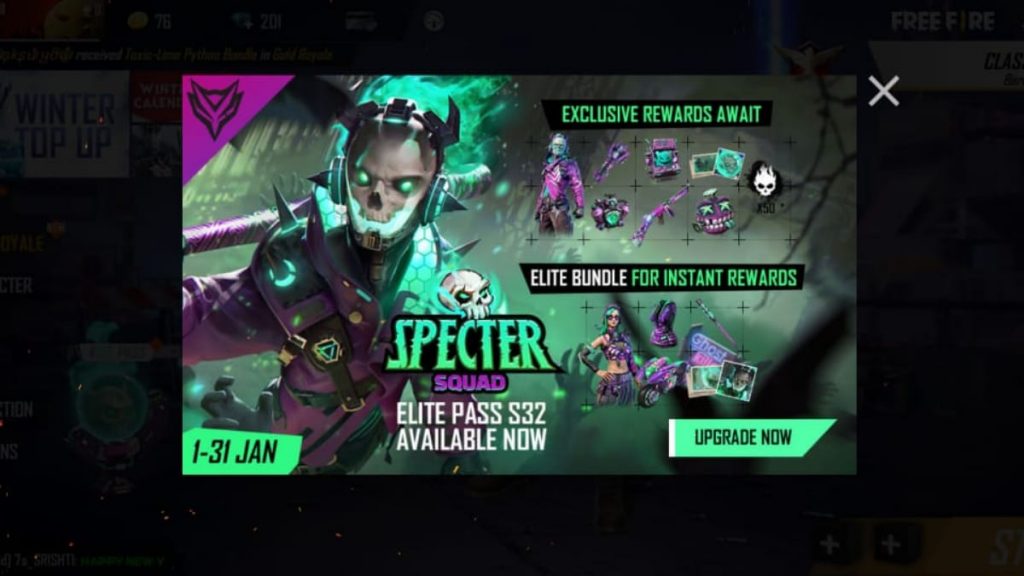 Free Fire is a massively popular battle royale genre in the gaming market right now. The game has garnered quite a large player base from all around the world. It is developed by Garena Games and is a fan favorite BR titile. The game has a ton of events that players can complete to earn exclusive rewards and loot. One of the regularly updated events is the Battle Pass. The Free Fire Battle Pass is a loot system where players are rewarded with exclusive loot when they level up the pass. In this article we take a look at the latest Free Fire Specter Squad Elite Pass S32.
Free Fire Specter Squad Elite Pass S23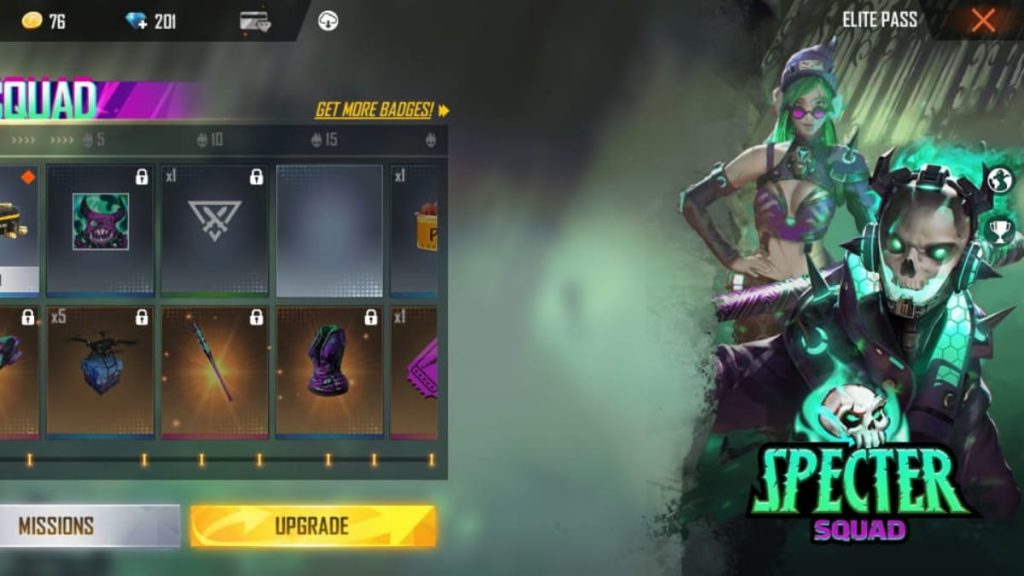 The Free Fire Specter Squad Elite Pass is available for a time period of one month. Likewise, the dates being from the 1st January till 31st January. The Specter Squad battle pass has two parts, those being – Free Pass and Elite Pass. The Free Pass is available for players for free and provides some rewards. However the Specter Squad exclusive rewards can only be earned through purchasing the Elite Pass. Players will earn badges upon completing certain missions which leads to the progress in the Pass.
The Free Pass rewards include:
Gold
Specter Junior
Veteran Challenge
Pet Food
Gold Royale Voucher
Spectral Squad Hoodie (Male)
Diamond Royale Voucher
Fragment Crate
Discount Coupon
Evo Gun Token Box
Scan
Spectral Squad T-Shirt
Summon Airdrop
Resupply Map
Specter Raid
Fragment crate II
Bonfire
Spectral Squad Backpack
Bounty Token
Awakening Shard
Meanwhile the reward pool for Elite Pass includes:
Motor Bike – Spectral Squad
Summon Airdrop
Ghost Basher
Specter Squad Hoodie (Female)
Weapon Royale Voucher
Resupply map Playcard
Ghoul Incoming
GOLD
Specter Squad
Bounty Token Playcard
Specter Raider Bundle
Pet Food
Diamond Royale Voucher
Double EXP Card
Evo Gun Token Box
Memory Fragment
Thompson – Specter Squad
Resupply Map
Weapon Royale Voucher
Specter Squad Surfboard
Scan Playcard
Specter Squad
Scan
Grenade – Specter Mischief
Crystal Skull
Diamond Royale Voucher
Double Gold Card
Ghost Gamer Loot Box
Summon Airdrop Playcard
Universal Fragment
Cube Fragment
Bonfire Playcard
Evolution Stone
Bounty Token
Discount Coupons
Ghost Trapper
Character Lvl 4 card
Bonfire
Specter Basher Bundle
Bonus Chests
Additional Elite Pass features:
Daily Gold Limit Increases by 100
Nickname is shown as glorious red in kills
Unlocking Elite Challenges to get more badges
Players can upgrade to the Elite pass with 499 diamonds. However players can also upgrade to the Elite Bundle with 999 diamonds and enjoy exclusive rewards and a head-start in the completion of the pass. However you can only choose one to upgrade at a time.
How to Access and use the Battle Pass
Players can access the elite pass reward centre from the bottom left of the homepage. There is a icon called Elite Pass with a skull on it.
Players can access the missions from the right side where there is a map with exclamation icon. Players can collect badges from this section to progress the pass.
You can collect the rewards in the Elite Pass reward centre after reaching the required threshold of badges.
Also read: Garena Free Fire: Download v1.25.3 mod APK unlimited diamonds and coins