Free Fire is currently celebrating a massive collaboration with Attack on Titan on its live servers. The Free Fire x Attack on Titan crossover bought in a ton of new events and cosmetics. In this article we take a look at the Free Fire Titan Dice and the Free Fire Collaboration weapons available in the roll.
Free Fire is no stranger to huge collaborations with famous personalities and tv shows or movies. The current collaboration with a very popular anime series known as Attack on Titan has bought in many events. The players can obtain many exclusive collaboration cosmetics by participating in these events.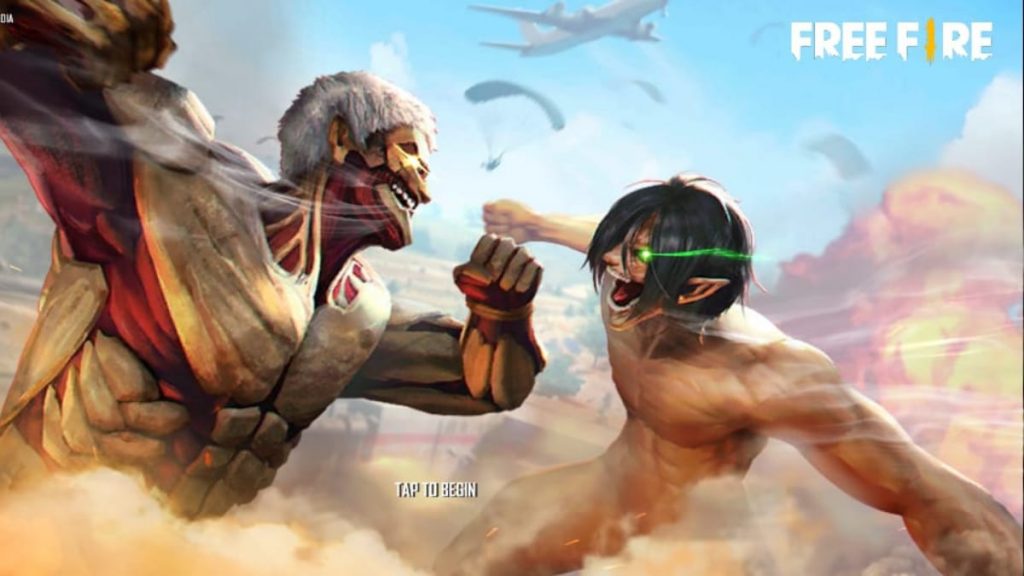 The latest event to be released is the Free Fire Titan Dice event. We take a look at the event and the Collaboration Weapons that can be obtained from the same.
Free Fire Titan Dice Roll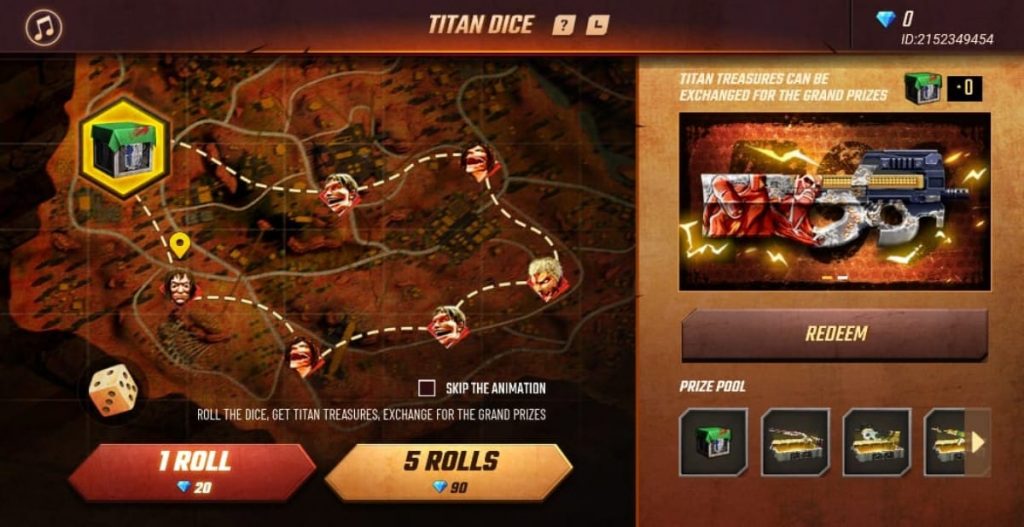 The Free Fire Titan Dice is the latest event to be released due to the collaboration of Free Fire x Attack on Titan. The event is only for the period of 29th March to 9th April 2021.
Related: Xtrema Character in Free Fire OB27 Update: Coming or Not?
The players need to collect Titan Treasures to redeem the Grand Prizes.
The Prize Pool for the Free Fire Titan Dice Roll is:
Titan Treasure
Death M1014 Box
Phantom P90 Box
Carrot-nator AN94 Box
Skull Hunter AK Box
Spirited Overseers M60 Box
Aurous Dragon Scar Box
Hunger UMP Box
Hipster Bunny M79 Box
Vigilante FAMAS Box
Carnival M4A1 Box
Victory Wings Gun Box
Bumblebee Gun Box
Titanium Gun Box
BOOYAH Gun Box
Shark Attack Gun Box
AI Gun Box
Bounty Token
Digital Invasion Gun Box
Gold Royale Voucher
Bonfire
Pet Food
Summon Airdrop
Resupply Map
Scan
Universal Tokens x50
Memory Fragment x50 (Shirou, Skyler, Chrono, Dasha, K)
The Redeem Shop in Free Fire Titan Dice have the following rewards:
M1014 – Attack on Titan : 5 Titan Treasures
P90 – Attack on Titan : 3 Titan Treasures
Top 2021 Lunar Fest: 1 Titan Treasures
Bottom 2021 Lunar Fest: 1 Titan Treasures
Shoes 2021 Lunar Fest : 1 Titan Treasures
How to play the Free Fire Titan Dice and how to get Free Fire Collaboration Weapons?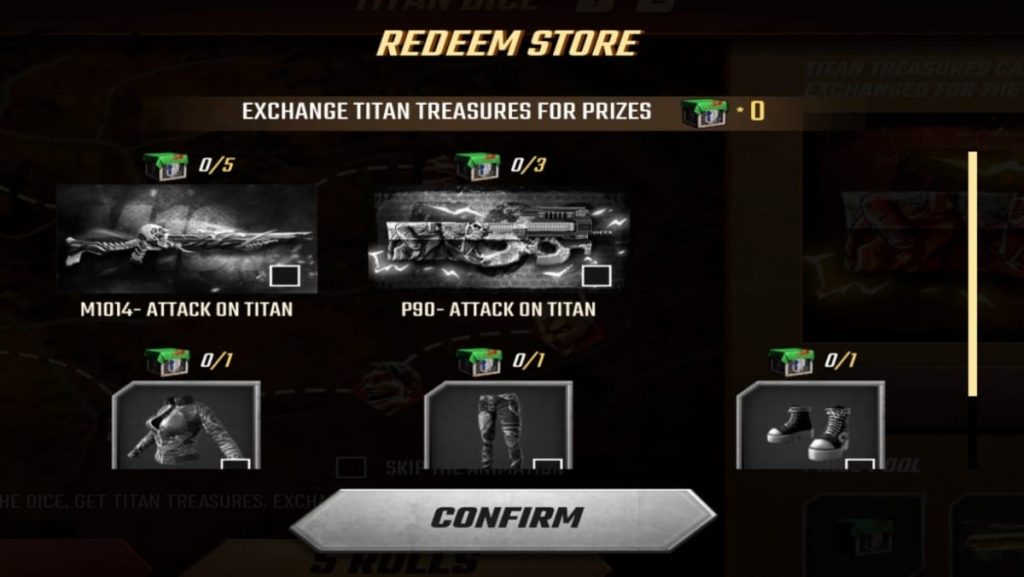 First of all players need to open the Garena Free Fire app and click on the Calendar icon on the right side of the home page.
After that players need to go to the News section on the top right and then navigate to the Titan Dice.
Players need to roll the dice and the character moves according to the number that will be shown. 1 Roll costs 20 diamonds and 5 rolls costs 90 diamonds.
Players will get a a small prize or a Titan Treasure with every roll.
Players can collect the Titan Treasures and redeem them from the Redemption centre.
the redeemed items will be sent to the Vault.
Also read: Free Fire Gun King game mode, Holi 2021: All you need to know