Free Fire developers introduce another cool event in-game to try. The events generally offer you exclusive items, skins, characters, and features. The new Free Fire Ultimate Fighter Event comes under the Free Fire K.O. Night Event. The event is live from April 16 and will go till May 3. It is your best chance to grab free rewards from the event. In the article below, let's quickly dive more into details of the event.
Free Fire Ultimate Fighter Event: All You Need to Know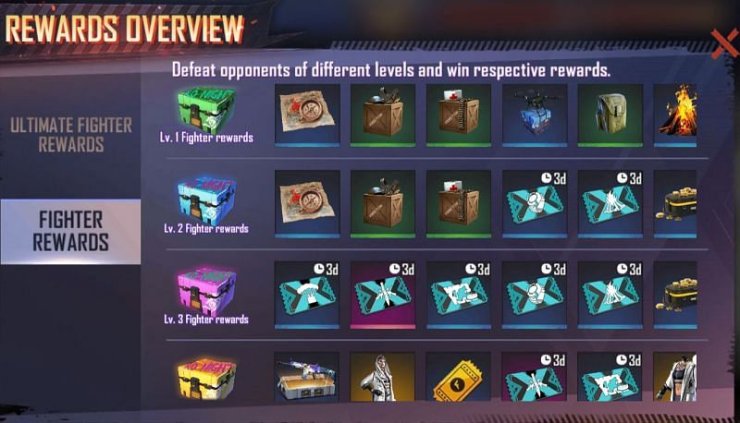 Ultimate Fighter Event is a sub-event of the Free Fire K.O. Night Event. In this event, all you have to do is complete the missions given to you in-game. Apart from the missions, aim for collecting the tokens along with defeating your enemies during the missions.
As soon as you win a game, a mystery box of surprise will reach your in-game ID. The box contains exclusive items and rewards to ace your journey ahead.
It is also high time to win K.O. Night Fighter Belt and the K.O. Night Ultimate Belt with daily missions completion. You also get tokens after each match finishes off. However, it should be noted that the token will be sent to you after a particular time frame. Better don't rush!
| | |
| --- | --- |
| 2x KO Night Fighter Belt  | April 17 to May 2 (Max 20 daily) |
| 2x KO Night Ultimate Belt | Only on April 24 (Max 20 daily) |
| 1x KO Night Ultimate Belt | April 25 to May 2 (Max 10 daily) |
The tokens attained from the event will be used to defeat the enemies. Night Fighter Belt tokens will give enough damage to the enemies and you can win the reward box of exclusive prizes. Daily tasks and rewards in the new Free Fire K.O. Night Event are as:
Game Login – K.O. Night Blue Belt (x1)
Complete a game in any mode – K.O. Night Blue Belt (x1)
Inflict 300 damage points in any mode – K.O. Night Blue Belt (x1)
Defeat an enemy in any mode – K.O. Night Ultimate Belt (x1)
Also Read: Free Fire redeem codes for April 19th, 2021: Working codes for today