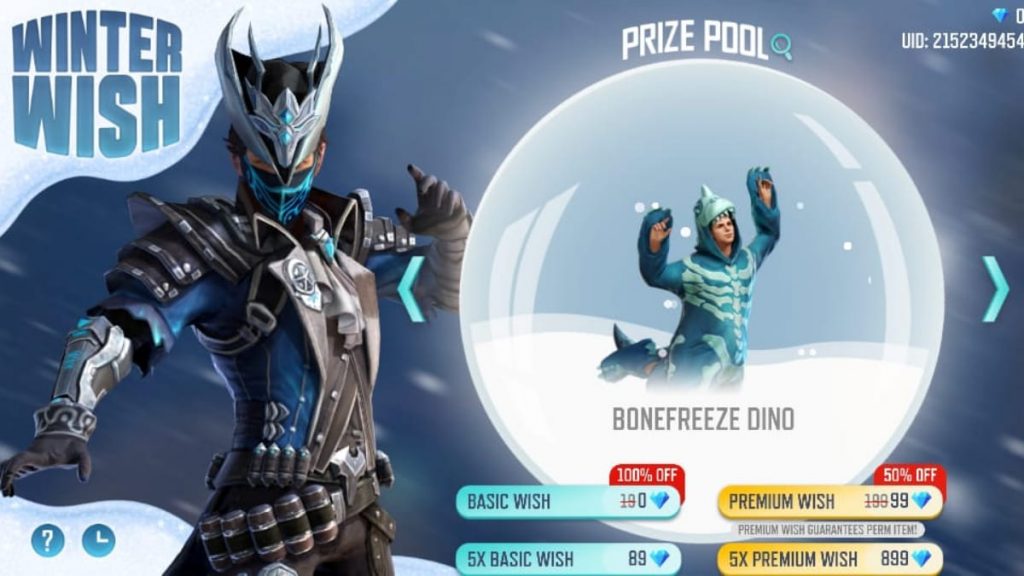 Free Fire is a massively popular battle royale genre. It is developed by Garena Games and enjoys a massive player base throughout the world. The cause of its popularity is various unique in-game features and also regular events. Players can complete these missions to earn exclusive rewards and loots. This keeps the game fresh and interesting for many. In this article we take a look at the recently released Free Fire Winter Wish event and how the players can play it.
Free Fire Winter Wish Event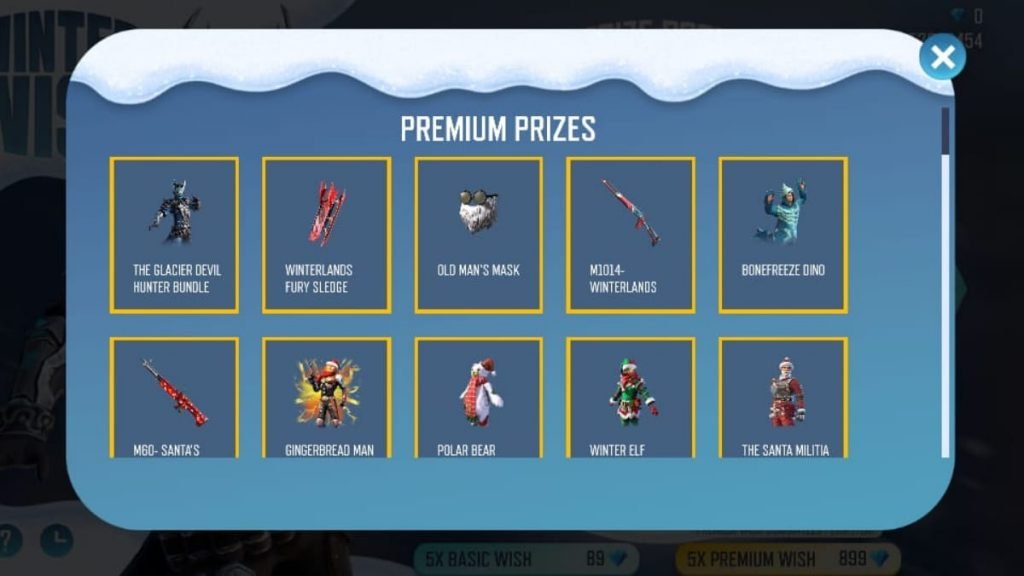 The winter season comes with the latest Free Fire Winter Wish event. This event is live now and available till 6th January 2021. There is a list of 4 draws that players can make:
Basic Wish (10 diamonds)
5x Basic Wish (89 diamonds)
Premium Wish (199 diamonds)
5x Premium Wish (899 diamonds)
Premium Wish guarantees Permanent items.
The prize pool for the event is:
The Glacier Devil Hunter Bundle
Winterlands Fury Sledge
Old Man's Mask
M1014 – Winterlands
Bonefreeze Dino
M60 – Santa's choice
Gingerbread Man Bundle
Polar Bear
Winter Elf Bundle
The Santa Militia Bundle
The Santa Guerrilla Bundle
The Sealie Bundle
The Penguinie Bundle
Grumpy Old man
Winterlands dancer Bundle
Winter Elk Bundle
SPAS12 – Santa's Choice
Santa's Choice Grenade
Winterlands Grenade
Snowman Sidekick
Reindeer Backpack
Polar Bear hat
Red Rudolph
Last laugh
A Pleasant Surprise
Clown's Nose
Deer Head
Snow Day (Top)
Snow day (Bottom)
Holiday Seasons (Top)
Holiday Seasons (Bottom)
Winter Party Backpack
Winterlands Backpack
Pet Skin – Snowy Robo
Snowman's Frenzy
Pet skin – Snow panther
Pet Skin – Snowy Panda
Reindeer Express
Reindeer's Snowboard
Winterlands Snowboard
Winter's Delight
Winterlands Loot Box
Wicked Snowman
Elf, Old man, and the Elk
Old Man's parachute
Winter
Bliss Of Winter
Joy of winter
The Gingerbread Man
Lucky Gift Portrait
Polar Bear Portrait
Winterlands 2019 celebration
The deer and the bell
Winter Candies
Snowy day
Core fragment
Diamond Royale Voucher
Weapon Royale Voucher
Santa M60 Box
Winterlands M1014 Weapon Loot Crate
Winterlands Gun Box
Gold Royale Voucher
Pet food
Universal Fragments
Bounty Token
Scan
How to access Play Winter Wish event
Players first need to open the Free Fire app. Upon loading, players can either navigate to the Winter Wish event from the load screen pop-up or from the events section. The event tab is located on the right side of the home screen.
Players can now decide from the list of draws they want to make. The first Basic Wish is Free for all. Likewise the First Premium Wish is 50% off for all players. Players need to spend diamonds for a chance to get these exclusive rewards.
However the bundles you already own will not be obtained again.
The prizes will be sent directly into your inventory and may take upto 15 minutes to process.
Also read: Free Fire Redeem code for Indian Region 2020