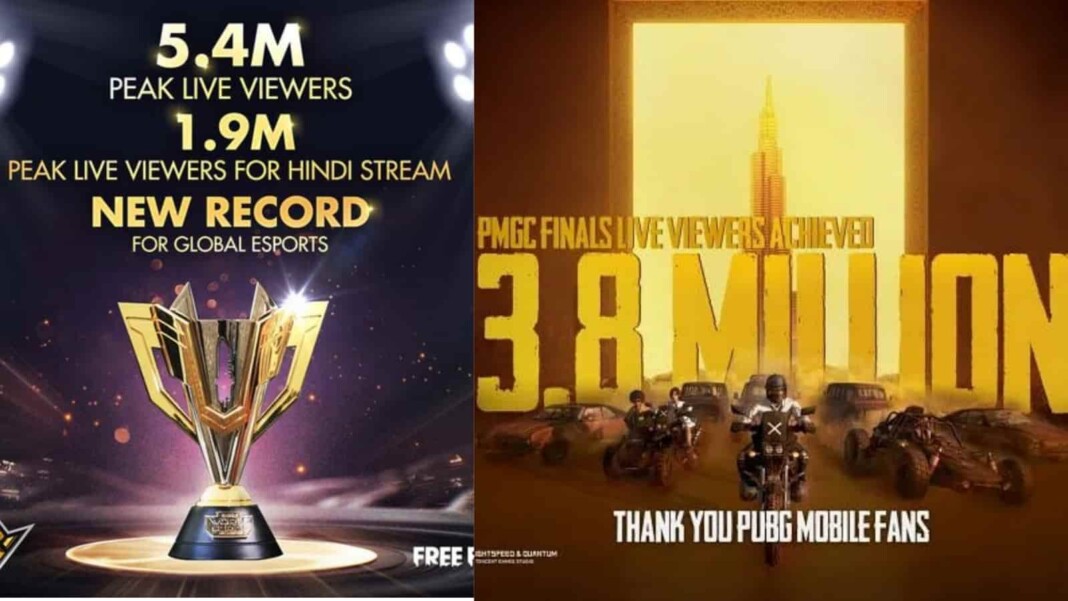 Free Fire World Series 2021 concluded on 30th May breaking all the previous records of viewership globally. Both Free Fire and PUBG Mobile are the most famous titles among Mobile battle royale genre. It's no surprise that both games are among the top-ranked in downloads, revenues, and growth.
It was only a few months ago that PUBG Mobile esports reached a peak viewership record of 3.8 million during the finals of PUBG Mobile Global Championship season. Here in this article we will discuss about how FFWS 2021 beat all the viewership records.
Free Fire World Series 2021 Viewership Records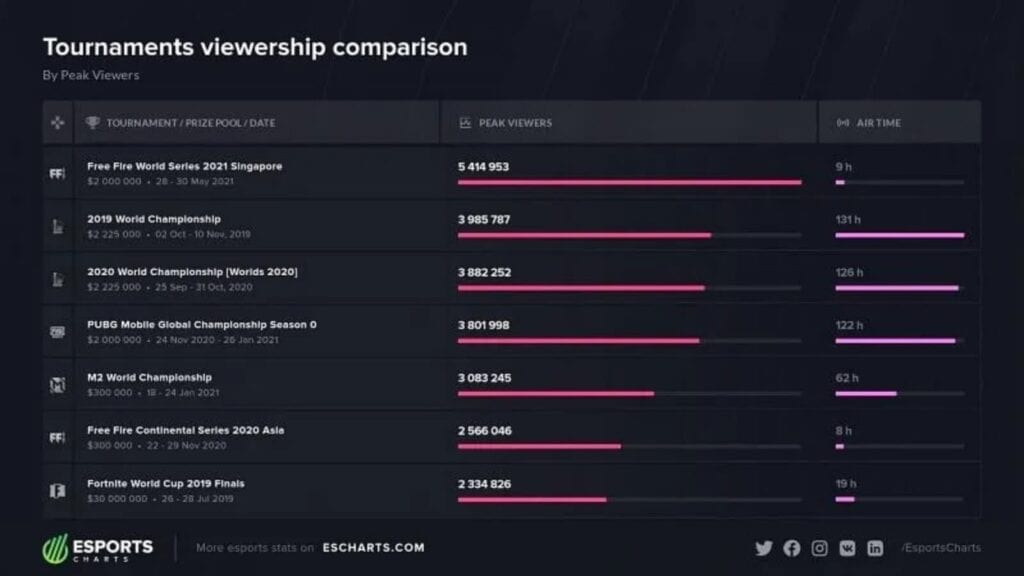 Free Fire has now surpassed PUBG Mobile's peak viewership by 1.6 million viewers. According to the popular esports statistics website EsportsCharts, Free Fire World Series 2021 was viewed a staggering 5.4 million times at its peak. As a result, Free Fire World Series 2021 Singapore has become the most popular esports event of all time, beating League Of Legends 2019, which peaked at 3.9 million viewers during the semifinals.
Breaking down the numbers, FFWS 2021 had an average viewership of more than 2 million, dominated by Portuguese and Hindi language streams and accounting for 25.9 and 22.5% of the total hours watched, respectively. Esports charts also compared the FFWS 2021 to the previous edition of FFWS ( FFWS 2019 Rio) and found out this year's hours watched increased by 143% and peak viewers by 168%.
Related – Free Fire Pro League Summer (FFPL 2021) Registration Process, Format and More
Irrespective of the major problem, i.e. no representation in the FFWS 2021 and incorrect time zone (the final was held almost at midnight), the Hindi broadcast set a record and was watched by 1.9 million peak viewers, which was a new record by peak viewers on a single broadcast. So far, the Hindi stream has garnered 58 million views on YouTube.
Free Fire World Series 2021 was won by the Thai team Phoenix Force, who dominated the finals by winning four out of six rounds, beating fan-favourite LOUD and Fluxo by a great margin. The team was awarded $500k prize money out of the $2 million prize pool and not only that even the players was rewarded for completing the viewership milestones FFWS 2021 rewards included free characters and emotes.
Follow our Instagram handle to participate in huge DJ Aloks Giveaway and to stay updated with every latest news of gaming and eSports scene.
Also Read – How To Overplay DJ Alok In Free Fire Clash Squad Mode