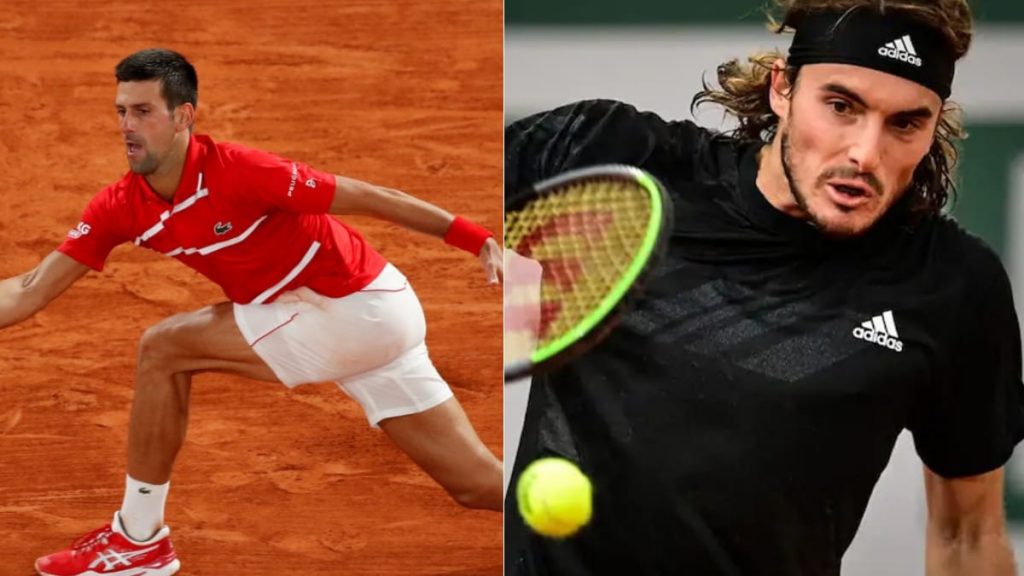 Men's Singles Semifinal LIVE Updates: Novak Djokovic vs Stefanos Tsitsipas
02:05 IST: The Greek is visibly tired as he has limited court movement. Novak has a lead on serve and seals it in a jiffy. After 3 hours and 51 minutes comes match point 2. But Novak fails to convert. At deuce, Tsitsipas earns the advantage. He commits a double fault. At deuce 3, Djokovic wins an advantage. He seals the match, 6-3,6-2,5-7,4-6,6-1
01:54 IST: In 22 minutes of the final stet, Djokovic leads 4-1 on his serve after hold and as Tsitsipas is broken for the second time.
01:45IST: As Tsitsipas served again, he was unable to find a game for himself. He managed to save breakpoints but the world no.1 converted the final breakpoint at 30-40 and lead 2-1 on serve.
01:42 IST: The duo has made a hold in the opening. While Tsitsipas struggled after a Deuce to eventually hold, the Serbian held his serve to level it 1-1.
SET 5 BEGINS
01:34 IST: Djokovic has stumbled on his way and he has to endure a 5 set battle as Stefanos Tsitsipas take a game and breaks the world no.1 . He wins 6-4 in the fourth.
01:19 IST: Djokovic is fighting to earn a window and break. At deuce, Tsitsipas misses a volley outside the alley. Novak has a chance to break, but Tsitsipas smashes an ace. At the deuce, Djokovic dictates the point and wins with a drop. Deuce again and advantage. Tsitsipas holds. 5-4
00:59 IST: Fighting a break point, Tsitsipas now wins and it is 3-3 as Novak holds onto his serve. The duo has been in a neck to neck battle much like the third set. At 4-4 now Tsitsipas is serving.
00:50 IST: Tsitsipas begins the set and breaks the world no.1. However, the Serbian breaks back and serves to trail at 2-1. With the first hold in four service games, Novak now is at par. It is 2-2.
SET 4 BEGINS
00:30 IST: Now, in the service game of Novak, he seems to struggle. The Greek has won himself a break point and he converts to seal the set.
00:23 IST:At Tsitsipas' serve, Djokovic wins two points and leads 30-0. But he loses consecutive points to make it 40-30. Finally he seals the game and leads 6-5.
00:21 IST: Djokovic is able to deny the point win back and make it deuce 3. But Tsitsipas hits a winner to make him work hard. Finally, Tsitsipas converts and wins his first break. At 5-5, Tsitsipas serves.
00:15 IST: Novak serves to reach his 5th finals at Roland Garros. He loses the first point but wins the second. Now its 30-30 as Tsitsipas hit a ball long. Djokovic cruising towards the finishing line, but misses in the net. At 30-40 Tsitsipas has a break point. But fails to convert. Novak wins a match point with the advantage. He fails to convert the match point. It is Deuce 2.
00:08 IST: The duo has been holding successfully, at 4-4 now Stefanos serves. In the first point, a great winner from Novak wins a thumbs up from his opponent. Tsitsipas hits the next rally in the open court to make it 15-15. A wide forehand pushes Novak out of the court, Novak misses the ball on the net. The game is on Deuce and Tsitsipas misses a down the line in the net. Novak grunts aloud as he wins the game and breaks. He leads 4-3 in the third.
23:54 IST: Stefanos follows up with another hold and make scores 3-2. The set is a close battle between the duo. The third setter is neck to neck. The Serbian holds to make it 3-3.
23:48 IST: Tsitsipas makes a hold with a wrong foot for Djokovic. It is still on serve, 2-1. Now, Djokovic's turn to hold and make it 2-2.
23:45 IST: Tsitsipas wins the opening game, as the Serbian comes close behind at a Deuce on his serve. Novak misses an on the run shot on the net, and Tsitsipas, who has failed all breakpoints conversion has the eight one on the way. He fails to make it count and Djokovic levels it to deuce. A smash and Advantage with Serbian. A very wide shot and Game for Djokovic. 1-1
SET 3 BEGINS
Stefanos leaves the court for a break and Novak is streching to make sure his body is warmed up.
23:30 IST: Djokovic begins strong, with a 30-0 lead in a jiffy. The Serbian is a set point away at 40-0 and BOOM!! Ace, as he wins the set.
23:26 IST Another breakpoint for Djokovic and Tsitsipas fails to hold and he leads 5-2 in set number 2. Stefanos Tsitsipas was very close to sealing the game but Novak made a comeback to win the game and now will serve for the set.
23:02 IST Looking for a hold to still be in the run for the finals, Tsitsipas makes no mistakes to lead 40-0 up in his service. But Novak has two more points in his pocket and makes it 40-30 with a beautiful drop shot as Tsitsipas was way behind the baseline. Another game point gone, and Deuce. Djokovic takes 4 points in a row and it is an advantage for Djokovic. A first save of breakpoint coming from Greek in the most crucial times.
23:22 IST: Djokovic is into the lead in his serve. At 40-30 a down the T serve has awarded him a 4-2 lead. Djokovic is cruising to a seal the set in a similar fashion as set 1.
23:15 IST: Djokovic leads to a hold making it 2-2. Despite looking strong in his serve and leading 40-0, Tsitsipas is broken the second time in the match. Djokovic has converted 2/2 breakpoints while Tsitsipas has converted 0/7 offered. The world no.1 leads 3-2 on his serve.
23:07 IST: Stefanos is on fire, hitting winners with a ferocious pace. He leads after a successful hold, 2-1. With some phenomenal passing shots, against world no.1 Stefanos with all guns blazing, will give Serb a hard time.
23:02 IST: Finally Djokovic survives and wins to make it 1-1.
22:58 IST: Stefanos is dominating the game on Djokovic's serve but fails to convert the break points. Djokovic makes it Deuce. Bu Stefanos is trying hard to break as he gains advantage. It is turning to be a lengthy game as neither is able to capitalize the chances at hand.
22:53 IST: Djokovic will face a tough battle to break the Greek here. He has been serving well. In two minutes, Tsitsipas holds to love.
SET 2 BEGINS
22:50 IST: The Greek wins his service game but trails 5-3 due to an early break. Now Djokovic serves with 40-15 and double set points. He fails to convert the first. Tsitsipas wins the second point too. The Serbian comes back to win the set 6-3.
22:43 IST: At 30-30 on his serve, Djokovic wins as Greek God, misses a cross-court, aiming it in the alley. He grunts in misery. Following up with two consecutive points, Tsitsipas has a breakpoint. Stefanos Tsitsipas gives Djokovic a volley in his hand, where Serbian hits the drop to make it deuce. Djokovic makes the most of the chance and wins two points to hold. 5-2 Djokovic leads.
22:33 IST: At 4-2 Djokovic begins to serve and enters the volley to win the point as Tsitsipas missed in the net, while on the run. The world no.1 misses a backhand on the net to make the score 15-15. The very next point is again lost in an unforced error as Djokovic misses another backhand on net while entering the court.
22:28 IST: Tsitsipas serves at 1-4. A second serve fetches him a point after Novak hits it long. The down the T serve from Tsitsipas is too good to be returned, he leads 30-0. Djokovic wins and follows up with a point filled with aggressive rallies. Tsitsipas has 40-15 lead and seals the game in a jiffy.
22:26 IST: In the opening set, Novak Djokovic has earned an early break to make the score 3-1 on his serve.
Welcome to the LIVE Updates of French Open 2020 Men's singles semifinal between Novak Djokovic and Stefanos Tsitsipas. Get all live updates here.
World No.1 and 17-time Grand Slam champion Novak Djokovic will lock horns with 6th-seed Stefanos Tsitsipas in a high-octane clash in the semifinals of the French Open 2020. Both the players are in prolific touch and are impossible to beat when they are on the top of their game, which sets up for a mouth-watering encounter.
Match details
Fixture: Novak Djokovic vs Stefanos Tsitsipas
Date:9 October 2020
Tournament: Roland Garros 2020
Round: Semifinals
Venue: Paris, France
Category: Grand Slam
Surface: Red clay
Prize money: Approx. €425,250
Novak Djokovic vs Stefanos Tsitsipas: Match Preview
Talking about the road to semifinal, Djokovic had not lost a set at Roland Garros this year until he went up against 17th-seed Pablo Carreno Busta in the quarterfinal. The 33-yar old Serb lost the opening set of the encounter, his first in the tournament, before making a comeback for which Djokovic is known for to outclass Busta 4-6, 6-2, 6-3, 6-4 in an entertaining match that concluded late last night.
On the other hand, Tsitsipas, after on the brink of getting ousted in the opening round, has been really solid and hasn't lost a set since that marathon match. The trend continued in the quarters as well against 13th-seed Andrey Rublev, as the 22-year old Greek sailed past his Next Gen fellow in straight sets 7-5, 6-2, 6-3 yesterday.