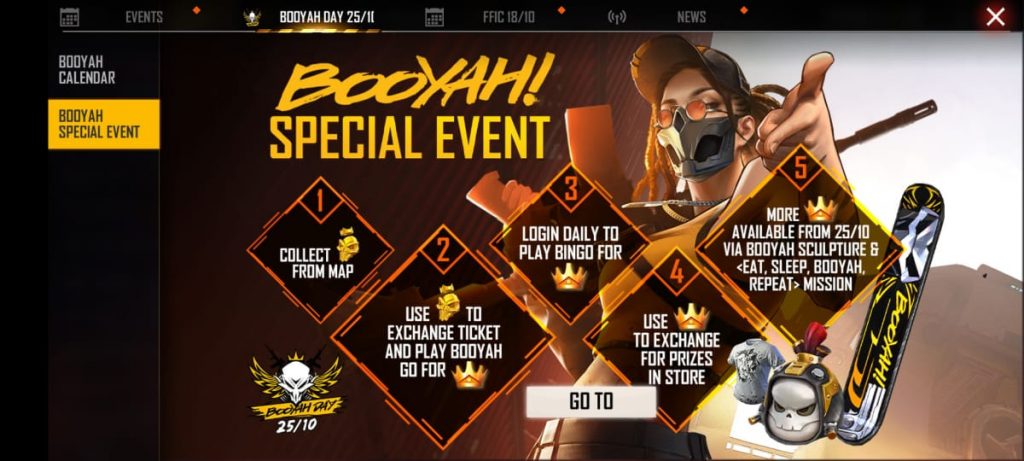 Garena Free Fire has packed Season 29, October 2020 with plethora of events for all players.
So that users can now play safely sitting at home with friends during this pandemic.
Now players can equip some free skins and redeem rewards in the store by just completing simple tasks and challenges. Booyah Go Event is one such event of this month.
With these events they have attracted a huge number of users, and have kept them satisfied with full punch of events.
I will be summarizing you about the Booyah go event in this article and events of Booyah go event.
Booyah Go Event: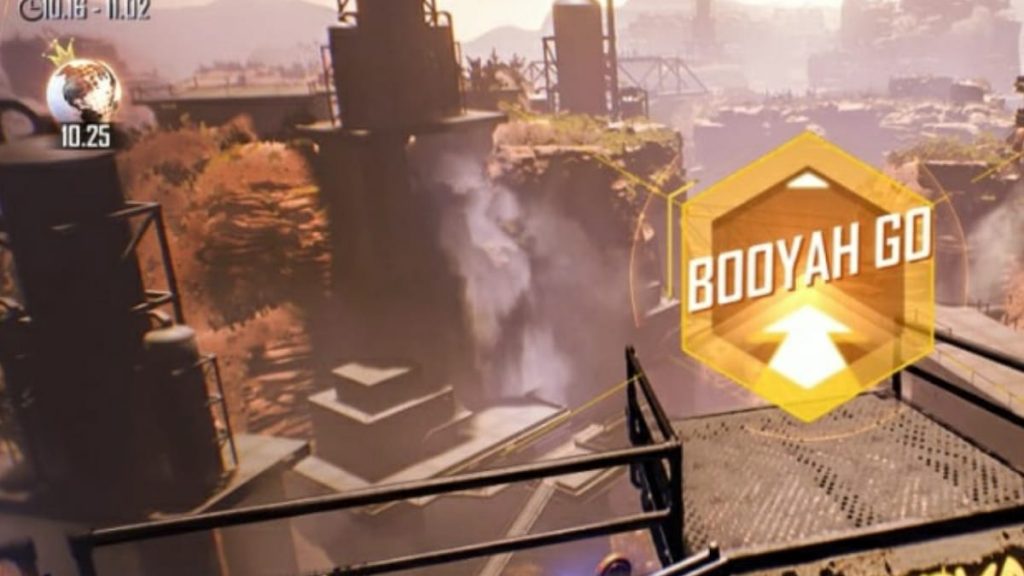 The Booyah go event is now LIVE on Free Fire, this event will be active from 16th October – 1st November 2020.
Events in Booyah Go events are:
Check-in Event
Exchange Event
Web Event
In order to participate in this event, you must have enough number of Booyah candys and Booyah Crowns.
To gain Booyah Candys you need to play classic matches it can be Solo, Duo or Squad. You need to pick these Candys while your looting.
Booyah Crowns can be won in the, Check in Event of Booyah Go Event or by playing classic matches.
Check-in Event: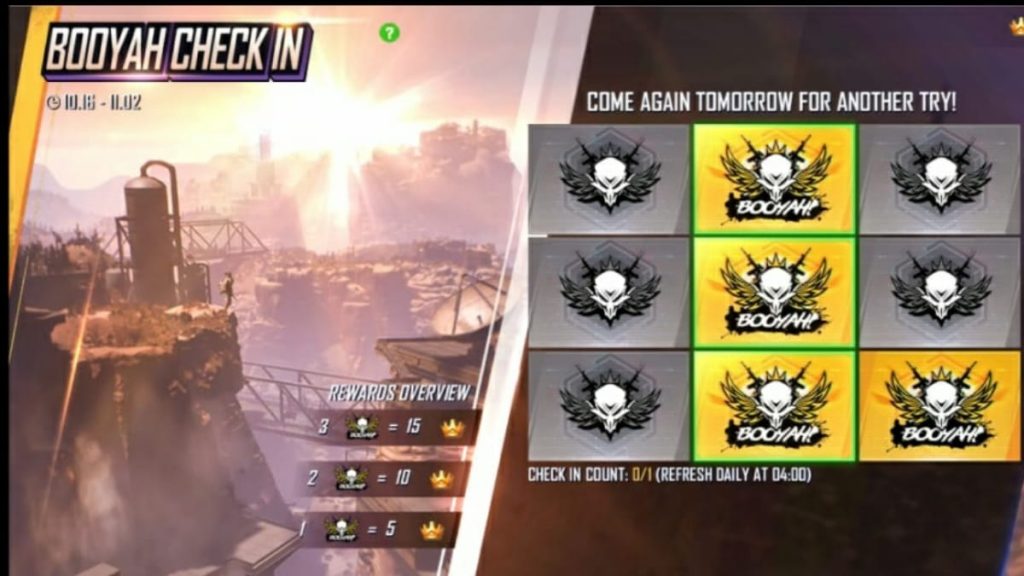 Check-in Event is an event where you need to flip Four cards on flipping. After the flips, if you get four same cards then pick a path in end. You will receive Booyah Crowns daily.
1 Booyah Tile – 5 crowns
2 Booyah Tile – 10 Crowns
3 Booyah Tile – 15 crowns
This event can be played only once in a day and refreshes daily at 04:00.
Exchange Event: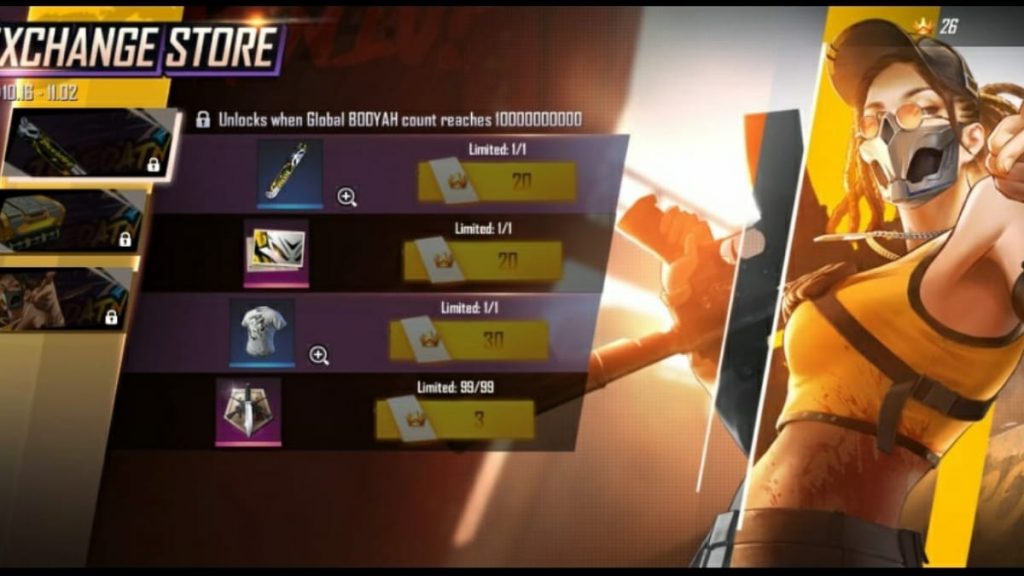 This event is depending on you and the Whole global users of free fire.
In this event, you can redeem prizes using Booyah Crowns and Candys that you had collected during classic matches and Check-in Events.
The exchange store will be unlocked when 10,20 and 30 Billion Booyahs are completed.
Reward unlocked for 10 Billion Booyahs:
Bounty Token – 3 Booyah Crowns
Lion Heart – 30 Booyah Crowns
Booyah Day 2020 (Banner) – 20 Booyah Crowns
Booyah Victor (Surfboard) – 20 Booyah Crowns
Rewards unlocked for 20 Billion Booyahs:
Leg Pockets – 3 Booyah Crowns
Booyah Day! (Parachute) – 30 Booyah Crowns
Booyah Day Loot Box – 30 Booyah Crowns
Grenade – Booyah Day – 30 Booyah Crowns
Rewards unlocked for 30 million Booyahs:
Booyah Day Bat – 30 Booyah Crowns
Spirit of Booyah (Top) – 50 Booyah Crowns
Spirit of Booyah (Bottom) – 50 Booyah Crowns
Booyah (Mask) – 40 Booyah Crowns
Booyah (Head) – 30 Booyah Crowns
Spirit of Booyah (Shoes) – 20 Booyah Crowns
Note: These rewards can be unlocked only if you have sufficient Booyah Candys and Crowns. To gain more candies and crowns you need to play more classic matches and participate in events.
Booyah Time:
Login on 25th October 2020 and celebrate Booyah Time with Players Worldwide.
Also, you can will receive a free UMP Skin.
Also Read: India Championship (FFIC) schedule, and Results 2020