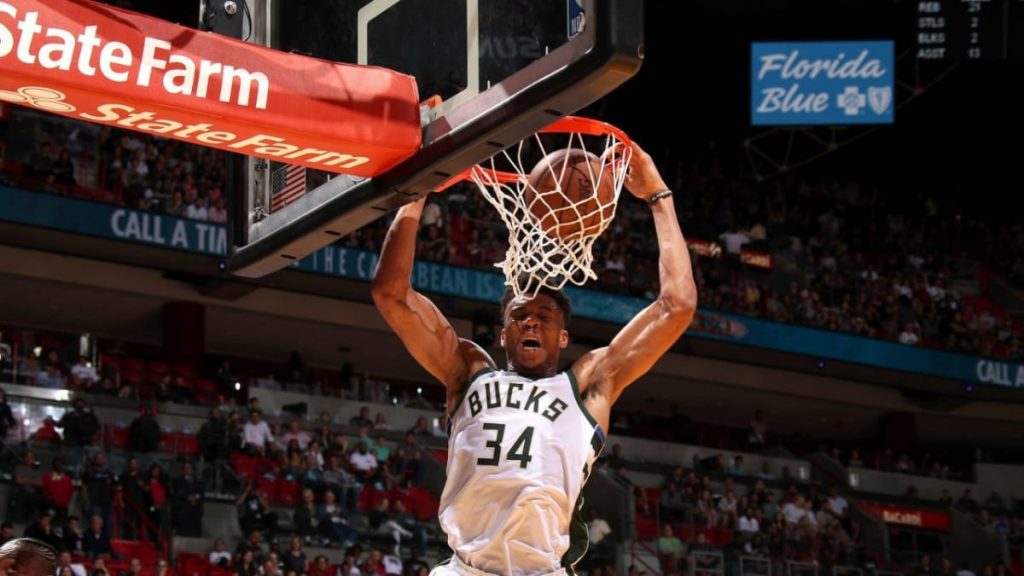 The reigning MVP, Giannis Antetokounmpo has surely started slow in this season. But his work-rate is increasing game after game. Giannis scored 29 points and 12 rebounds making it a double-double to lead the Milwaukee Bucks against Chicago Bulls. The Bucks looked dominant throughout the game, overpowering their opponents on both end of the courts. Middleton got only 14 in this game for the Bucks. Whereas Bryn Forbes came off the bench to score huge 18 points for the home side.  
With this victory the Bucks have now won both their games played at home. While Giannis Antetokounmpo ran the show for Bucks. Talking about the away side, Chicago Bulls, another decent performance came via Zach LaVine who scored 16 points. Whereas Denzel Valentine scored 14 coming off the bench.
Giannis Antetokounmpo leads Bucks as they thump Bulls 126-96
The Bucks stayed in superb form from 3-point range as well after breaking the record couple of matches earlier. The Bucks shot just 7 of 38 on 3-point attempts in a 130-110 loss at New York on Sunday, but they've gone 67 of 137 in three games since.
The Bucks have beaten the Bulls 11 straight times, the second-longest winning streak by either team in the history of this series The Bulls won 12 straight over the Bucks from December 1995 to March 1998.
Chicago played its second straight game without forwards Lauri Markkanen and Chandler Hutchison as well as guards Ryan Arcidiacono and Tomas Satoransky as part of the NBA's health and safety protocols related to COVID-19. Markkanen is the Bulls' second-leading scorer (17.3) and top rebounder (6.8).
Having said that, the Bucks are looking as a more improved side who seemed to have worked upon their loopholes a lot. Next, they face, Luka Dincic led Dallas Mavericks. Whereas the Chicago Bulls will be hosting the Detroit Pistons in their next encounter. 
Also Read: A Total Team Effort takes Atlanta Hawks' past Brooklyn Nets