The 2022 FedEx St. Jude Championship has been exciting, to say the least. Will Zalatoris had the wildest break of them all to win his long-awaited maiden PGA Tour title on Sunday at the FedEx St. Jude Championship in one of the wildest playoffs in recent PGA Tour memory.
Following two exciting playoff holes between Zalatoris and Sepp Straka, Zalatoris' tee shot at the third extra hole—the 151-yard, par-3 11th at TPC Southwind—barely cleared the water, bounced off the bank, and then took at least six more whacks at the rock retaining wall before landing between the wall and the rough. Zalatoris' choice was made simpler when Straka rinsed his tee shot after Zalatoris had put himself in danger and eventually lay down a few feet away. He continued to consider making the shot, which was probably impossible.
Also Read| Climate activists fill golf holes with CEMENT after water ban exemption leaves 100 villages suffering
Will Zalatoris expressed his emotions after his maiden PGA title win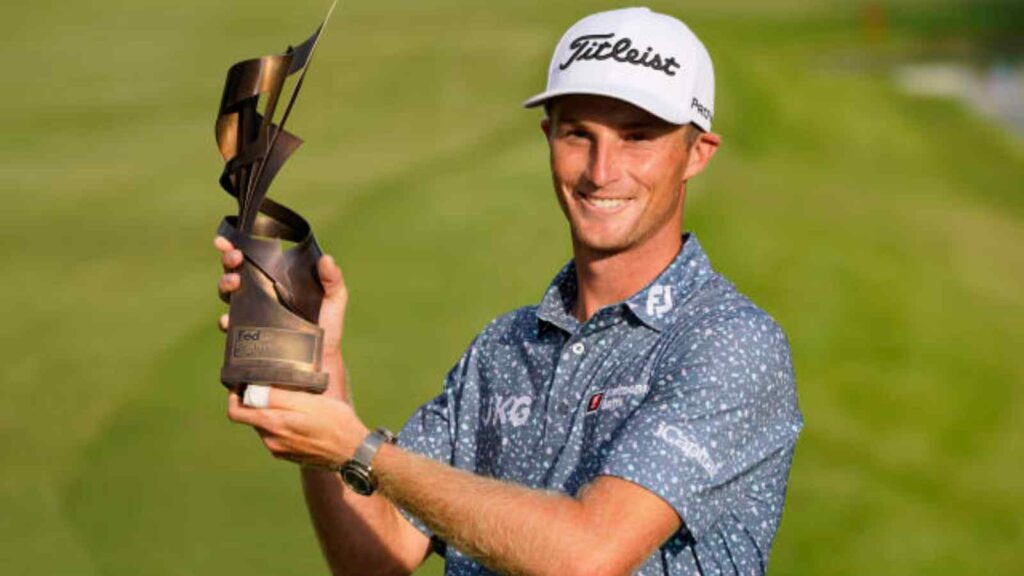 Instead, Will Zalatoris returned to the drop area and made the winning bogey putt after talking with his new caddie Joel Stock. He hit a wedge shot from 93 yards out to 7 feet. Following a wild second playoff hole, the par-4 18th, when Zalatoris' shot flew right, bounded off the cart path with force, and came to stop a few feet from the out-of-bounds fence, the thrilling conclusion was the result.
Hardly hooking and almost going into the water, Straka's drive miraculously came to a halt on the shore. Zalatoruis showed out his emotions after winning his maiden PGA Tour title at FedEx St. Jude Championship. The Twitter video below shows how important was this PGA Tour win for him. His emotions were crystal clear as he hugged his girlfriend in tears. Earlier in July, Zalatoris reaffirmed his loyalty to PGA Tour and DP World Tour by saying "I am fully committed" (to them).
No words are necessary to further express the euphoric atmosphere that surrounded Zalatoris at that moment of victory. During the match, he decided to punch out, but Straka chose to be even more cautious, leaving his shoes on (he had briefly taken them off while considering taking a stance in the lake), and taking a penalty stroke so he could drop back in the fairway.
In order to throw the pressure back on his opponent, Straka made his third shot from 152 yards out of land at 7 feet. In response, Zalatoris rolled in the 14-foot par save after making a crucial 10-footer for par on the hole in regulation. Prior to being eventually shut out of the playoff, Straka matched to extend it.
Also Read| "Confused by his approach" – Greg Norman claims Rory McIlroy asked for "sizable appearance fees" for LIV Golf participation
Also Read| "Sick and tired of hearing of hearing this" – Patrick Reed puts forward bold statements about LIV Golf money
Do follow us on: Google News | Facebook | Instagram | Twitter