Tiger Woods has had an illustrating career and 'drives' have been one of the key aspects of his game that has helped him out of tough spots. Do we know – What a 'drive' is? Let's put it in layman's terms.
A 'Drive' in golf refers to a long shot down the freeway towards the green. Drives are often the first shot for a hole and a good drive can help one maximize their score in golf.
Less number of people know that Tiger Woods actual name is Eldrick Woods. He was the 'prodigal' son of golf when he burst onto the scene. Tiger Woods has had a winning mentality from a very young age winning the Junior World titles before turning 10.
He had a phenomenal amateur season winning the Junior Amateur Championships and U.S. World Amateur titles. Woods took the pro-road in 1996 but not before winning the NCAA titles at Stanford where he was for two years.
Also read :- "Even I didn't know it was that big!": Inside Tiger Woods' jaw-dropping £40m Florida home will leave you speechless
Longest Drive of Tiger Woods' career
Tiger Woods has driven many long shots that have won him accolades down the years. His longest shot though in 2002 – Tournament of Champions at Kapalua.
Although the longest drive record in PGA is held by Carl Cooper with a 787-yard hit on the drive. He lit up the 1992 Texas Open with this mammoth shot down towards the green.
This Woods' shot at the Tournament of Champions is only some 15 yards short of Mike Austin's WR that has been recorded in pro golf. Austin's shot came at the Winterwood Golf Course in Las Vegas back in 1974.
Mike Austin was famous for his long hits and his technique – "The Mike Austin Swing" is still practiced by present-day golfers with the dream of shattering the great man's record.
Tiger Woods, who was offered a $700mn-$800 million to hop over to the LIV Golf event stood his ground with the PGA Tour along with fellow pro golfers Rory Mcllroy, Justin Thomas, Ricky Fowler, etc.
No question though about whos's the alpha in there, or is there ? Well, that's for the masses to decide as we look into what makes Tiger Woods hit such drives with such efficiency and accuracy.
Shotlink is the preferred technology to precisely measure distances in PGA. Woods' shot measured a whopping 498 yards for the contemporary PGA records. His almost 500-mark breaching shot is the longest in the modern-day PGA Tour history that has been registered by Shotlink.
Tiger Woods' technique and average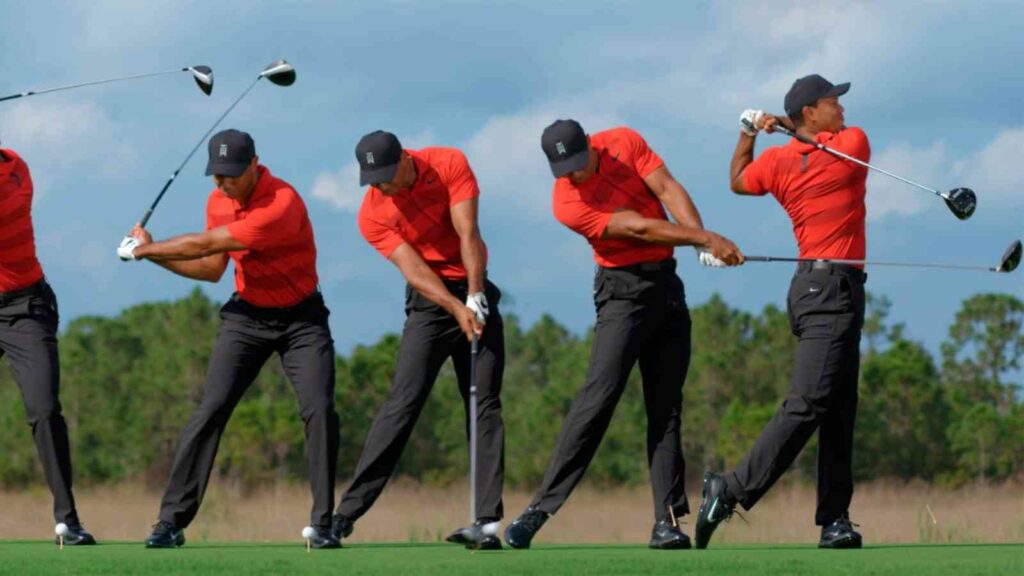 Woods is certainly the G.O.A.T. of golf. His talent, prowess, and mental strength are of immense standards. One of the best things about his game is his ability and technique to drive the ball off the tee which has helped him be successful. This has definitely outclassed his opponents over the years and helped him stand apart from his fellow compatriots.
Tiger's technique of moving his lower body and straightening his left leg in order to rotate and clear his hips faster aids him to hit he ball a further 15-25 yards down the line. This movement of his lower body also enhances the speed of his arms, and shoulders, and thus his swing speed.
Woods distance varies from golf club to golf club. According to Golf Digest – "Tiger hits the driver an average of 285 yards with carry. His long irons (2- to 4-iron) range from 250 to 200 yards. His middle irons (5, 6, 7) range from 208 to 172 yards. His 8-iron travels 158 yards, and 9-iron flies 142".
Also read :- Ex-caddie Steve Williams reveals Tiger Woods only plays "to win trophies and create records" without any ulterior motives
Also read :- 'Not just a decorated career, but decorated walls too' – Tiger Woods displays a mere part of his extravagant collection
Do follow us on Facebook | Instagram | Twitter