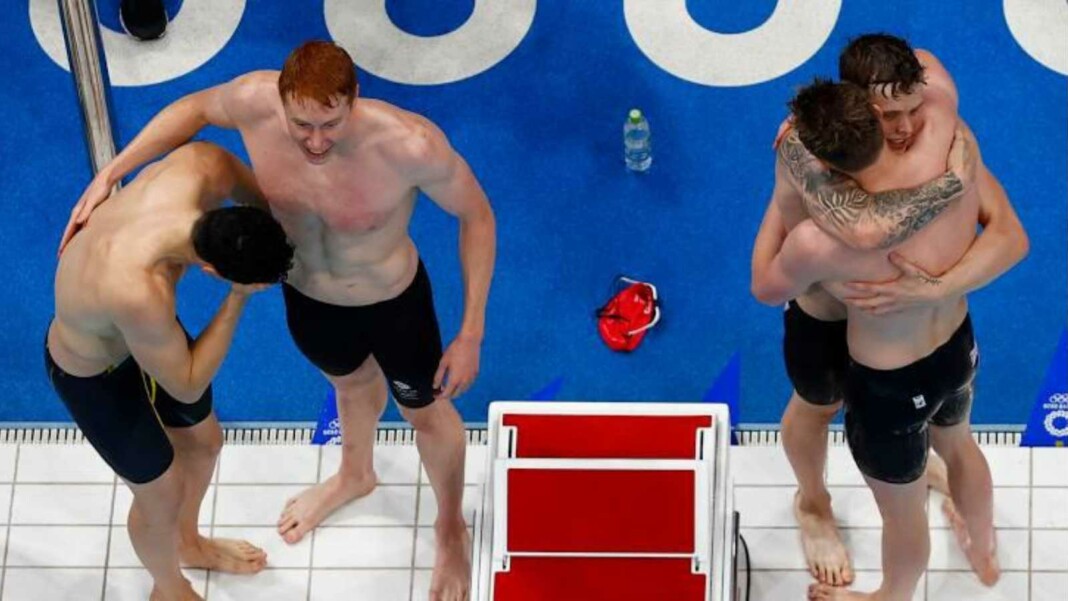 On day 5 of swimming at Tokyo Olympics, Great Britain took an emphatic win in the men's 4x200m freestyle relay asserting their dominance in the pool this year. They missed the Olympic record by just a whisker, 0.02 seconds, as they finished with a historic gold medal.
The team from Great Britain was led by Tom Dean, the gold medal winner in the men's 200m freestyle in swimming at Tokyo Olympics. Along with him was Duncan Scott, silver medallist from the same event, and James Guy and Matthew Richards. Dean started the race, and held a steady pace after his 200m, maintaining 3rd position with a time of 1:45.72s. James Guy went in next, and swam the second fastest time of the team, 1:44.40s, which helped the team move up the ranks to 1st place.
Matthew Richards has a reaction time of just 0.16s next, and kept up the first place position, swimming with a time of 1:45.01s. Duncan Scott was in last, and he brought it home with the fastest time of the match, 1:43.45s. Great Britain finished in first place with a dominant win, over 3 seconds ahead of the rest of the field with a total time of 6:58.58s.
ROC took the silver medal, as Martin Malyutin took to the pool first. He led the team to second place at the end of his swim, which all his teammates maintained throughout the race. Ivan Girev, Evgeny Rylov and Mikhail Dovgalyuk rounded off the ROC team, as they finished the race in second place with a time of 7:01.81s.
It was Australia who clinched the bronze medal, making an incredible comeback to win third place behind ROC by just 0.03s. Alexander Graham started things off for Australia, but was in 7th place by the end of his 200m. Kyle Chalmers and Zac Incerti made up immense time, and Australia was in 4th postition. Zac Apple took the field last, and swam the fastest of the team, taking the Australians to a finish on the podium with a time of 7:01:84.
USA unfortuanetly finished 4th, with a time of 7:02.43s, losing out on a medal for the first time on an Olympic relay podium in a shocking race.
Swimming at Tokyo Olympics: Celebrations erupt on Twitter as the British men bring home the gold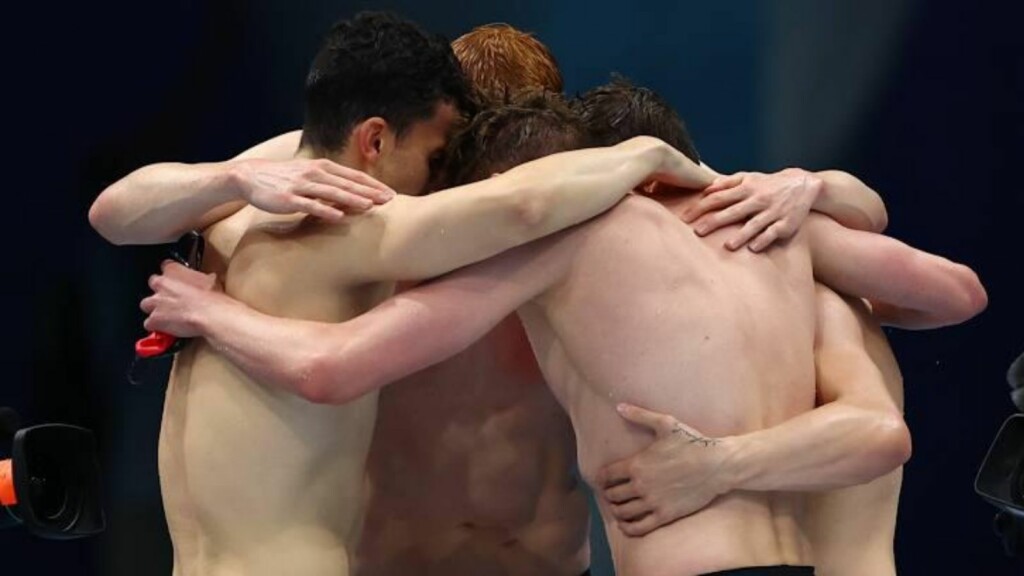 Team GB applauded the efforts of the British team, as they won their third gold medal of swimming at Tokyo Olympics.
Several Journalists, Politicians and athletes congratulated Great Britain on their emphatic victory. The look of disbelief was visible on the British team's face, as they tried to comprehend their first place finish.
Also read: Swimming at Tokyo Olympics: Australia Breaks Women's 4x100m Freestyle Relay World Record and Olympic Record