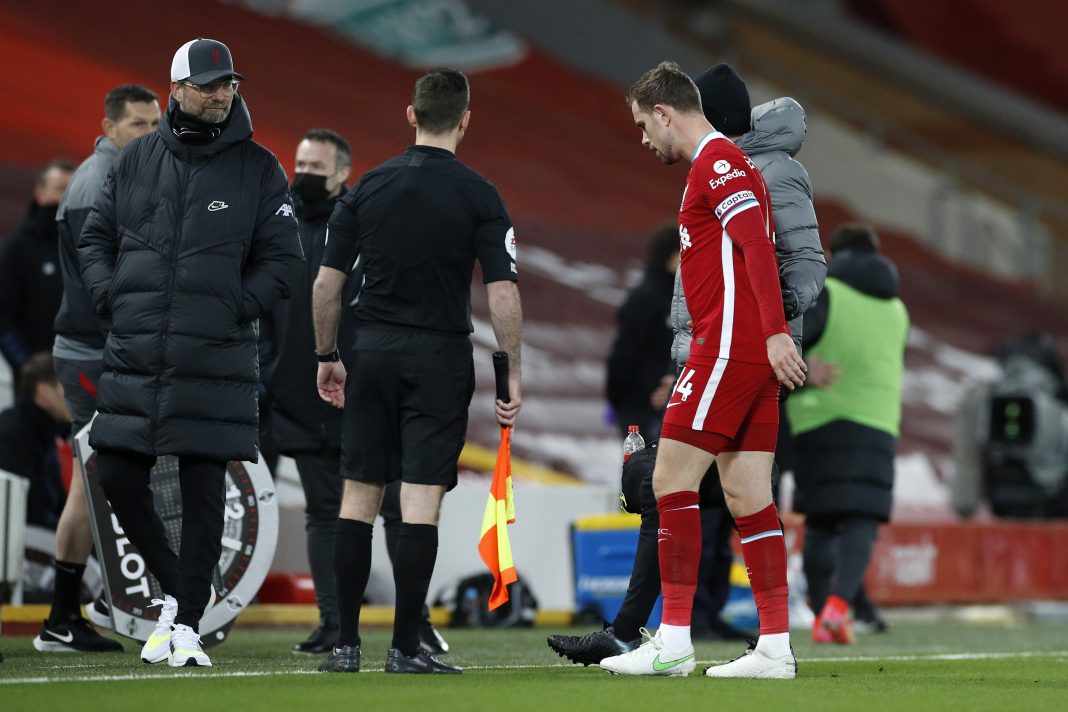 Gareth Southgate, the England head-coach has revealed that England's midfield can be without the services of Jordan Henderson. Henderson, 29, who underwent groin surgery at the end of February, faced a fitness race that would go "close to the end of the season". He will not select anybody for the summer tournament who is not in top physical shape.
Henderson picked up the injury in Liverpool's 2-0 Premier League defeat by Merseyside rival Everton on February 20 and was expected to be sidelined for at least five weeks. Henderson suffered a groin injury and the Liverpool captain will be out for a longer period of time putting his availability for the Euros in doubt.
Henderson suffered a groin injury and is yet to return to full fitness
"We know it's going to be close to the end of the season, and we will just have to see how it goes," Southgate said.
"We are conscious that with any injury of that nature, there is a guide and a time defined – but that anything can happen along the way.
"In terms of promises, we can only say that Hendo himself is very optimistic about how the operation went and the prognosis that the specialist has given him as to what is possible.
"We also know he is likely to be a bit short of match minutes in high-level games. There are a lot of things to take into consideration, but, at the moment, that is a decision that is a few weeks away."
Henderson has been one of Liverpool's best players this season and has delivered every time Klopp has called him up even filling in defence when required. Henderson has 58 caps for England and was a key member of Southgate's side that reached the 2018 World Cup semifinals.
Also Read : Navi Mumbai, Ahmedabad and Bhubaneshwar chosen as venues for the AFC Women's Asia Cup