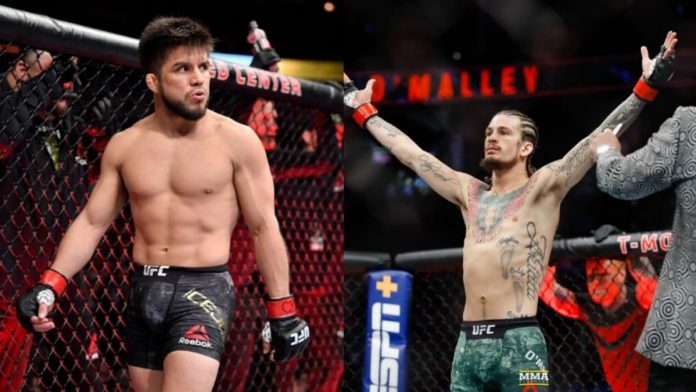 Sean O'Malley and Henry Cejudo were recently involved in a nasty Twitter spat after Sugar Sean poked fun at 'Triple C's' height. It all started when up and coming UFC bantamweight Sean O'Malley called out Petr Yan for a fight, out of nowhere. Due to the randomness of the callout, Petr Yan asked Sean if he was high, and that's when Sean decided to pull Cejudo's leg.
"Hey @PetrYanUFC what are you doing in July brotha? Wana beat me up while you wait for your rematch?", Sean O'Malley called out Yan.
Yan then replied, "Are you high again Shaun?"
"Yes bud. Higher than you on your tippy toes. Jk no short jokes. @HenryCejudo might get mad. Are you really 5'4 tho?" – O'Malley replied to Yan while also tagging Cejudo.
'Tell Dominick I said hello' – Henry Cejudo responds to Sean O'Malley
"Hey @SugaSeanMMA too bad the steroids you took couldn't give you a strong ankle. Tell Dominick I said hello. I'm too busy drinking a 6 pack with Keith Peterson to deal with you right now," Cejudo replied.
Cejudo is probably referring to Sean O'Malley's failed drug test during UFC 239, which forced him to pull out of the fight. Henry Cejudo recently got his name removed from the USADA testing pool, which all but confirmed his retirement. 'Triple C' last fought Dominick Cruz at UFC 249, wherein he successfully defended his bantamweight title.
As for Sean O'Malley, he is back to winning ways after knocking out Thomas Almeida at UFC 260. He will be looking forward to keeping his momentum going, and break into the top rankings in the bantamweight division.
Also Read : Ali Abdelaziz believes the winner of Nate Diaz vs Leon Edwards will be fighting for the welterweight title
Also Read : Jake Paul on his fight against Ben Askren; goes on to pay tribute to the late Shamir Bolivar aka Shadow