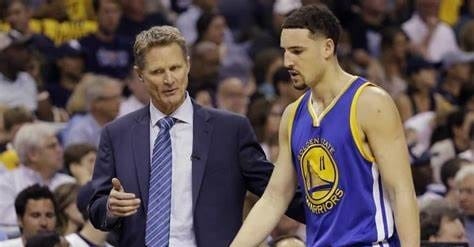 The Golden State Warriors have been on a rocking boat. Their boat has been in a sea with whirlpools and some adventurous tides. The Warriors have started their season 6-5 in the league. Their game in the front court has been dominated by Stephen Curry and rookie James Wiseman. With injuries in the previous season and carrying over the same, the team has been missing the importance of Klay Thompson. But Head Coach Steve Kerr provides an important information on the splash shooter. Thompson had been excellent with the Warriors. The star was out with a torn ACL and torn Achilles tendon.
Klay was set to return in the commencement of the season. Contrast to that situation, the latter injury ruined all blockbuster plans. Klay was seen at side court today in the game against the Indian Pacers. All the fans and the analysts were overjoyed on having a sight of their favourite shooter. Steve Kerr revealed all the latest inquirers on Klay's most probable return.
Will Klay's return prove worthy making a playoff run under Steve Kerr?
Steve Kerr revealed how Klay has been already through the worst part of his rehab. "He is going to be get into the pool next week and start running in that pool. He's very upbeat about everything." The Dubs hope that with Klay returning, the Splash Brothers would be back with the great terms they had. Hopefully the 30-year-old has a comeback that every Warrior fan has been looking for.
The Warriors have been in a rocky season. With highs and lows, they have shown exceptional temperament and some worse of the season. Yet they have shown signs of improvement. Draymond Green has been a game changer. His defence has astonished everyone. The ability to pass the ball and shoot has made the team an eye catching entertainment. The Warriors are far from usual best. The team will hope that they have a similar approach to the later part as they impacted initially and make it to the playoffs.
Also Read: John Wall defends the Houston Rockets against Harden's filthy accusations