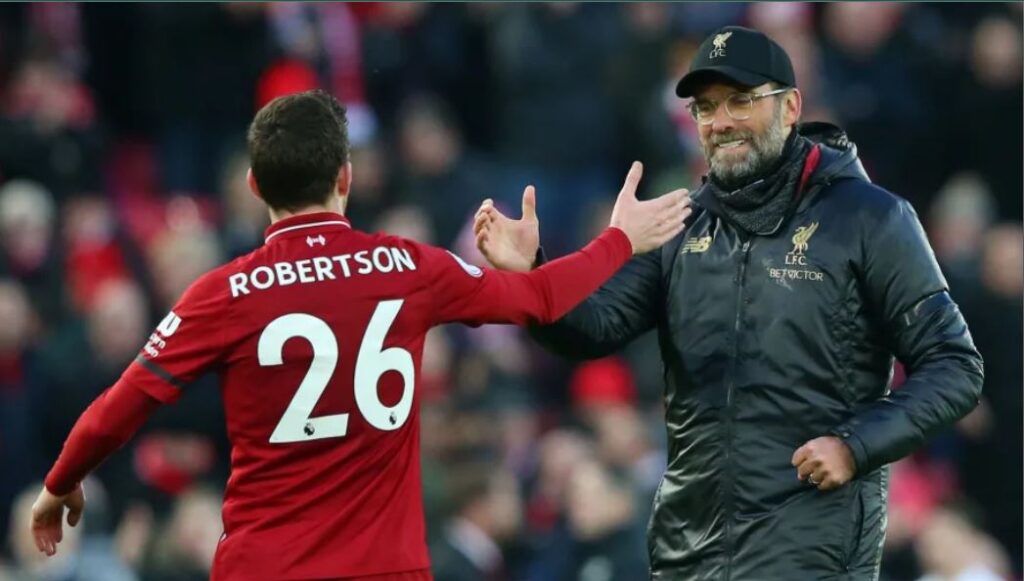 Andrew Robertson praised manager of Anfield, Jurgen Klopp, for having respected his ability when he played for Hull City.
Robertson signed a long-term deal with Liverpool for an initial fee of £8 million in 2017. Since then, the left-back has tallied up 125 caps for the Reds, thus being a regular for the Merseyside club.
Robertson continued to play regularly for Liverpool during the 2018–19 season when Liverpool were runners-up in the Premier League. He played the full 90 minutes of the Champions League final as Liverpool beat Tottenham to secure their sixth European Cup.
The 24-year old has played a vital role this season in Liverpool's journey to the Premier League title. He scored two goals and made 10 assists on 34 outings. The Scottish defender strengthened his reputation as one of English football 's top left-backs in the world.
Robertson praised Klopp:
"Obviously the faith to sign me, first and foremost, from a relegated club. Which probably I don't think I got many Liverpool fans excited about my signing when people like Mo Salah and Ox were getting signed at the same time.
"The manager saw something in me that he could develop into being a decent player.
"I'm glad he's done that.
"It took me time, the first three or four months was tough, but my relationship with him was the same then as it is now.
"He still looks to improve me every day in training. He still looked to make be better back then as he does now. So, my relationship with him is amazing and long may that continue because he's improved my game.
"He's improved me as a person and that's what you look for in a manager. So, I couldn't ask for much better.
"I don't think any of the lads could and hopefully he's here for many more years to come."
Also read: "We are Human" Says Guardiola
Can't Wait to lift the Premier League Title: Robertson
After their final game of the season against Chelsea on Wednesday, the Reds will be awarded the Premier League title.
"We can't wait! Obviously, when we won the Champions League last year you get the trophy in a matter of minutes. So we've had to wait three weeks it will be, but to see Hendo (Jordan Henderson) lift the trophy above his head will be emotional." – as the Scottish defender looked animated (Liverpool official website).
"It will be all the emotions into one, I think. Seeing our captain lift a trophy that has not been at the club for 30 years will bring joy and happiness and everything along with it.
"Of course, we would love the fans to be there to enjoy a big celebration against Chelsea but it's not meant to be and we'll try to make the most of it.
"But the fact that Hendo (Jordan Henderson) gets his hands on the trophy is enough for us. We look forward to that game so much, and then we can really celebrate with the trophy in our hands." – the 24-year old concluded.
Also read: David Luiz was fantastic against Manchester City: Van Persie and Rio Ferdinand