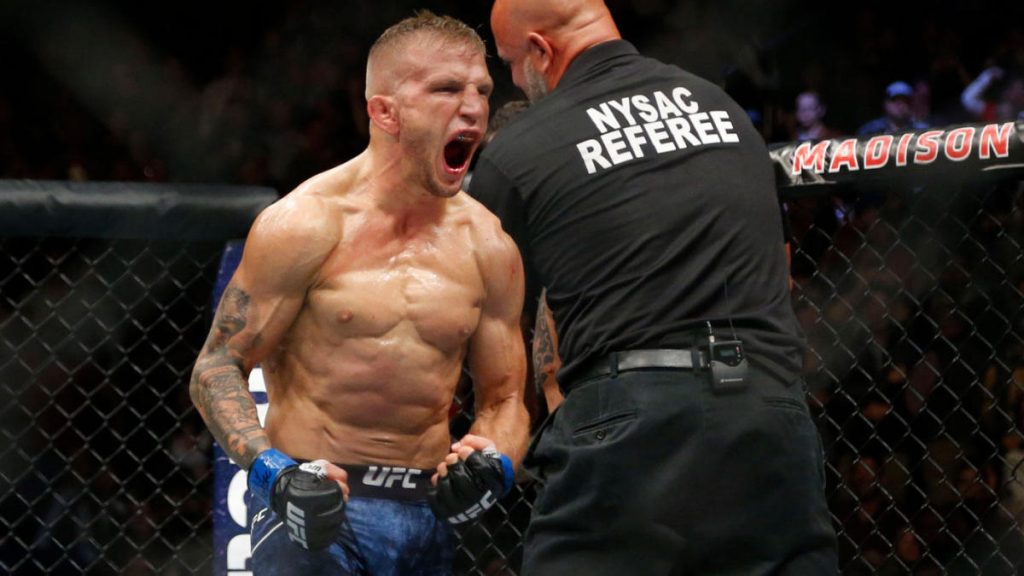 T.J. Dillashaw, the former UFC Bantamweight Champion, looks all set to return to the octagon, as he nears the end of his two year suspension after testing positive for the performance-enhancing drug, recombinant human erythropoietin (EPO), after his loss against Henry Cejudo, back in January, 2019. T.J. is now, looking to get into the title picture straightaway as he has a horde of talented fighters waiting to welcome him.
Speaking of this, fellow Bantamweight fighter, Rob Font; in an interview with MMA Junkie, revealed what led to T.J. Dillashaw taking the PED, and his current state, now that he has served his suspension. Going by the look of things, it will be no surprise if Rob Font finds himself squaring up against T.J.
'I'm not going to sit there and bash this dude' – Rob Font
Speaking of Dillashaw's decision to take the banned substance, Font said, "I'm not going to sit there and bash this dude. It is what it is. He did what he did. He knows what he did. He has to live up to that. He has to make that walk knowing that that's not in his system anymore, and that's going to be big."
Font also revealed that he was ready to welcome T.J. back. "Again, it's all mental with this, so if you're putting stuff into your body, you're mentally broke already. So he's going to have to make that walk knowing that he's not on anything. He's not juicing anymore and he's going to have to fight. I think I'm the guy to welcome him back," Font said.
Font is on a three match win streak, with his last victory coming over Marlon Moraes, via. TKO in the first round, at the recently concluded UFC Fight Night 183, in December 2020. He is currently ranked number 5 in the bantamweight division.
Will we see a match between T.J. Dillashaw and Rob Font?
Also Read : 'That's the fight to make' – Khamzat Chimaev vs Leon Edwards is still in the plans, UFC President Dana White reveals