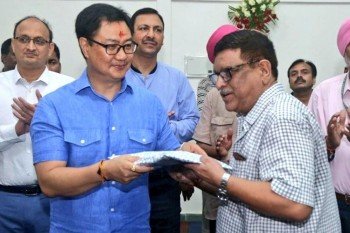 Former Hockey Player and Winner of 1975 World Cup, Ashok Diwan is unwell and stranded in the United States amid the coronavirus crisis. Reportedly, he will be receiving "immediate medical attention", the government has assured.
Earlier, he had urged Indian authorities to help him out and also written a letter to Narinder Batra, President of the Indian Olympic Association (IOA), asking him for help. Diwan was supposed to fly back to India on April 20, but due to the ongoing situation his travel dates have been pushed.
Kiren Rijiju Office tweeted on Thursday, "Hockey Olympian Ashok Diwan is stranded in the US and is unwell. He reached out to @KirenRijiju through IOA".
The immediate steps will be taken and Indian Embassy sends doctor to attend Diwan and proper treatment will be given.
"The Indian Embassy in San Francisco has been contacted, they're sending a doctor to attend to Mr. Diwan to ensure he receives immediate medical attention. @WeAreTeamIndia," it added.
While India is currently under a 21-day nationwide lockdown which will end on April 14 due to coronavirus outbreak, which has claimed more than 190 lives and around 6000 are reported positive in the country so far. Till then, there's also a travel ban in the country, both within and outside.