On Sunday, August 01, Italy's Gianmarco Tamberi and Qatar's Mutaz Essa Barshim shared the gold medals in the men's high jump at the Tokyo Olympics. The pair were provided with a chance to decide a single winner after they ended with scores of 2.37m.
However, instead of risking ending up with a silver, the athletes shook hands and rather, shared the coveted Olympic gold medal. It was Barshim, who came up with the idea and the official agreed to his request. Tamberi also accepted the same and both of them jumped into each other's arms.
It also added to Barshim's medals tally after the ones in the 2012 London and 2016 Rio Games. The act between the two high-jumpers also became a great example of showing sportsman spirit.
When are the other times this happened in the Olympics?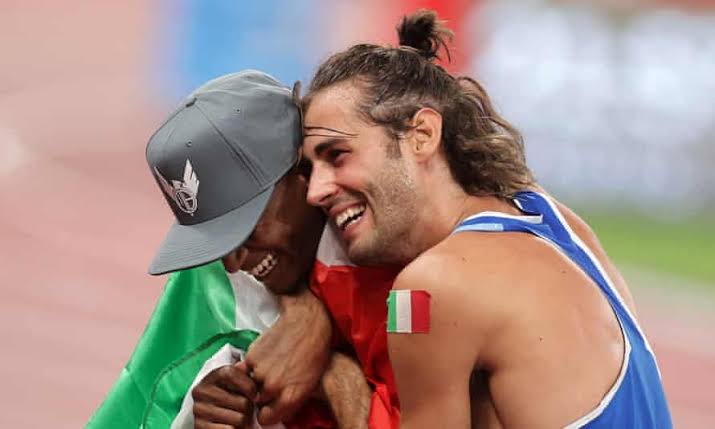 Back in the 1928 Olympics, Norway's Bernt Evensen and Finland's Clas Thunberg shared the gold medal in the men's 500m speed skating event. Both players clocked 43.4 seconds and finished as the toppers. 28 years later, Soviet competitors, Yevgeny Grishin and Yuri Mikhaylov shared the gold in the 1500m speed skating event after clocking 2 minutes and 08.6 seconds.
In the 1960 Winter games, Grishin had the same fate in the same event, that time to Norway's Roald Aas. Both had clocked 2 minutes and 10.4 seconds on their way to the top. In the 1972 Winter Olympics, a luge event saw two gold medallists. Italy's Paul Hildgartner and Walter Plaikner tied with East Germany's Reinherd Bredow and Horst Hoernlein after clocking 28.35 second each.
In the 1998 Winter Olympics, Canada's Pilot Pierre Leuders and David MacEachern tied with Italy's Gunter Huber and Antonio Tartaglia in two-man bobsleigh. Then in the 2002 Olympics, Norway's Thomas Alsgaard and Frode Estil clinched the gold after clocking 49 minutes and 48.9 seconds.
ALSO READ | Tokyo Olympics: Israel vs South Korea Baseball live stream, preview and prediction