Free Fire runs many events in the game to keep it fresh and exciting and often even gives out free rewards as well. Here is how to get a free Pet Rumble Room card in Free Fire!
A new map has been introduced in the game recently called the Purgatory map. This map is exclusively for the Clash Squad game-mode and opens up everyday from 6:00 PM IST till 10:00 PM IST. The arrival of the new map also brings in many events for the players to participate in. One of these are the Everyday Play Reward events which offer free items in exchange for simply playing the map everyday!
Today it features a Free Pet Rumble Room Card in Free Fire and also some additional vouchers for the players to get.
Free Fire Everyday Play Reward 3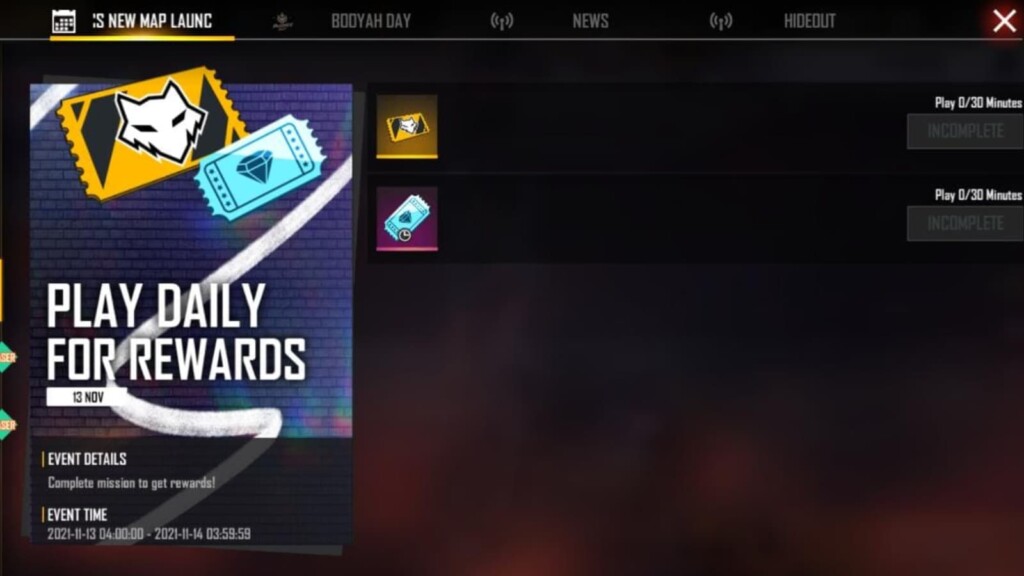 The Everyday Play rewards event is a complete free event which allows the players to get cosmetics like weapon loot crates. skins, costume bundles and more.
This event will only stay in the game for 13th November, 2021 and therefore players should be quick to redeem it!
Related: How to get the UMP Booyah Day 2021 in Free Fire Faded Wheel?
The New map is a Clash Squad map and players can play a limited amount of time on it each day to avail the rewards. The prize pool for today are:
Play 30 minutes of CS Purgatory: Get Pet Rumble Room Card (1 match)
Play 30 minutes of CS Purgatory: Get Diamond Royale Voucher
Players can use the Pet Rumble Room card to start a custom Pet Rumble game with their friends. This is a custom room card and can only be obtained through events or through buying it with diamonds from the Store.
How to redeem the Pet Rumble Room card in Free Fire?
Step 1: Open the Free Fire app and play 30 minutes of the Clash Squad Purgatory map. It is only open from 6:00 PM IST so be quick!
Step 2: After playing the match, open the Free Fire Calendar section on the right side of the screen.
Step 3: Open the "CS New Map Launch" tab on the top and then the "3-Everyday Play Reward" tab on the left.
Step 4: Redeem the items on the right-hand screen!
Follow our Instagram page for more updates on gaming and esports!
Also read: Top 5 Best Pets Combinations For Clu In Free Fire For November 2021