Airspeed ACE Bundle in Free Fire: Free Fire has plethora of Skins, characters, weapons, and outfits & related bundles in the game. Free Fire bundles, have become a major attraction between players due to their aesthetic value. The attraction of these items is difficult to resist since players wish for them at any cost.
Garena often presents new attractive items in order to offer a refreshing experience. A exclusive bundle of Airspeed Ace, which could be taken from the Fever Spin, has currently been added to this game.
This page provides you with a step-by-step Guide on how to obtain Airspeed Ace bundle in Free Fire.
Airspeed Ace bundle in Free Fire via the Fever Spin event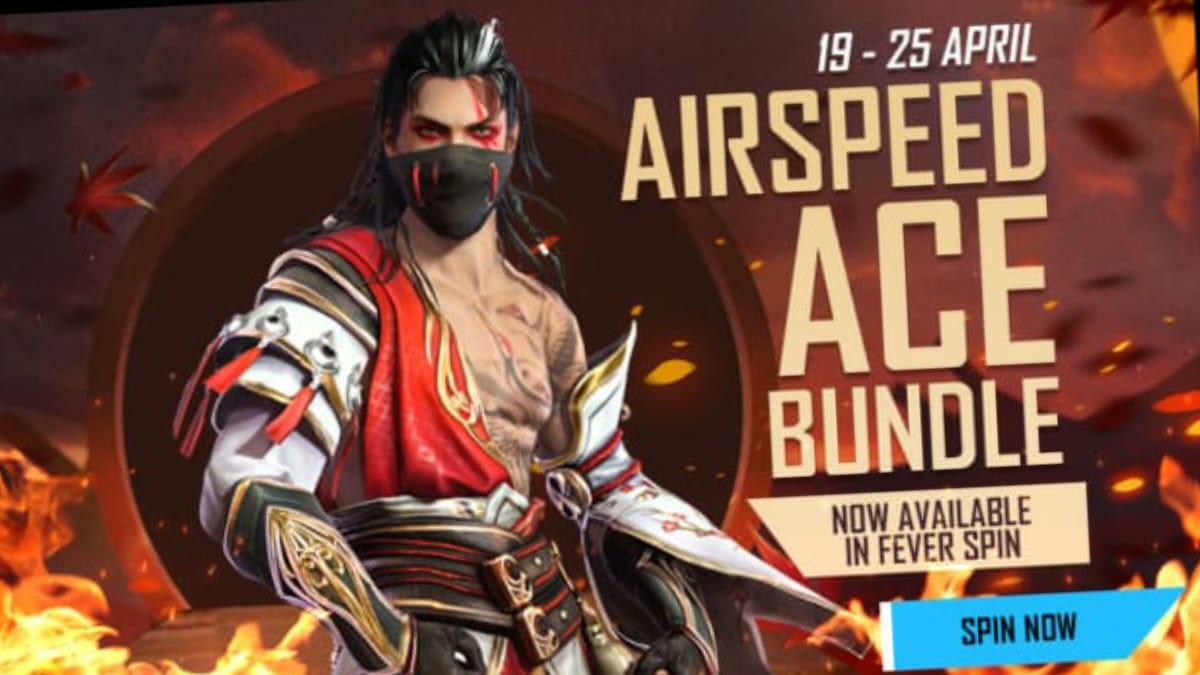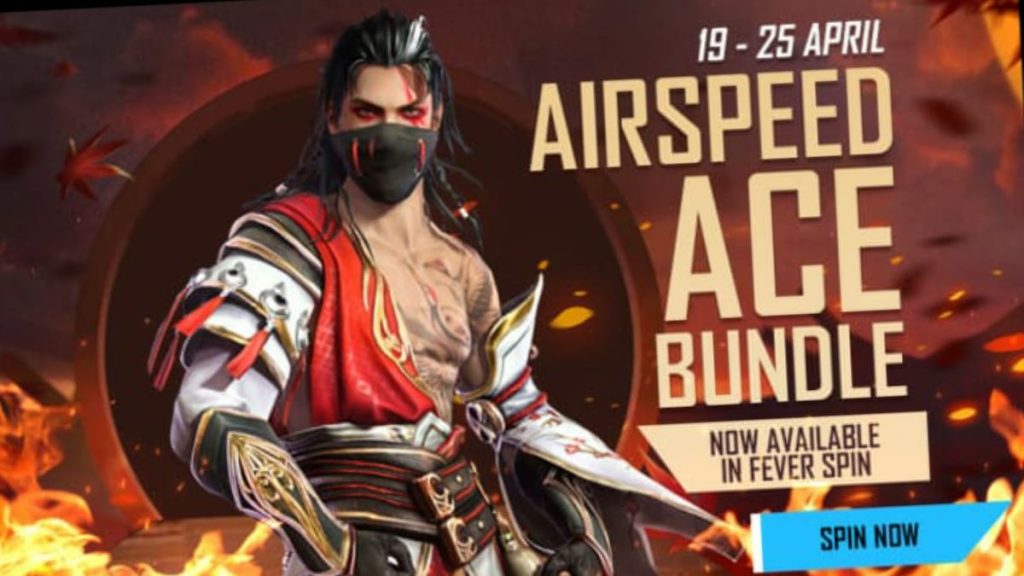 Airspeed Ace Bundle and Scythe-Airspeed Ace are the two items available in the Fever Spin along with many other rewards.
The event is rolled out today i.e., 19 April, and it gets over by 25 April. Diamonds must be spent by users to do spins to obtain random Rewards from the prize pool.
There are 20 diamonds charged for a single spin, while 90 diamonds are for five spins at a time. By doing a certain amount of spins the users are assured to receive Scythe – Airspeed Ace. When it comes to Airspeed Ace Bundle, you cannot get like this one.
Fever Mode has a special feature that lasts 15 minutes and gives players a large 20% discount on all spins they have made. It is released after 10 spins have been completed to obtain the skin.
ALSO READ: Garena Free Fire Season 36 Elite Pass Manic Circus Rewards
Once this mode gets finished, making another ten spins can reactivate it again.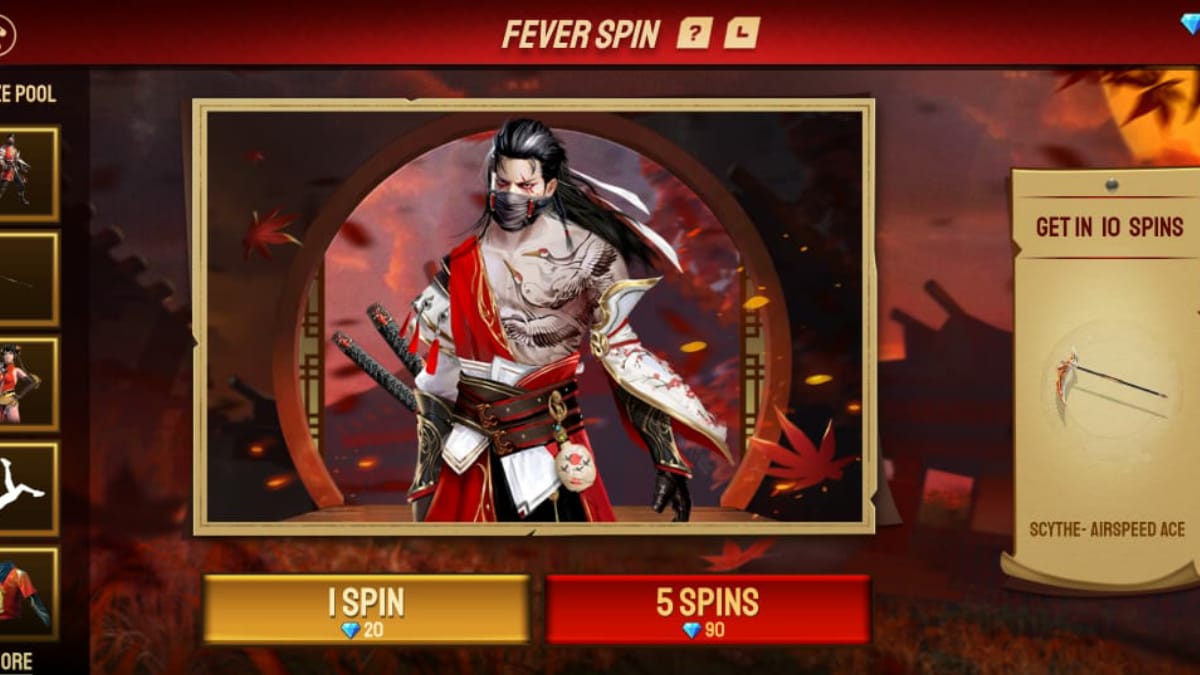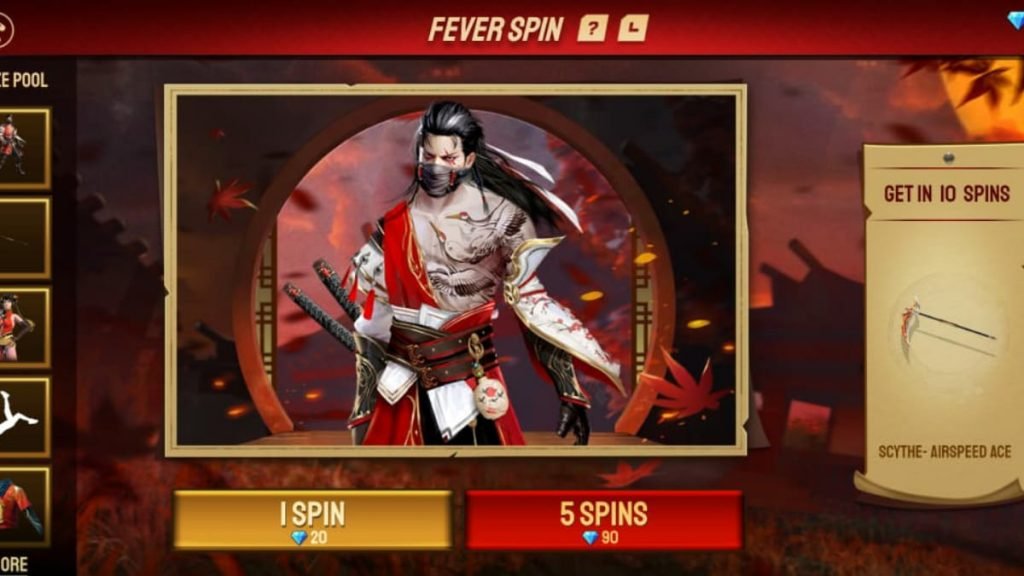 Here is the prize pool for the Fever Spin:
Airspeed Ace Bundle
Scythe – Airspeed Ace
Red Hot bundle
Moon Flip emote
2021 Lunar New Year (Top)
2021 Lunar New Year (Bottom)
2021 Lunar New Year (Shoes)
Pet Skin HipHop Shiba
2021 Lunar Fest (Top)
2021 Lunar Fest (Bottom)
2021 Lunar Fest (Shoes)
Vampire Backpack
Wings of Devil parachute
Fiery Flames Surfboard
Dragon Lair Backpack
Cube Fragment
Diamond Royale Voucher
Gold Royale Voucher
Several gun crates and many other items are also available for obtaining.
Here is how you can obtain the rewards:
Go through the following simple steps in order to open the event and get rewards.
Step 1: Open Free Fire on you device. Tap on the 'Calender' symbol which is on the right side of the main lobby.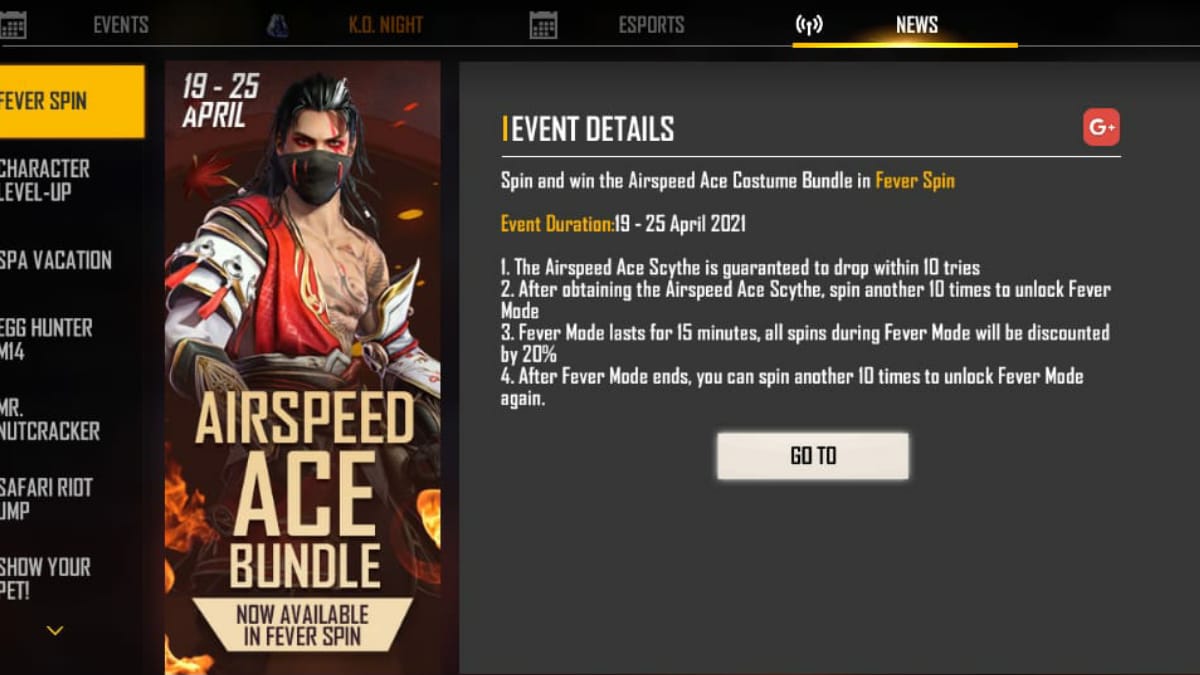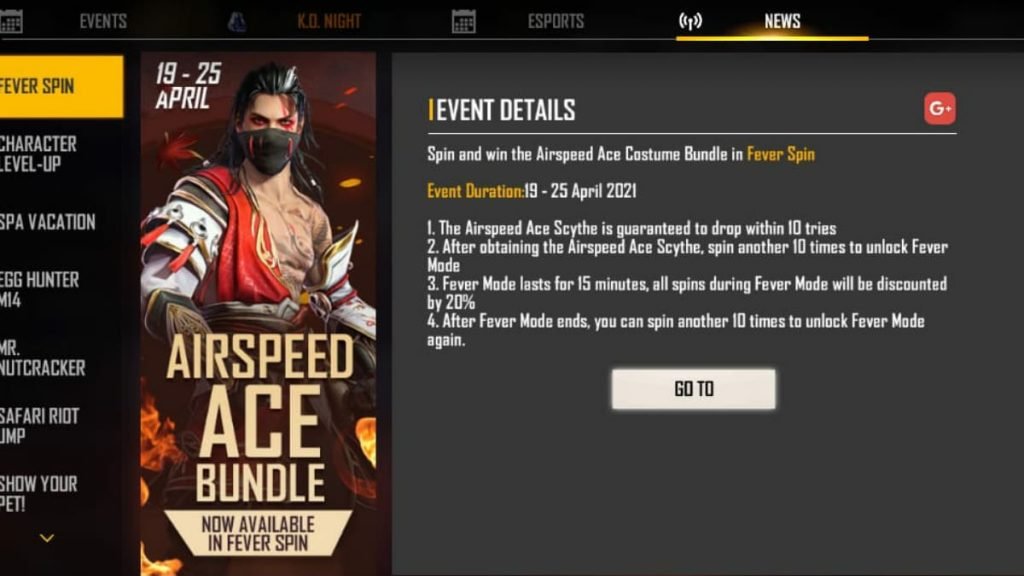 Step 2: Head to Fever Spin section and then on 'GO To' option.
Step 3: Then spin the wheel to get the rewards. All the best!
ALSO READ: 5 best Free Fire character combinations for rank push after OB27 update