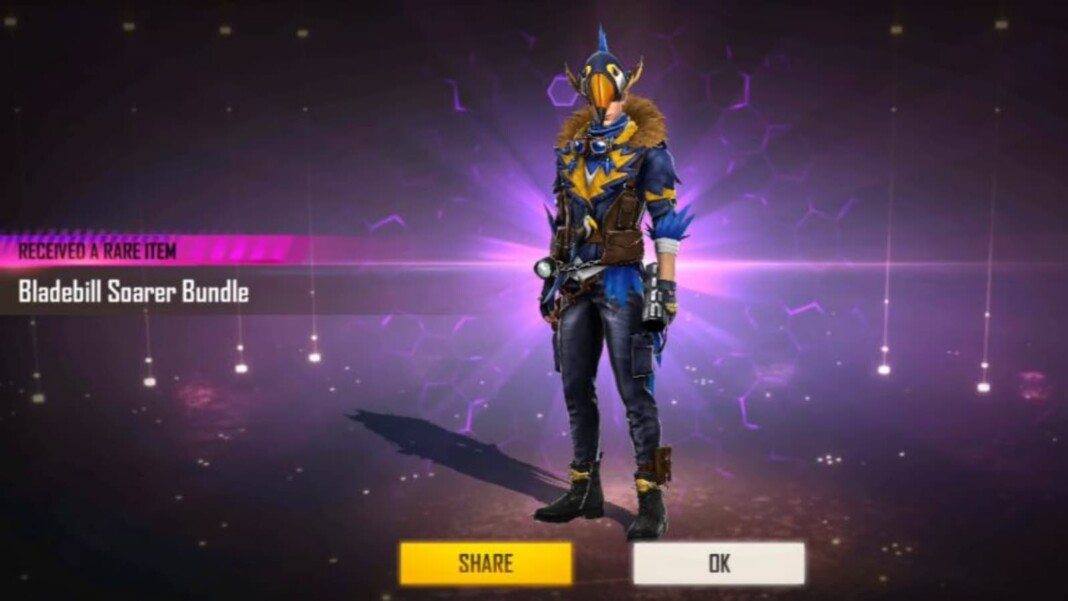 Free Fire Luck Royale section will have the most exclusive cosmetics in the game. The latest offer will set a 60% discount on the Bladebill Soarer Bundle in Free Fire which is in the Diamond Royale section.
New cosmetics will be included in Free Fire every day via new events. To add more to this, the developers will set more deals and offers on the cosmetics in the game, which increases more interest in players. Most of the items will be added to the Luck Royale section, which uses various currencies of the game to obtain them. The Diamond Royale section will receive the most premium cosmetics.
The current Diamond Royale section is featuring Bladebill Soarer Bundle and is now available at a discount of 60% off. So, players are suggested to grab the chance of obtaining their desired bundle at a discount.
Read More: How to get the Carnage Helmet in Free Fire X Venom for free?
Bladebill Soarer Bundle in Free Fire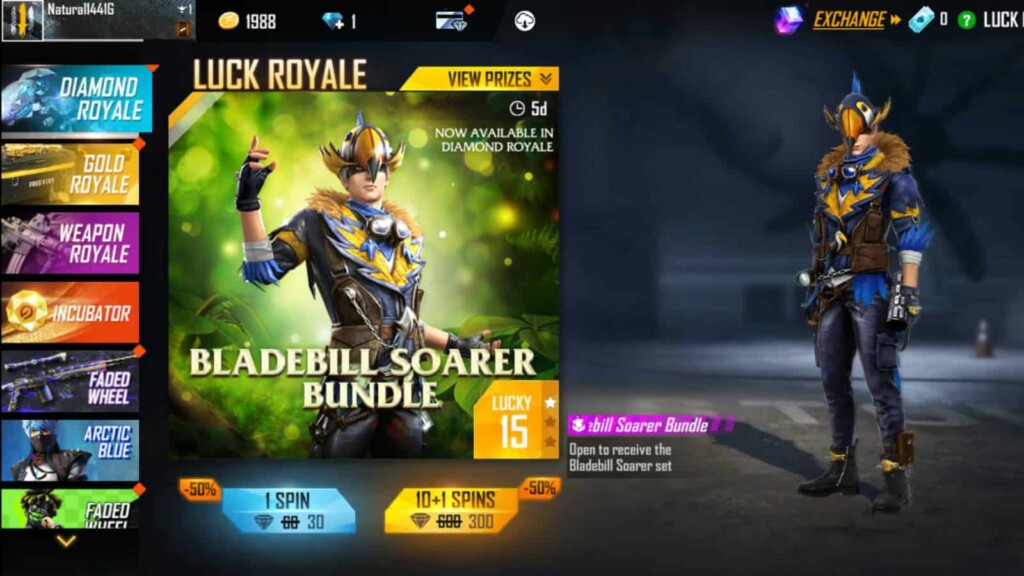 The Diamond Royale section or the bundle in it will be concluded very soon and the developers have offered a discount over the bundle as it is inching towards its conclusion. Players need to spin the wheel with a certain amount of diamonds or diamond royale vouchers. The spin is not free and requires a specific number of diamonds. However, the bundle is not guaranteed after a certain number of spins.
Earlier, To spin the wheel once, players require 60 diamonds, and to spin 10+1 times, they require 600 diamonds. Now, after the 50% discount, Every spin will charge the users 30 diamonds, whereas a set of 10+1 spins will charge the users 300 diamonds.
The prize pool for the current Diamond Royale is: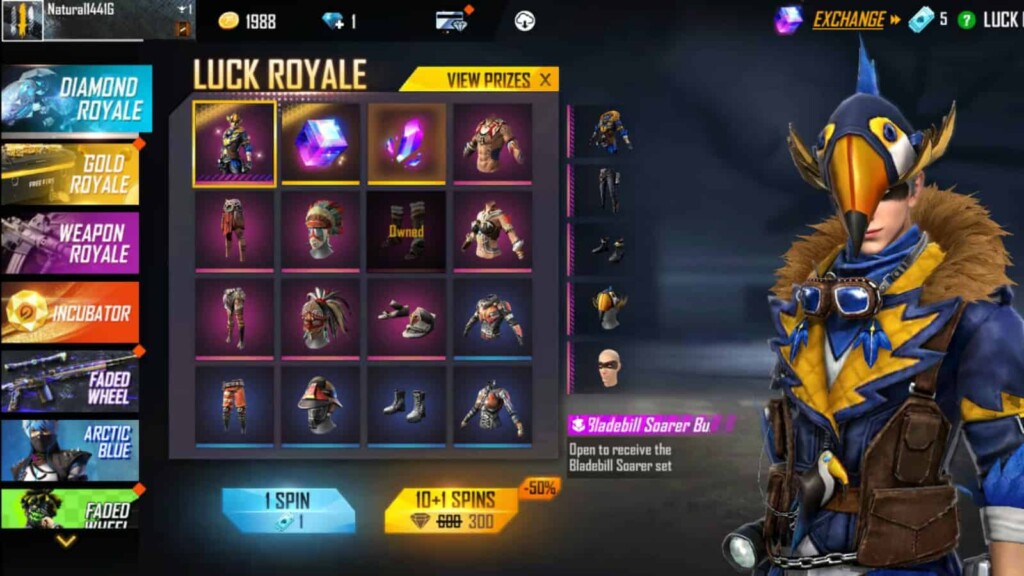 Magic Cube x1
Cube Fragment x1
Nelithic Bundle (Male)

Nelithic (top)
Nelithic (bottom)
Nelithic (Mask)
Nelithic (shoes)

Paleolithic Bundle (Female)

Paleolithic (top)
Paleolithic (bottom)
Paleolithic (Mask)
Paleolithic (shoes)

Flame Fighter Bundle (male)

Flame Fighter (top)
Flame Fighter (bottom)
Flame Fighter (Mask)
Flame Fighter (shoes)

Lady of Flame bundle (Female)

Lady of Flame (top)
Lady of Flame (bottom)
Lady of Flame (Mask)
Lady of Flame (shoes)

Combat Vest Bundle (Male & Female)
T-Shirts x3(Smile, Like, Dislike)
Shorts x3(Camouflage, Jungle, Dessert)
Sneakers x3(White, lack, Blue)
50%EXP cardx1(3days)
50% Gold card x1 (3days)
How to open the event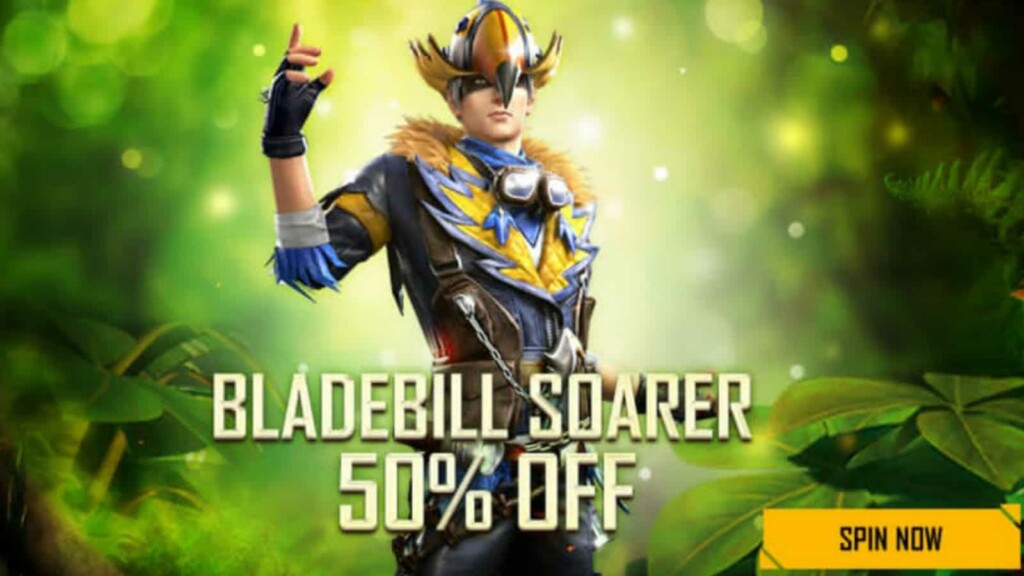 Firstly, users need to open the Garena Free Fire game and head to the Luck Royale section of the game by tapping on the ption which is present on the home screen.
After this, the players will have to click on the Diamond Royale option on the left and the spin will open.
Spin the wheel and you stand a chance to win the Grand Prize!
Also Read: How to get free Venom Backpack skin in Free Fire in October 2021