Garena has introduced a new Free Fire Fadel wheel today. Phantom Microzrak Bundle in Free Fire Faded wheel is the featured bundle in the event. This article will detail how players can get the new bundle from the Faded wheel.
Free Fire offers a ton of cosmetics and the Luck royale section receives the most of them. Players are given a wide array of collectables such as bundles, weapon skins, vehicle skins, and many more. The popular battle royale game has received a new Faded wheel which would be available for a week in the game. The Faded wheels offer players guaranteed rewards after a few spins with diamonds which is one of the reasons that players opt for this event. Let us know more about the new faded wheel event.
Phantom Microzrak Bundle in Free Fire Faded wheel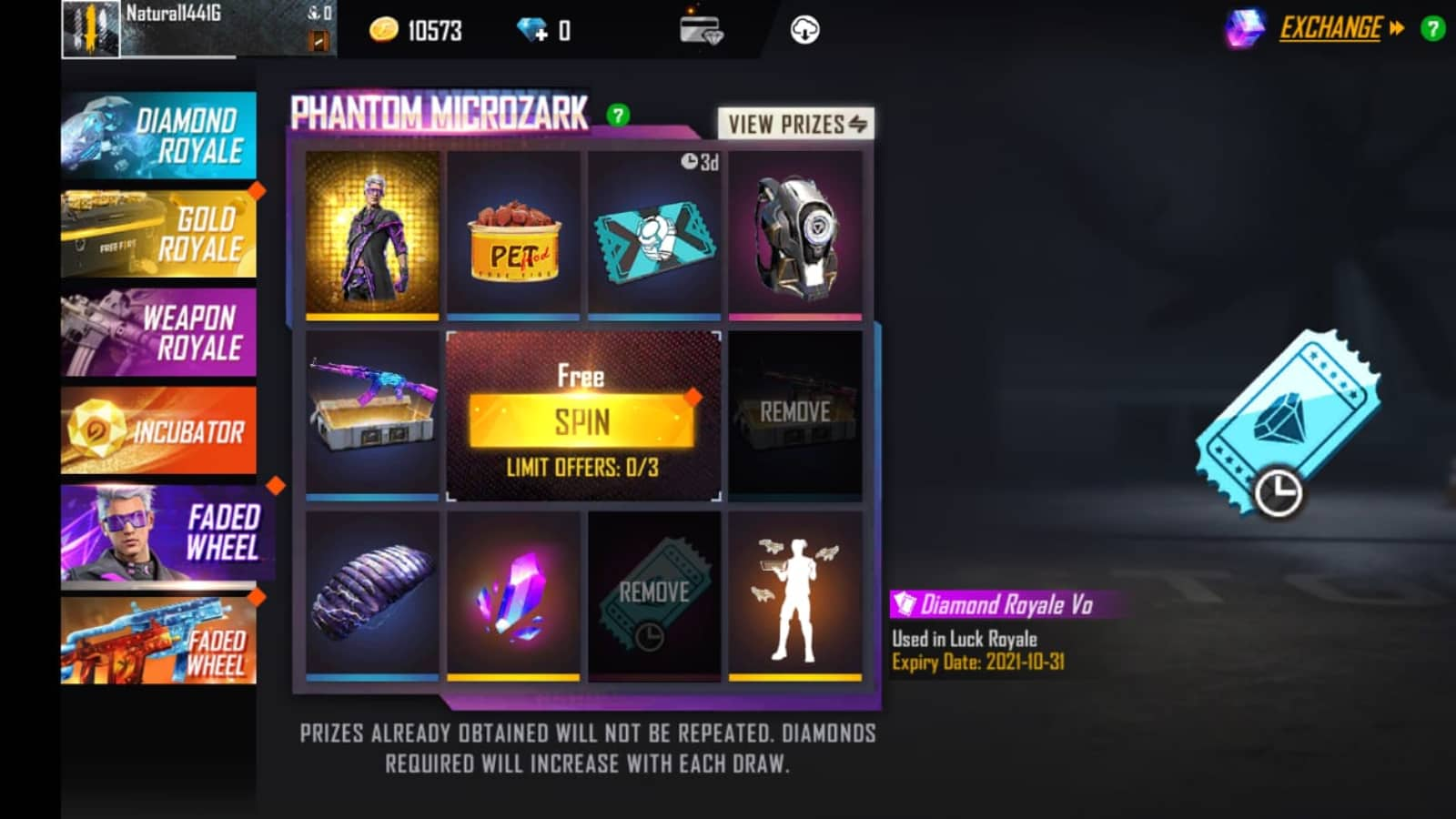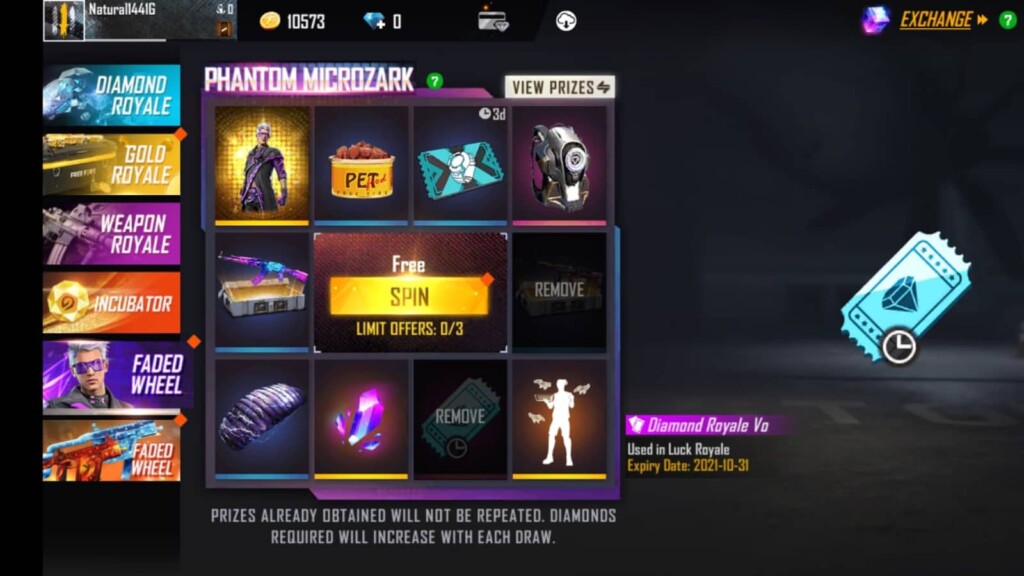 The new faded wheel event has commenced today i.e., on September 17, 2021, and will conclude on September 23 2021. The event has 3 exclusive items that include a bundle, emote and backpack skin. Following is the complete list of rewards in the new faded wheel event:
Phantom Microzark Bundle
Pet Food
Scan Playcard (3d)
Star General's Backpack skin
Pink Devil Weapon Loot Crate
Debugging emote
Diamond Royale Voucher (Expiry date: 31 October 2021)
1x Cube Fragment
Bolt parachute
Valentines Weapon Loot Crate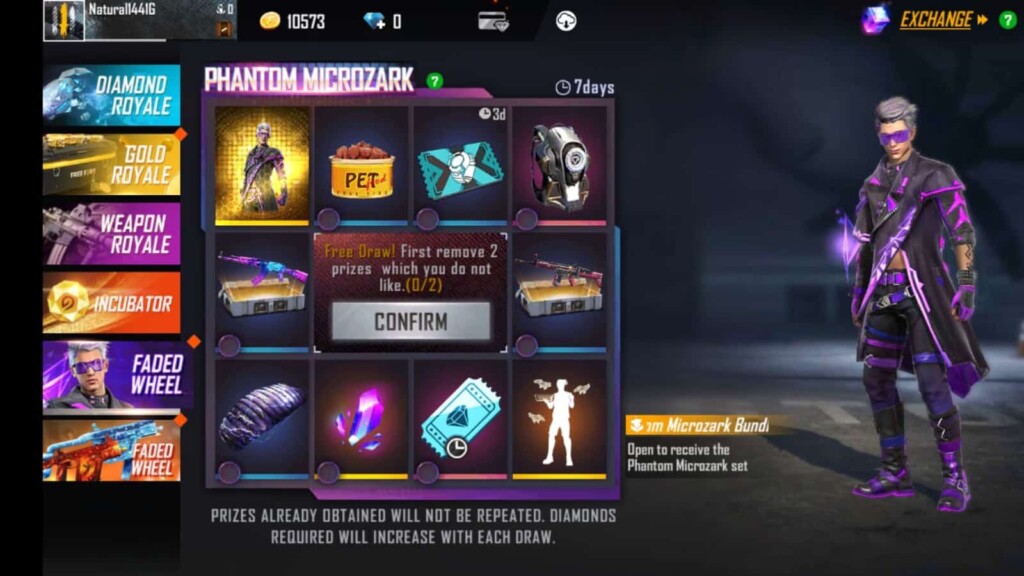 Players would have to remove two items from the above prize pool so that they can spin for their desired list of items. Select any two items from the faded wheel and remove them from the list. After removing the items, now it is down to the remaining items. Moreover, the first spin is free. The subsequent spin prices are as follows:
1st spin: Free
2nd spin: 9 diamonds
3rd spin: 19 diamonds
4th spin: 39 diamonds
5th spin: 69 diamonds
6th spin: 99 diamonds
7th spin: 199 diamonds
8th spin: 499 diamonds
Read More: How To Get Awakened Moco In Free Fire At Moco: Rebirth Event?
Participation rules: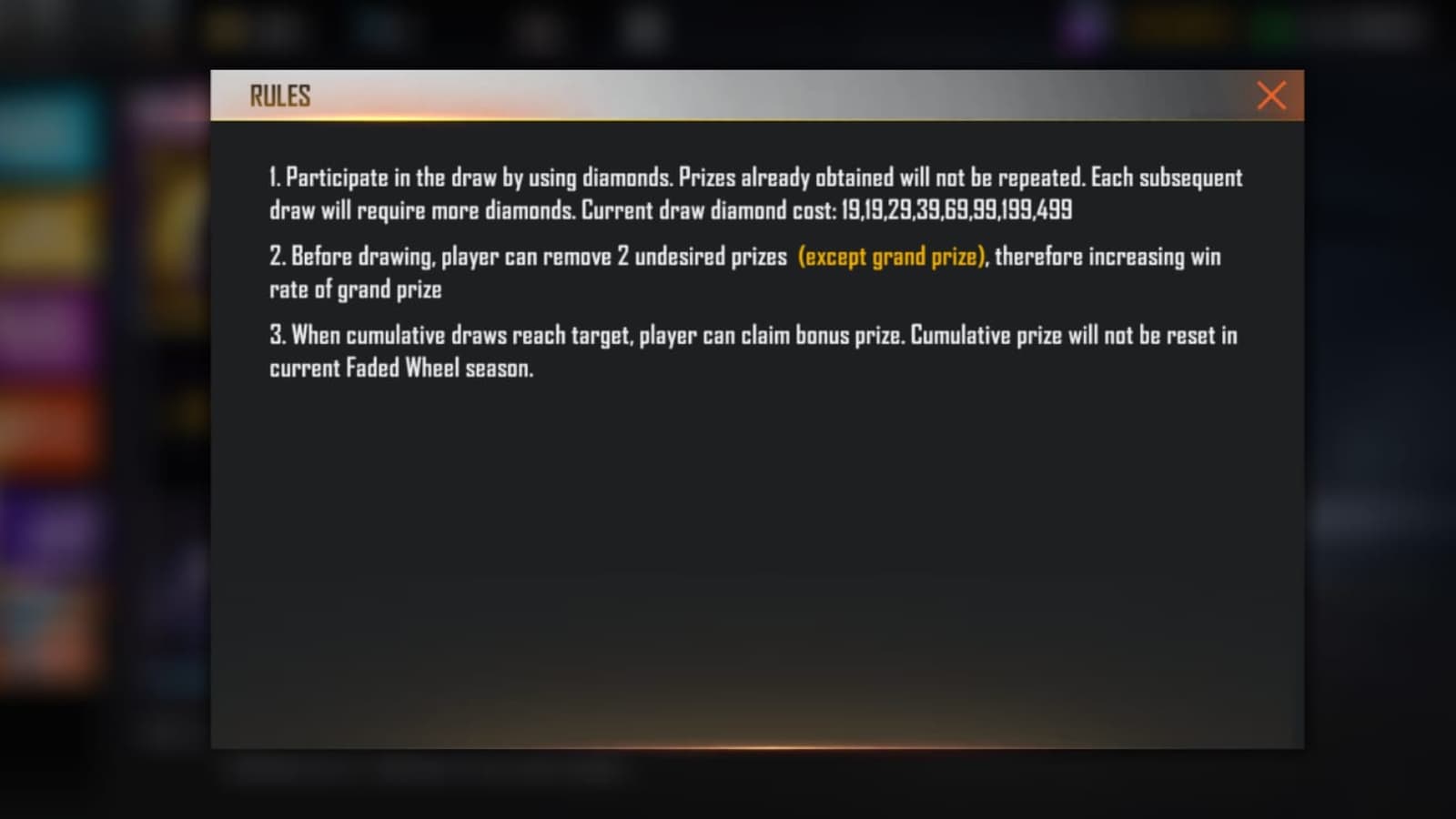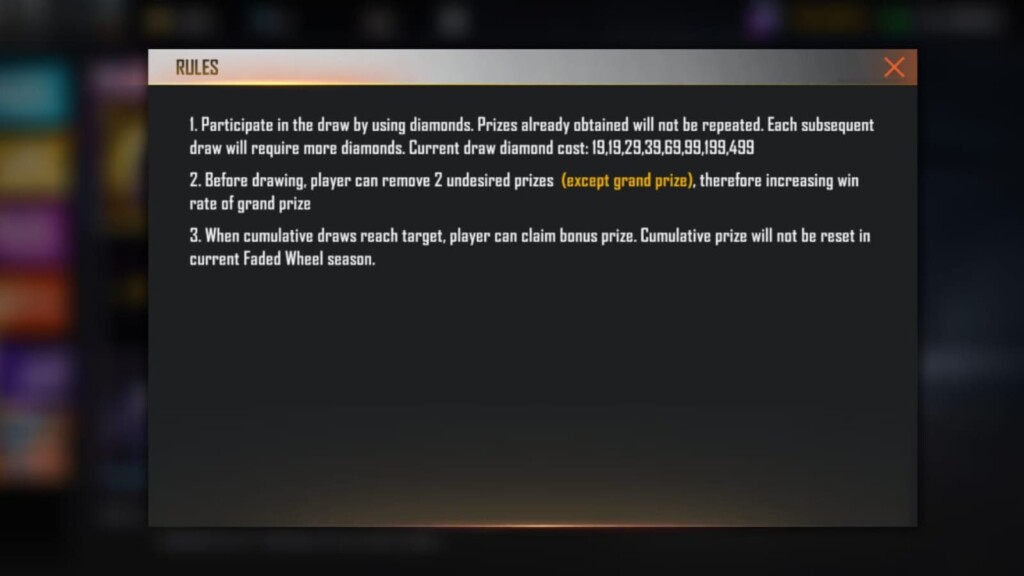 Participate in the draw by using diamonds. Prizes already obtained will not be repeated. Each subsequent
draw will require more diamonds. Current draw diamond cost: 19,19,29,39,69,99,199,499
Before drawing, player can remove 2 undesired prizes (except grand prize), therefore increasing win
rate of grand prize
When cumulative draws reach target, player can claim bonus prize. Cumulative prize will not be reset in
current Faded Wheel season.
---
How to open the event in Free Fire?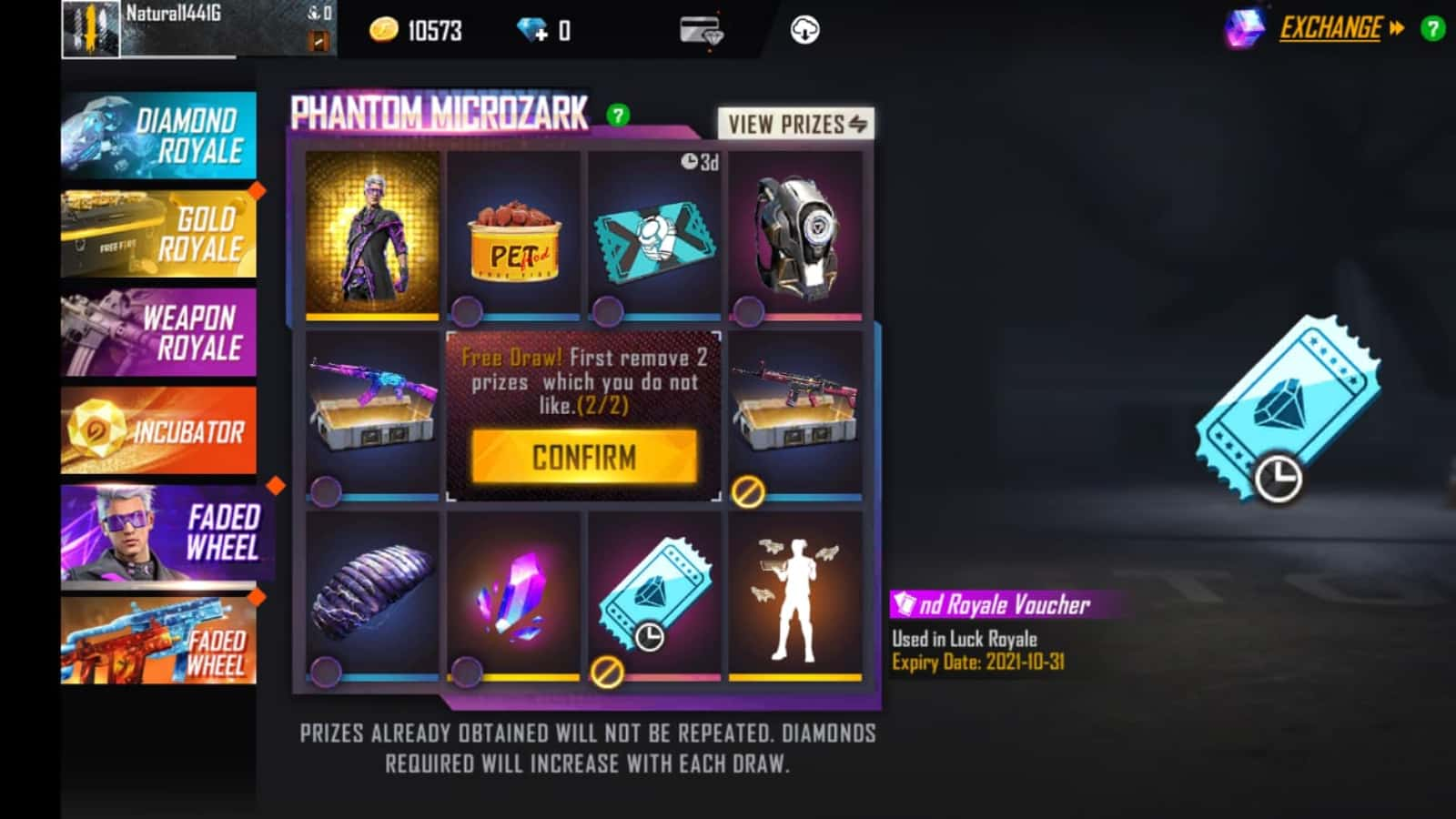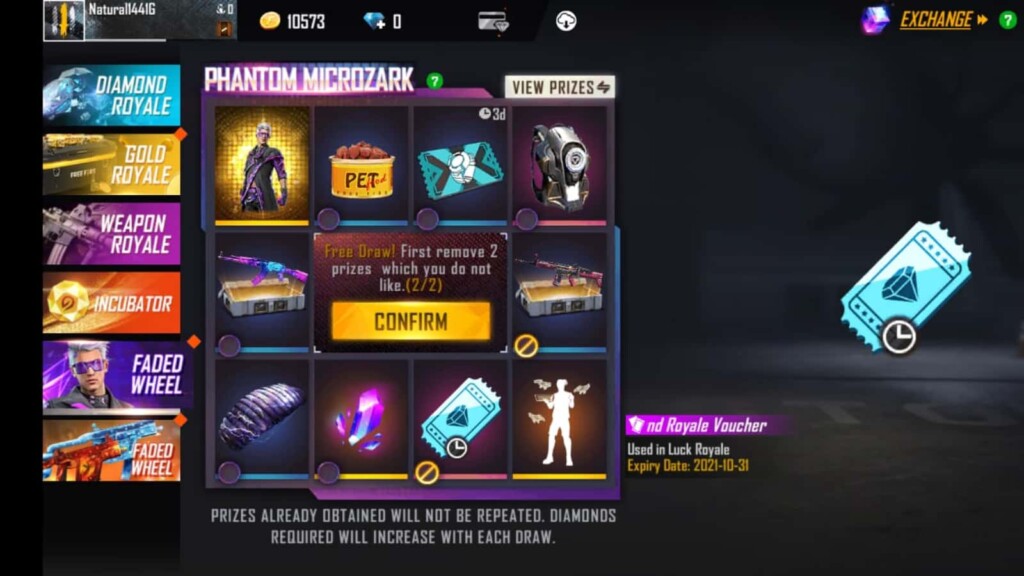 Open Garena Free Fire on your device and wait until the game enters the lobby.
Click on the 'Luck Royale' section to proceed.
Now, tap on teh 'Faded wheel' tab to open the event.
Also Read: Moco vs DJ Alok vs KSHMR: Who Is The Best Character In Free Fire Ranked Mode?