Free Fire has a wide variety of Luck Royale spins that contain a variety of the grand prizes for the players to win. Here is how to get the Doctor Red Bundle in Free Fire at 40% off only for today!
The Diamond Royale section of the game features a variety of permanent prizes that the players can obtain. These spins require either diamonds or Diamond Royale Vouchers to spin and win the cosmetics. A variety of costume bundles are also available among which, the Grand Prize for now is the Doctor Red Bundle. Since, it is the last day, Garena has put it on a great Sale only for today!
Doctor Red Bundle in Free Fire at 40% off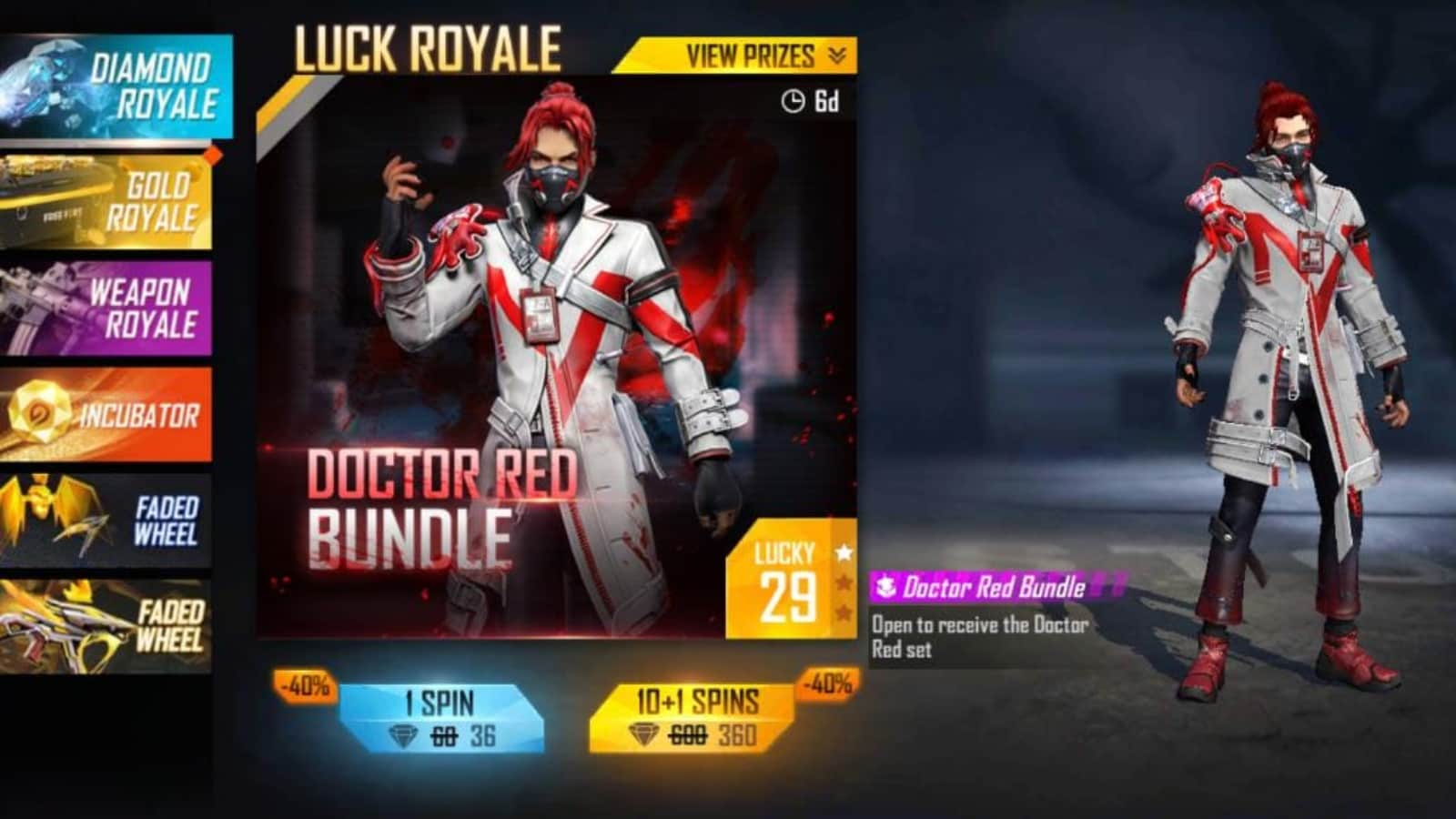 The Doctor Red Bundle is the current Grand prize for the Diamond Royale spin and is on sale only for today, 19th November 2021.
Related: How To Get Free Fire OB31 Advance Server Activation Code?
Costume Bundles are one of the most desirable items/cosmetics in the game and diamonds royale has a new one every few days. These are changed regularly to keep it fresh and offer a greater variety.
The earlier spin cost the players 60 diamonds for 1 spin and 600 diamonds for 10+1 spins. However, it is at 40% off today only and the spin costs 36 diamonds for 1 spin and 360 diamonds for 10+1 spins.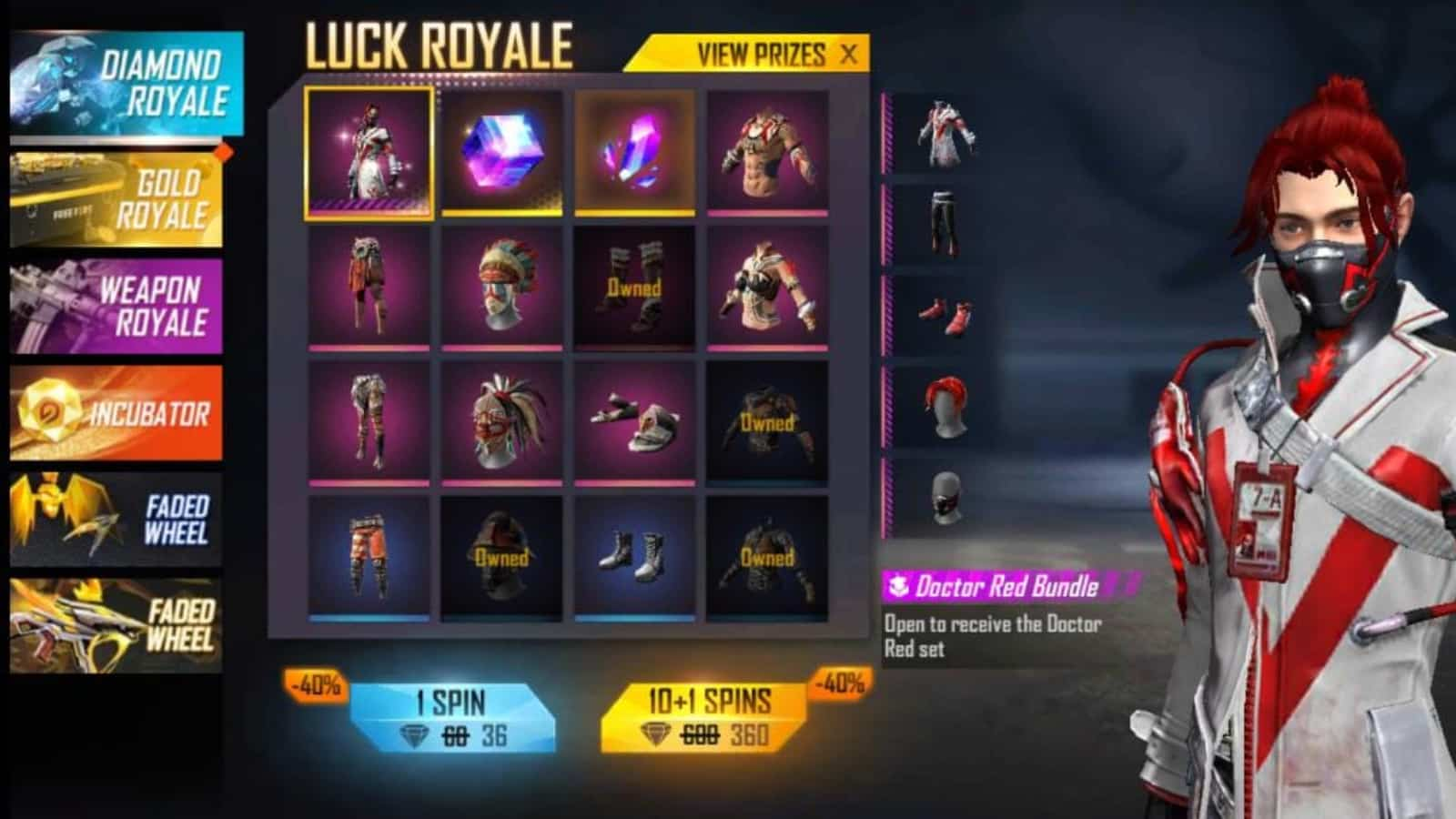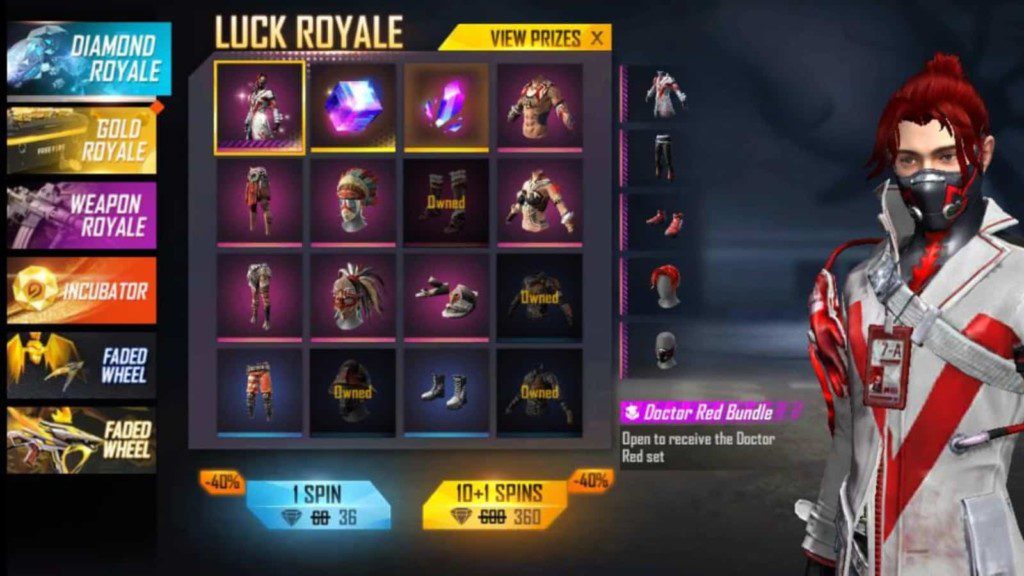 The prize pool for the Diamond Royale is:
Magic Cube x1
Cube Fragment x1
Nelithic Bundle (Male)

Nelithic (top)
Nelithic (bottom)
Nelithic (Mask)
Nelithic (shoes)

Paleolithic Bundle (Female)

Paleolithic (top)
Paleolithic (bottom)
Paleolithic (Mask)
Paleolithic (shoes)

Flame Fighter Bundle (male)

Flame Fighter (top)
Flame Fighter (bottom)
Flame Fighter (Mask)
Flame Fighter (shoes)

Lady of Flame bundle (Female)

Lady of Flame (top)
Lady of Flame (bottom)
Lady of Flame (Mask)
Lady of Flame (shoes)

Combat Vest Bundle (Male & Female)
T-Shirts x3(Smile, Like, Dislike)
Shorts x3(Camouflage, Jungle, Dessert)
Sneakers x3(White, lack, Blue)
50%EXP cardx1(3days)
50% Gold card x1 (3days)
How to access the Diamond Royale?
Open the Free Fire app on your mobile devices.
After this, click on the Luck Royale Section of the game on the left.
Find the Diamond Royale on the left tab and open the spin.
You can now spin using the "Spin" options down below!
Follow our Instagram page for more updates on gaming and esports!
Also read: Top 5 Reasons Why AmitBhai Is A Popular Free Fire YouTuber