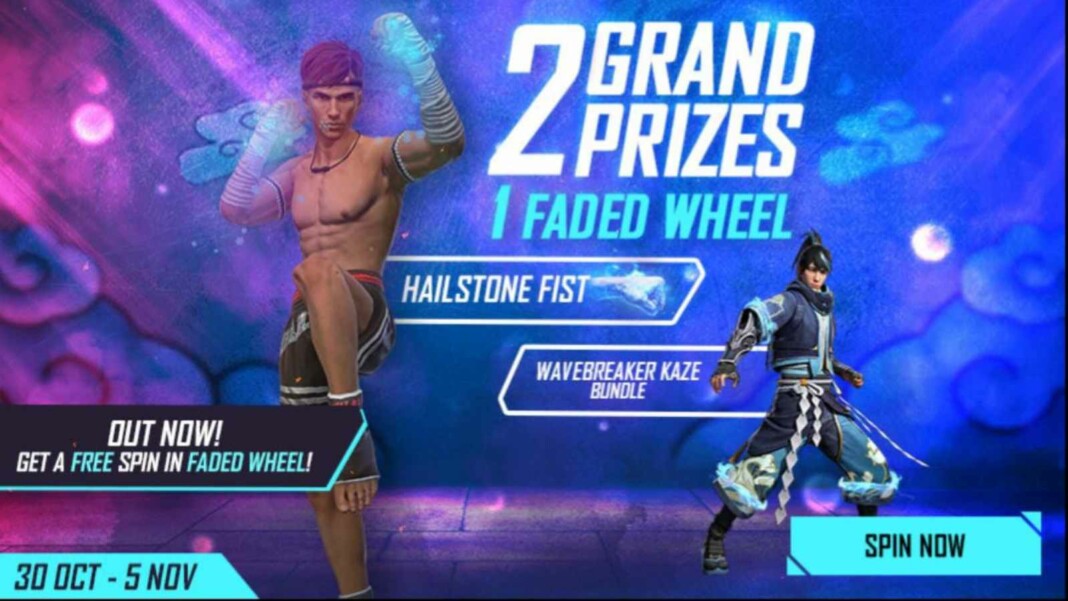 Free Fire holds regular events that can reward the players with a variety of cosmetic items and more. Here is how to get the Hailstone Fist and Wavebreaker Kaze Bundle in Free Fire.
The Faded Wheel event event is a regular event that features 8 definite prizes that the players can get. The event only features one grand prize, but this time the players can get two grand prizes at once. This is great as the players can get both in about 8 spins.
Here is how to get the Hail Stone Fist and Wavebreaker Kaze Bundle in Free Fire Faded Wheel event.
Free Fire Faded Wheel
The new Free Fire faded Wheel will feature two new grand prizes and will stay in the game from 30th October till 5th November 2021.
Related: Top 5 Best Character Bundles In Free Fire For October 2021
The Hailstone Fist and the Wavebreaker Kaze in Free Fire are the two highlights in the Faded Wheel spin. However, between the 10 available prizes, players can only get the 8 selected ones.
Before starting the spin, players need to select out 2 items and can only spin between the 8 items. Moreover, with each subsequent spin, the price of the diamonds will increase.
The prize pool for the spin consists of: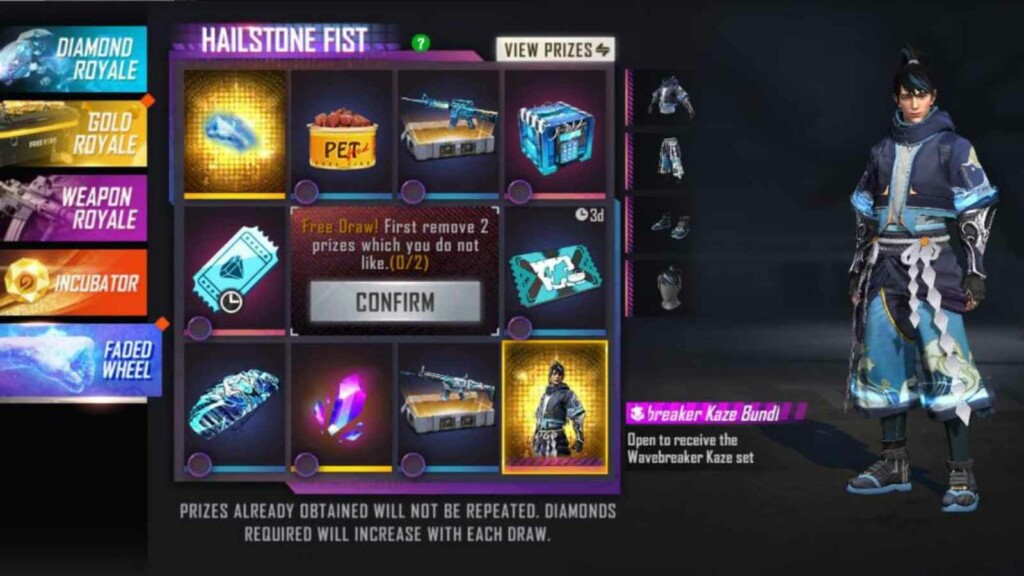 Hailstone Fist
Wavebreaker Kaze Bundle
Pet Food
Skyline Loot Crate
Winterlands Ice Box
Resupply Map Playcard
SCAR – Phantom Assassin Weapon Loot Crate
Cube Fragment
Destiny Guardian Parachute
Diamond Royale Voucher
The price for the spins are Free, 9, 19, 39, 69, 99, 199, 499 diamonds for each spin.
How to get the Hailstone Fist and Wavebreaker Kaze Bundle in Free Fire?
Open the Garena Free Fire app and then navigate to the Luck Royale section of the game on the left.
Open it and then click on the "Faded Wheel" option on the bottom left.
The Spin will open and payers need to select out two items from the spin first.
Then the players can spin the wheel for the prizes.
Follow our Instagram page for more updates on gaming and esports!
Also read: Free Fire EMEA Invitational 2021: Invited Teams, Format, and Schedule revealed