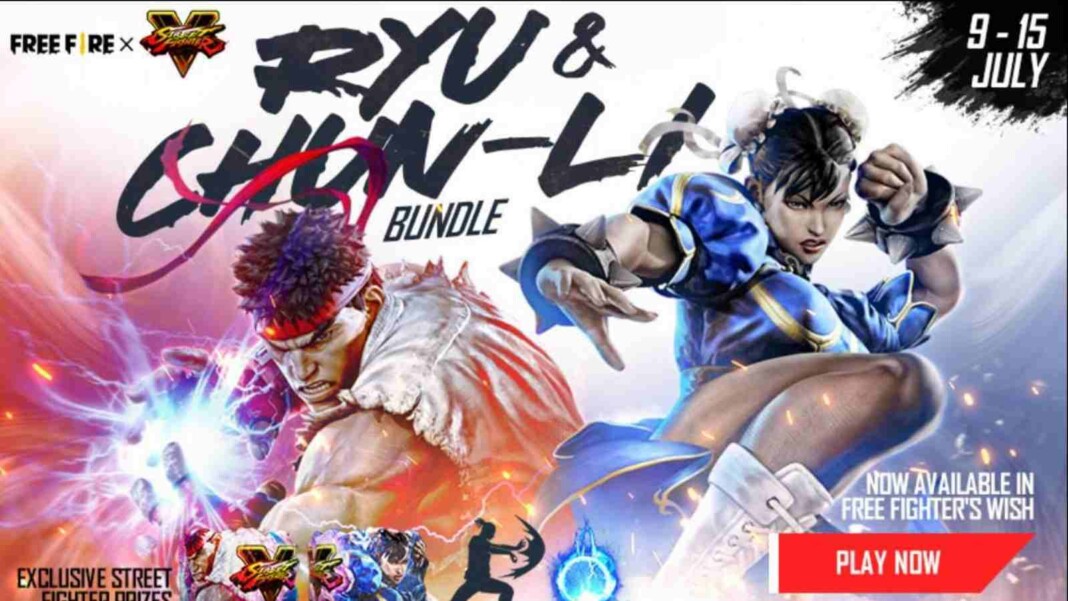 The Free Fire x Street Fighter event has bought in many new events and rewards for the players to obtain. In this article we take a look at the new Ryu and Chun-Li Bundle in Free Fire.
Free Fire has many cosmetic items that the players desire to collect. These are varied and these are weapon skins, costume bundles and accessories. Costume bundles are the most popular and players seek to obtain them all. The new event has also bought in exclusive sets that the players may like to get.
Down below are all the features of the Ryu and Chun-Li Bundle in Free Fire.
Free Fire Fighter's Wish Event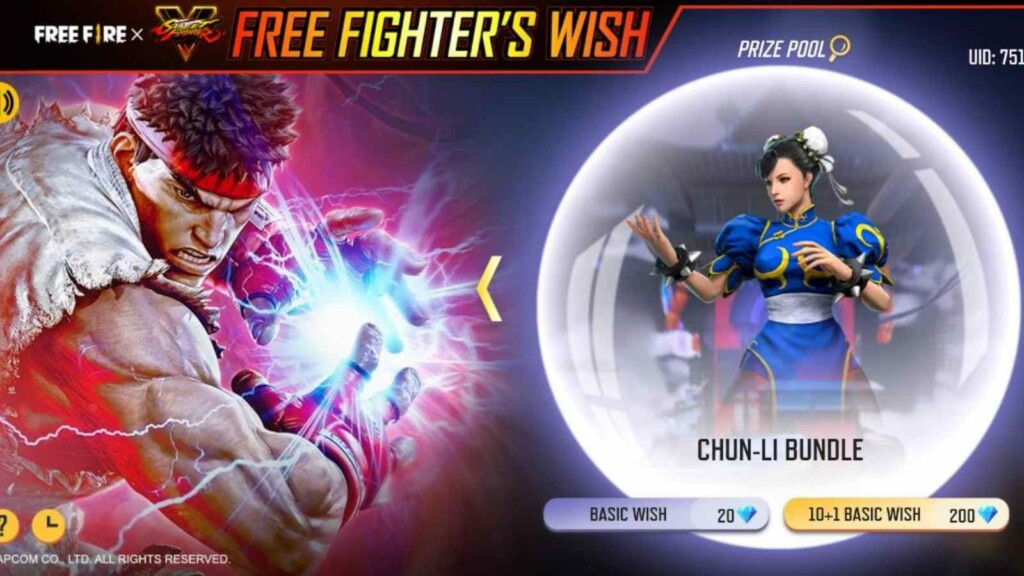 Players can find the Ryu and Chun-Li Bundle in Free Fire Fighter's Wish Event and players can check out the features and prize pool below. The event will stay in the game from 9th July, 2021 till 15h July, 2021.
Related: Top 3 Best Character Combinations For Chrono In Free Fire For July 2021
Players need to spin the wheel with either 1 spin for 20 diamonds or 10 spins for 200 diamonds at one go. For the 10 spin, players will get an additional spin. Players can get random items, which will be removed from the prize pool once obtained.
The Prize pool contains: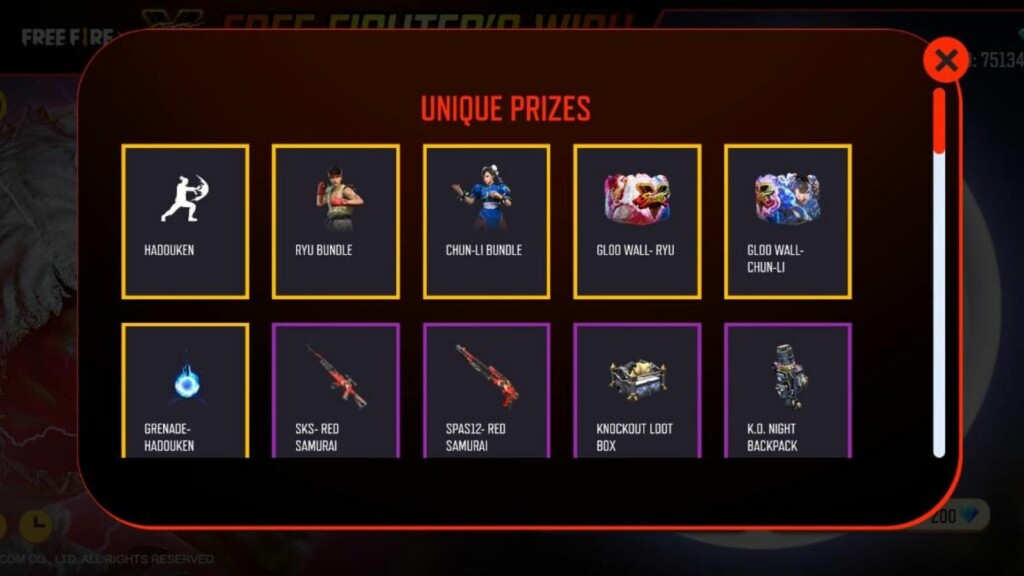 Unique Prizes
Hadouken Emote
Ryu Bundle
Chun-Li Bundle
Gloo Wall – Ryu
Gloo Wall – Cun-Li
Grenade – Hadouken
SKS – Red Samurai
SPAS12 – Red Samurai
Knockout Loot Box
K.O. Night Backpack
K.O. Night Champion Belt
K.O. Night Parachute
Knockout Swing
Motor Bike – K.O. Night
Provoke Emote
KLA
Martial Artist Set
Kelly
Bubbly Girl Set
Taekwondoin Bundle
Blackbelt Bundle
Golden Fist Backpack
Mythological Ride
Box of Balance
Chun-Li Icon
K.O. Night
K.O. Night Avatar
Normal Prizes
Cube Fragment
Diamond Royale Voucher
Weapon Royale Voucher
Imperial Rome Gun Box
Flaming Wolf Gun Box
Titanium Gun Box
AI Gun Box
Gold Royale voucher
Pet Food
Universal Fragment
Memory Fragments
Bounty Token
Scan
Bonfire
Summon Airdrop
Resupply Map
How to get the Ryu and Chun-Li Bundle in Free Fire?
First of all players need to open the Garena Free Fire app and navigate to the Calendar option on the right side of the home screen.
Players then need to click on the News Tab in the top right and then on the Free Fighter Wish on the left side of the screen.
Click on "Go To" to open the spin and players can spin the wheel using diamonds to win the Ryu and Chun-Li Bundle in Free Fire.
Follow our Instagram page fore more updates on gaming and esports!
Also read: Garena Free Fire Redeem codes for 9th July 2021: Get Break Dancer Bundle and more!