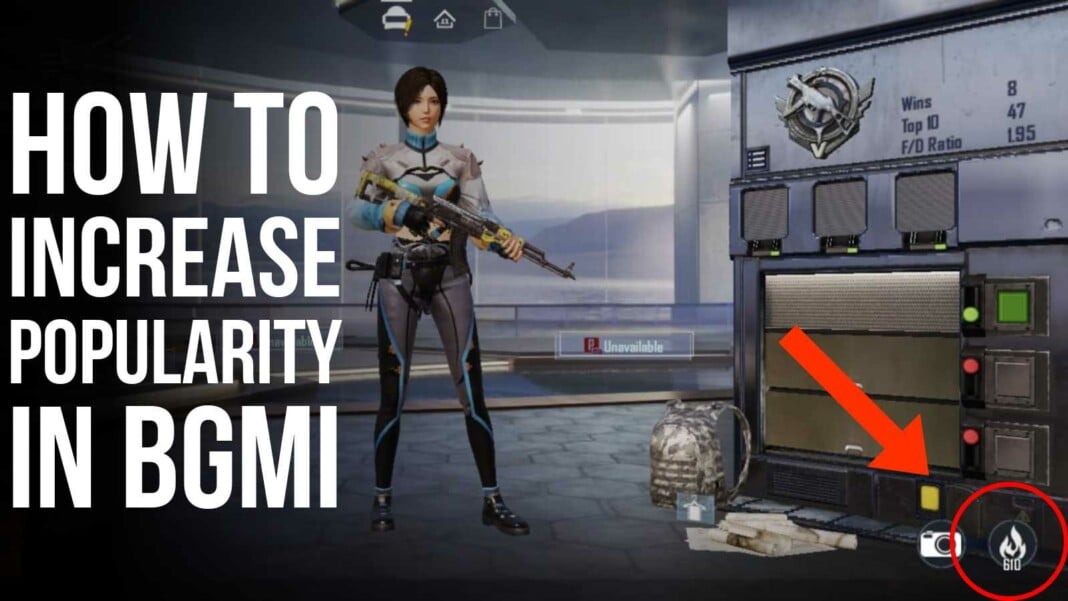 Gaining popularity in BGMI is what every player desires. The more popularity a player gets, the more attractive the profile looks. Players can get popularity through many ways. In this article, we are going to mention some of the ways by which players can increase their popularity in BGMI.
Battlegrounds Mobile India is more than just a battle-royale game. It has many features which makes it distinguished from other battle-royale games. It provides the players with customized weapons, stunning outfits along with other exciting rewards. There is a separate section for the player's profile where they can choose which achievements, weapons, backpack skins they want to display. One of the distinguished feature is the popularity of the players in the game, which is also displayed in the bottom right corner of your profile and looks like a fireball icon.
Now, let's take a look on how to increase popularity in BGMI
What is popularity in BGMI?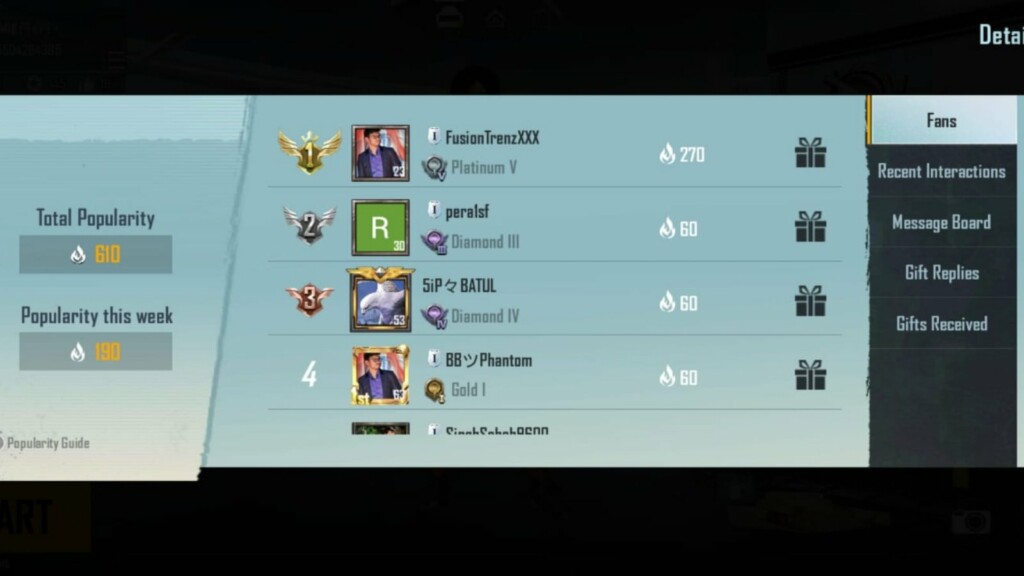 Popularity in BGMI can't be bought from the shop section or from the crates. You can only gain popularity from your teammates or friends in the game. Popularity means how popular you are in the game. You can gain popularity from others if they like your gameplay. By clicking on the popularity icon, you can see who has given you popularity by tapping on the 'Fans' section. The Top 10 contributors are shown in Fans.
The color of Popularity icon changes based on the popularity:
Grey: 0-999
Green: 1,000-9,999
Blue: 10,000-99,999
Purple: 100,000-999,999
Pink: 1,000,000-9,999,999
Related: How to increase the clan energy in Battlegrounds Mobile India?
Types of popularity in BGMI
BGMI provides a number of items which can be bought using BP, silver or UC and gifted to your teammates or friends in order to increase their popularity. However, it is important to note that a player cannot increase one's own popularity.
The popularity value of a Like is 30. Players can give like to their teammates after the match is finished
The popularity value of a like- chicken is 10. Players can give up to a maximum of 1 like in a day to their friends
If you want to give Hearts chicken to your friend, you can earn it after spending BP or through different events. The popularity value of Hearts Chicken is 20 and can be given upto 5 times in a single day to a player
This popularity item increases the player's popularity by 30 and can be earned by spending silver. Players can give up to 10 grilled chickens to a player in a single day.
This popularity item increases the popularity by 200. Players can earn the bike with UC or from the clan shop.
This is a recently added popularity item in BGMI which increases the popularity by 200. You can buy this item from the shop and gift it to your friend
Golden card costs about 50 UC and can be used to increase player's popularity by 800.
The Popularity Value of Sports Car is 2,200. You can gift this item to someone to increase his popularity.
This item can give the highest popularity in BGMI i.e 25,000. Players need to spend 1000 UC in order to own this popularity.
How to increase popularity in BGMI?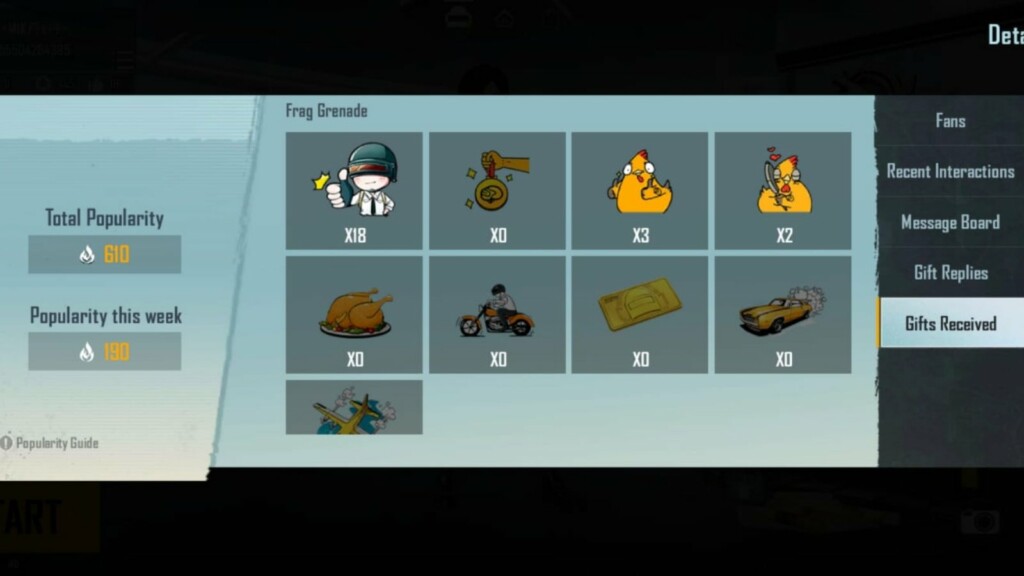 Ask your friends for popularity
One of the best ways in BGMI to increase your popularity is to ask your friends. Many popularity items are given in the events which can obtained absolutely free and increase the popularity at a faster rate. Ask your friends to collect the popularity items and gift it you, you can do the same with your friends.
Play with random teammates
You can also gain popularity if you play random Arena or classic matches. Sometimes, displaying good performances will earn you more likes and popularity items from your teammates or random players. You can also add them in your in game friend list and ask for popularity
Gift yourself popularity from another account
You can also increase your id's popularity by giving popularity items to your account from another account. If you have created an account from Facebook, you can create another ID from twitter, search your ID in the game and then give popularity.
These are some of the ways by which you can increase your popularity in BGMI.
NOTE: You can only gift popularity to your friends if you spend 15 minutes in battle in a day and reach account level 25
Also Read: BGMI 1.5.0 update Patch Notes, New Mission Ignition Mode and more