The world of Minecraft requires the players to craft tools to aid them in their day to day lives and to craft things. There are a vast variety of tools that Minecraft players can craft. One of the most useful weapons in the game is the Pickaxe.
The Pickaxe is one of the most basic and most useful tools to exist in the game. Players have to make this tool to mine minerals and other items. This is because most items may not drop any materials unless mined with a proper pickaxe. Moreover, the mining speed without a pickaxe is really slow.
Therefore, down below we take a look at how to make a Pickaxe in Minecraft.
Pickaxe in Minecraft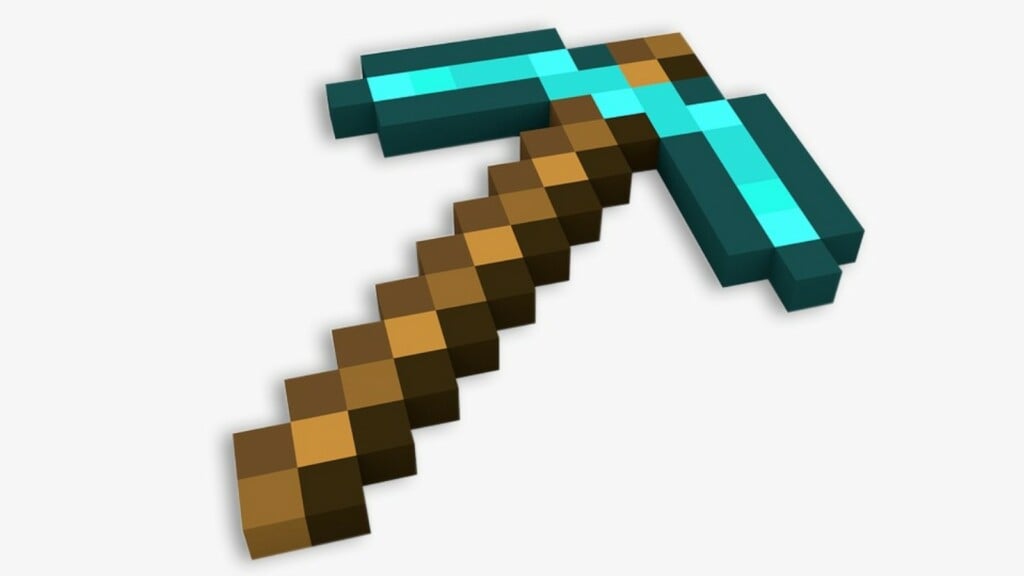 The Pickaxe in Minecraft is required by the players to mine all ores, rocks, rock-based blocks and metal-based blocks. Before learning how to craft a Pickaxe in minecraft, players must be more familiar with the various features of the tool.
Related: How to make a Sword in Minecraft: Materials, crafting recipe and more!
Natural Locations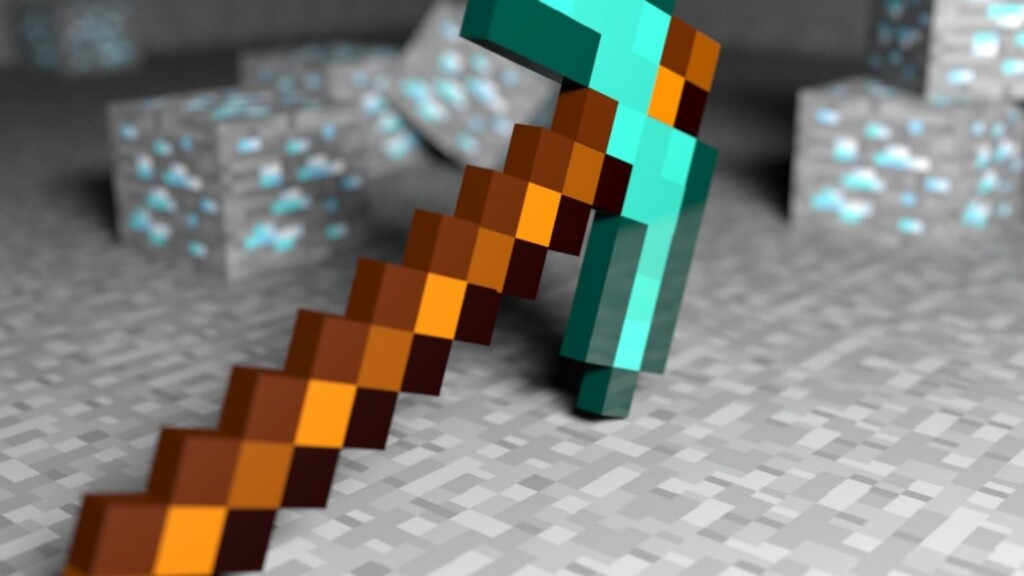 Pickaxes in Minecraft can spawn naturally in chests in villages, strongholds, End cities, bastions and even nether fortresses.
Moreover, players can also trade a pickaxe for one emerald from a novice toolsmith villagers. They may also sell enchanted pickaxes for 3 emeralds. Master level toolsmiths sell diamond enchanted pickaxes for 13 diamonds.
Types of Pickaxes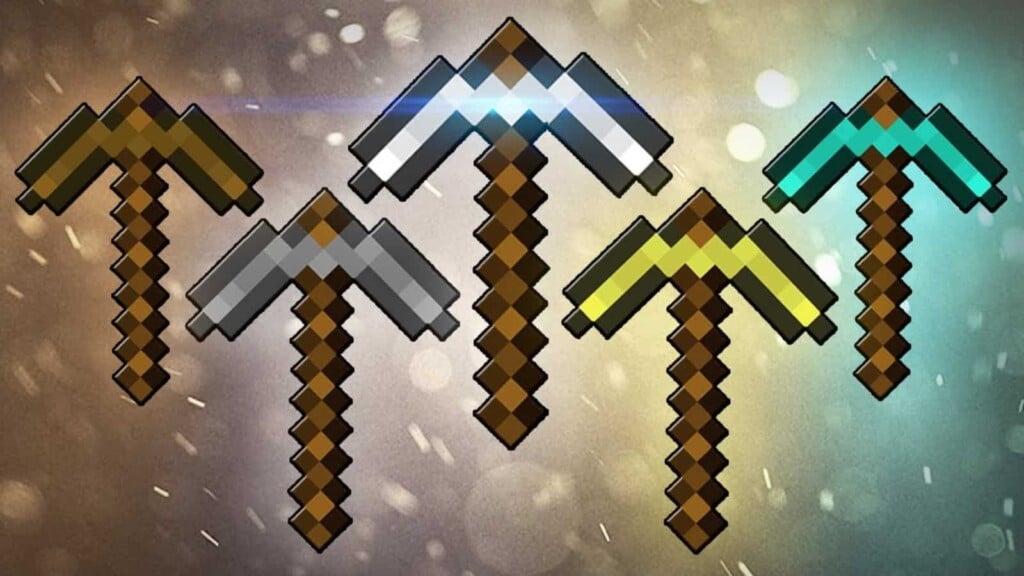 Pickaxes are of 6 types depending upon the material that they are built from. These are:
Wooden Pickaxe
Stone Pickaxe
Iron Pickaxe
Golden Pickaxe
Diamond Pickaxe
Netherite Pickaxe
Mining Durability
Each different pickaxe offers different levels of durability. These are:
Wooden: 59
Stone: 131
Iron: 250
Golden: 32
Diamond: 1561
Netherite: 2031
The number indicates the number of blocks that the respective pickaxe can mine before breaking. Currently, the Netherite Pickaxe is the strongest one in the game.
Players can also deal damage to mobs with the Pickaxe and they lose two durability points with each hit.
Enchantments
Th following enchantments can be applied to the pickaxe:
Efficiency: Increases Mining speed
Fortune: Increases drops from mining
Silk Touch: Makes the pickaxe mine delicately
Unbreaking: Increases durability
Mending: Consumes EXP to mend the tool
Curse of Vanishing: Disappears when dropped
How to make a Pickaxe in Minecraft?
Players need to acquire two items before they can make a pickaxe. These are:
Material (Wooden Planks, Cobblestone, Iron Ingots, Gold Ingot, Diamond Royale, Netherite) x3
Sticks x2
Sticks can be found by crafting them from Wooden Planks.
Materials for the pickaxe can be found through mining.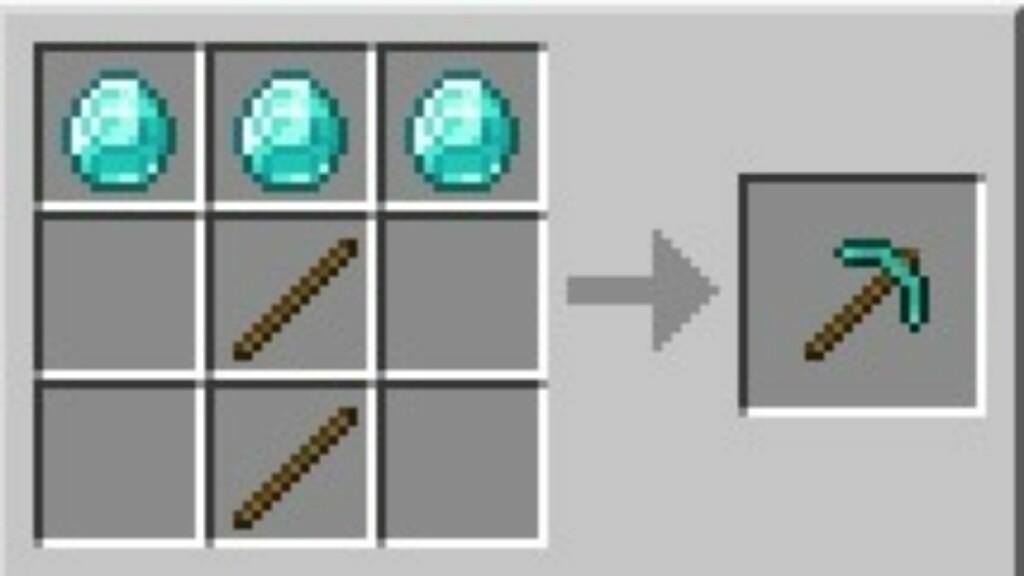 Players must combine them in the manner shown above to craft a Pickaxe in Minecraft.
Follow our Instagram page for updates on gaming and esports!
In case you missed it!