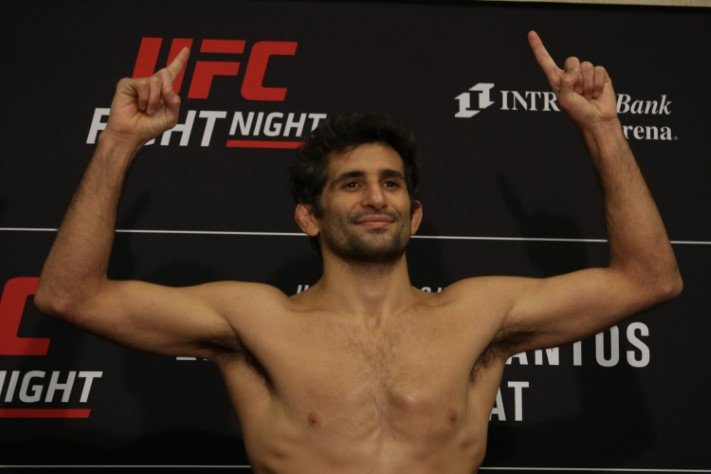 Beneil Dariush put on a stunning display of grit and character against Carlos Diego Ferreira, at the recently concluded UFC Fight Night, eventually winning via. split decision. The match won the fight of the night bonus, with both the fighters pocketing 50000 US dollars. The win was Dariush's 6th in a row, as he continued his turnaround after being winless in 2017 and during the greater part of 2018.
Speaking at the post-fight conference to MMA Junkie, Dariush thanked Mike Tyson for being an inspiration to him. Dedicating this fight to the legendary boxer, he explained how Tyson – overcoming the downs and hardships of life he had to go through is an inspo to many.
'I don't get to see Mike Tyson a lot face to face'
Dariush was quoted as saying, "I asked Dana White and Mick Maynard to put in Michael Perez, but I wanted to actually dedicate this fight to Mike Tyson. I don't get to see Mike Tyson a lot face to face, I'll see him once in a blue moon. My coach works with him, you know? He doesn't realize how many people he's inspired. My coach, every day he comes into the gym since he started working with Mike, there's a new level, a new shine to him, a new level of energy that he gets just working with Tyson.
He continued, "And I don't know Mike realizes this, but because of the hardships he's gone down, and he's gone up, and he's gone way down, and he's gone way up, he has this character that people want to be around and they get so much out of it. The trials he's gone through and overcome, God has blessed him with this aura. So I was going to dedicate this fight to Mike but I decided to shout out Perez because he's a teammate and I think he deserves a shot. But I wanted to take this moment and say Mike, I don't know you but I'm grateful for you. God bless you."
Well, Mike Tyson has certainly been an inspiration for many and likewise for the resurging Dariush. The number 13 ranked lightweight looks like he might go from strength to strength here onwards, and even has the prowess to test the fighters at the top. What do you think the future holds for the soft-spoken Beneil Dariush?
Also Read : 'I say Joshua wins by knockout, and I predict, in about 7 or 8 rounds' – Eric Molina believes Anthony Joshua can knock Tyson Fury out