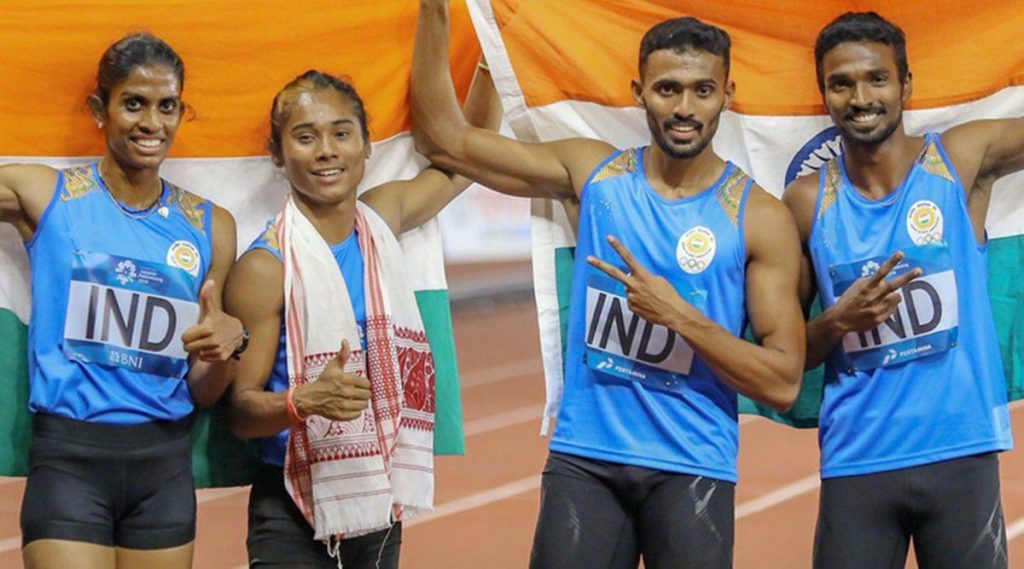 The Bahrain squad that in 2018 Asian Games, finished first in the 4×400 mixed relay was handed a four-year ban by (AIU) Athletics Integrity Unit as it was disqualified along with Kemi Adekoya after failing the dope test.
After the Bahrain squad got disqualified, the Indian 4×400 mixed relay quartet, which won silver in the same event [comprising of Hima Das, Mohammad Anas, Arokia Rajiv, and MR Poovamma] got promoted to Gold.
Also, Anu Raghavan, who finished at fourth place in the women's 400m hurdles is now being given the bronze medal.
Also Read India 4×400 mixed relay team silver at Asian Games 2018 upgraded to gold
Hima Das dedicates her medal to "Corona warriors"
Just a day after Hima Das got promoted to Gold, she dedicated her medal to all those "warriors" who are working hard and selflessly during these hard times.
Hima Tweeted, "I would like to dedicate my upgraded gold medal of 4×400 mixed relay event of Asian Games 2018 to police. Doctors and all other corona warriors who are working selflessly in these difficult times of COVID-19 to ensure our safety and good health. Respect for all those Corona warriors."
Also Read Indian athlete Hima Das urges everyone to help Assam