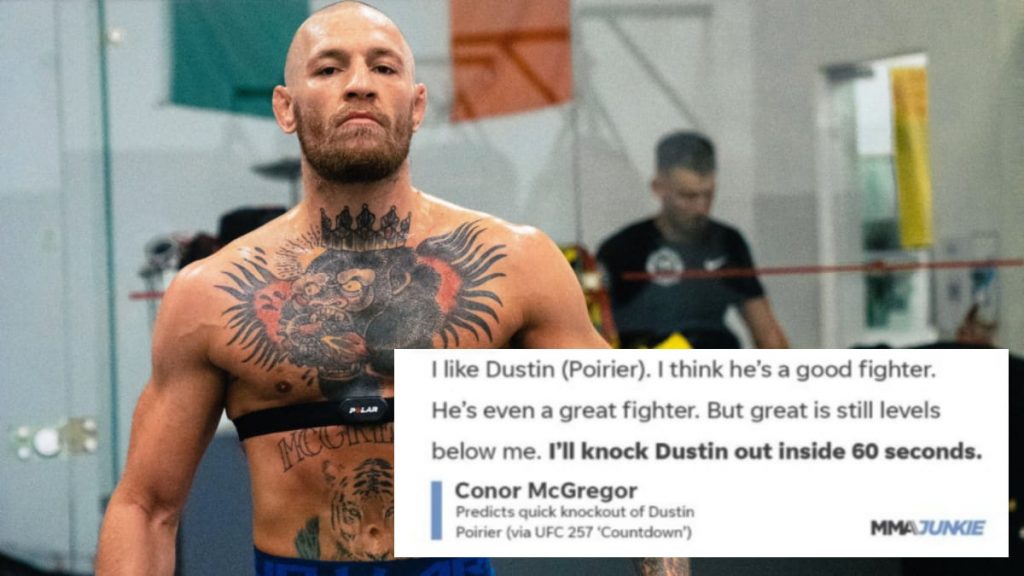 "The Notorious" Conor McGregor is all set to return on UFC 257 in a rematch against Dustin "The Diamond" Poirier. Conor knocked Poirier out at 1minute 46 seconds of the very first round in their previous fight.
We all know the pre-fight talk Conor does and how good he does that, he is said to break his opponents mentally even before their fight. According to Dustin this is exactly what happened in their previous fight, Conor got inside his head and that affected his performance inside the octagon.
But this time Conor was refraining from getting into any trash talk but he was indirectly firing his shots at Dustin, and this time he issued a pretty bold statement. On UFC 257 Countdown he said, "I like Dustin Poirier. I think he's a good fighter. He's even a great fighter. But great is a still level below me. I'll knock Dustin out inside 60 seconds."
Can Conor live up to the hype?
Well, he is undoubtedly the biggest UFC star even Dana White in his recent interview admitted that no matter what your personal opinion about Conor is, he is one of the best to ever do it. After dominating Donald Cerrone he called for this fight and he is looking pretty confident as well.
But Dustin has also grown leaps and bounds from their last bout so this won't be as much of a cake-walk for Conor. Dustin said he isn't doing this for the vengeance it is about his legacy and the winner of this bout would most probably be the number one contender for the title. We are excited to see how this one plays out.
Also read "I never liked to fight, and I'm not lying when I say it," George St-Pierre reveals he hated every single second inside the octagon.