Indian long jumper, Murali Sreeshankar, is one of the athletes carrying hope for the country at the upcoming Tokyo Olympics. The current national record holder is the 6th top jumper in Asia.
Born in a family of athletes, Sreeshankar trains under his father and former South Asian triple jump silver medallist, S. Murali. His mother, K.S. Bijimol, is also an 800m and 4x400m relay Asian Junior Athletics medallist. The fourth generation sportsman, Sreeshankar, is emerging as the new sensational wave in Indian track and field.
Murali Sreeshankar: Triumph against adversity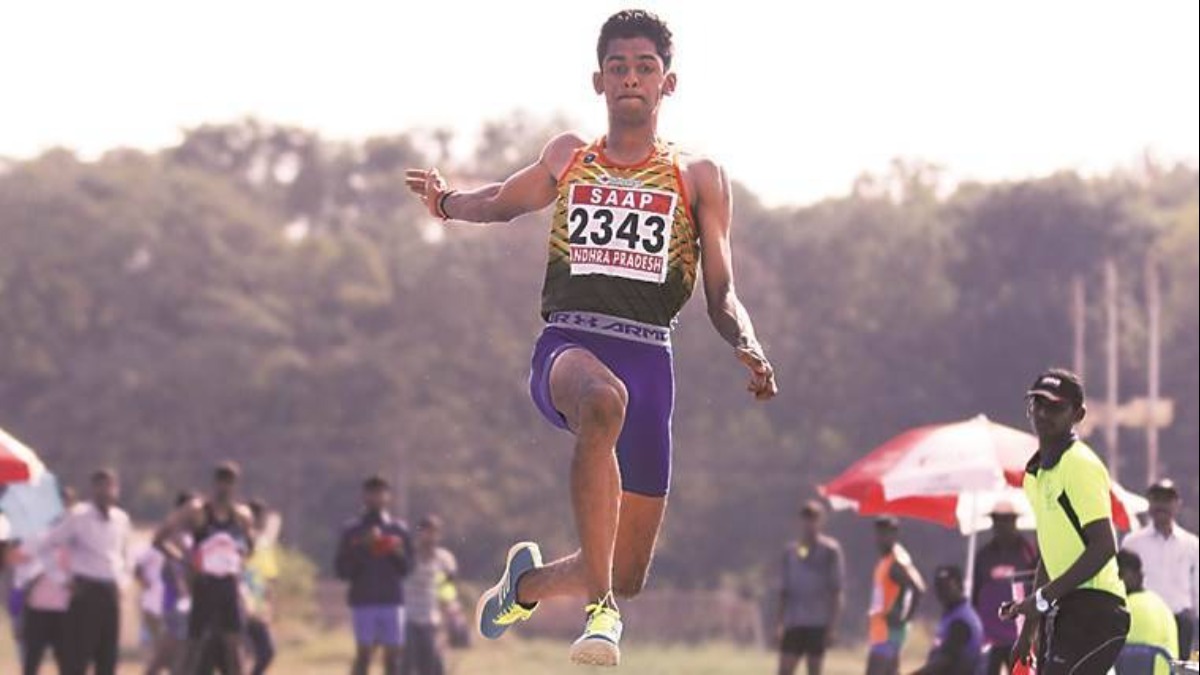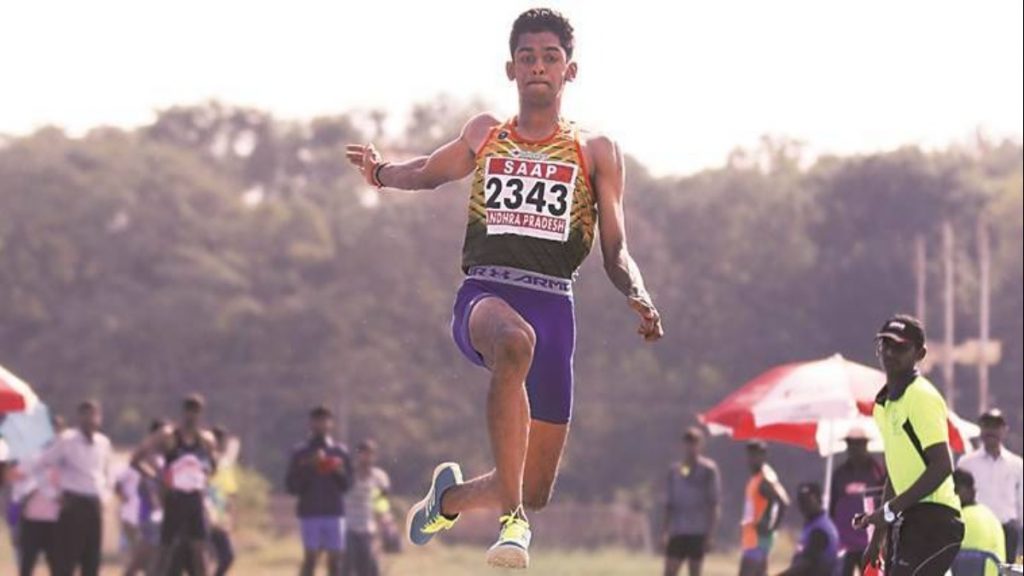 Murali Sreeshankar was attracted to athletics from a very young age. He was a state champion in 50m and 100m sprints in the u-10 category. At the age of 13, he switched from sprinting to long jump.
He won a gold medal in long jump at the SGFI meet in Pune when he was in 12th standard. He also broke the national record there with a massive leap of 7.57m. This victory was just the start to his future illustrious career.
In March 2018, Murali Sreeshankar jumped 7.99m at the Federation Cup in Patiala. He was selected to be a part of the Indian contingent at the 2018 Gold Coast Commonwealth Games. However, he had to pull out 10 days prior to the coveted tournament after being diagnosed with appendicitis.
The emergency surgery and the subsequent recovery took a toll on his health. His liquid diet resulted in a significant weight loss and he couldn't even walk properly. Despite this, he participated in the 2018 Asian Junior Athletics Championships in Gifu just two months later and won the bronze medal with a jump of 7.47m. At the 2018 Asian Games in Jakarta, he struggled with his run-up and finished 6th after jumping 7.95m.
But he mounted an incredible comeback in September 2018 at the National Open Athletics Championships in Bhubaneshwar by breaking the national record with a world-leading jump of 8.20m amongst u-20 athletes. This massive leap made him the first Indian athlete to qualify for the 2019 World Athletics Championships in Doha.
He overcame his mental blocks after he shattered the 8m barrier.
Making of a brand new sensation in Indian track and field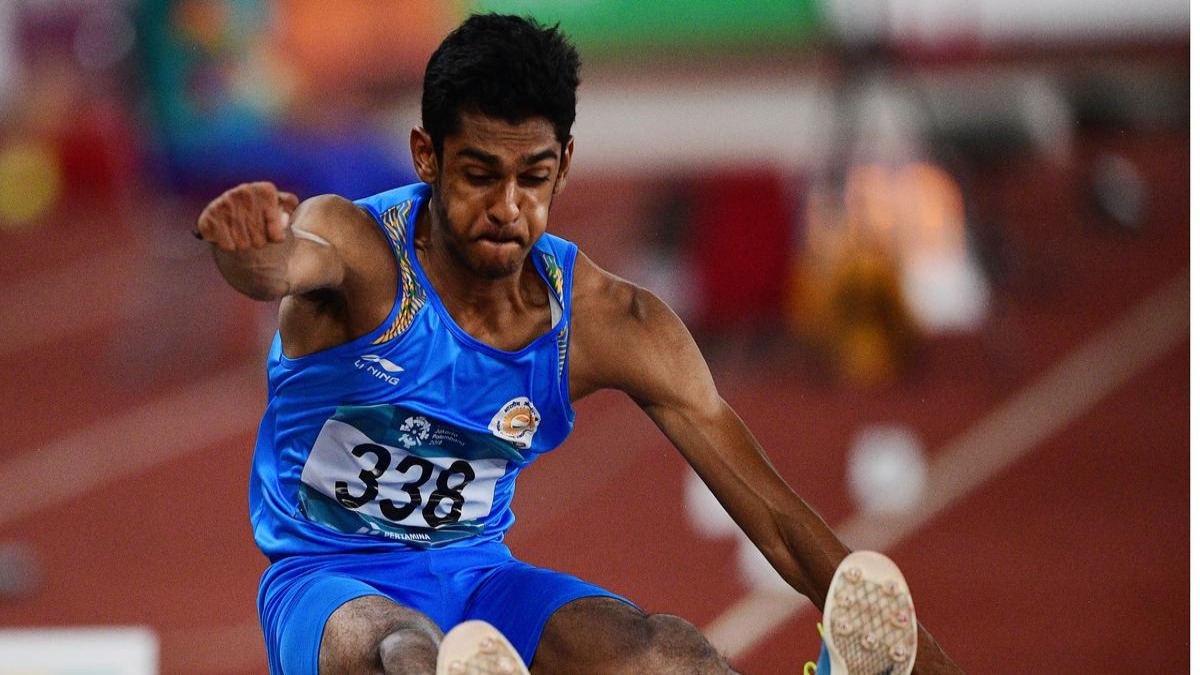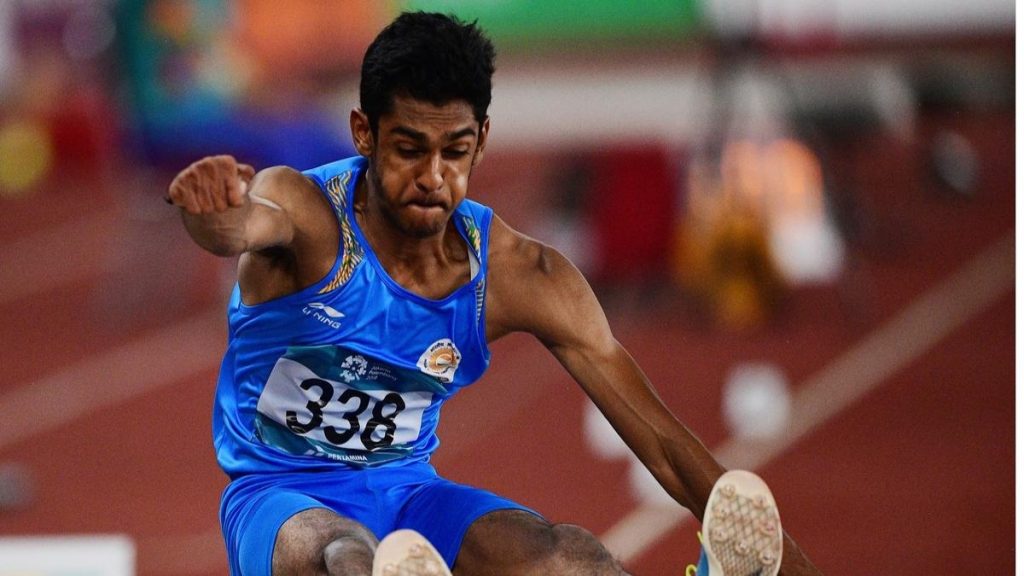 Unlike his peers, Murali Sreeshankar, doesn't train under foreign coaches and compete in foreign meets.
The record-breaking long jumper is thoroughly homegrown and practices at the recently built synthetic track stadium of Government Medical College, Palakkad. Despite being two-years old, the stadium doesn't have dressing rooms or even washrooms. So he set up a makeshift gym and a dressing room using aluminium sheets.
After the lockdown induced by the COVID-19 pandemic, Sreeshankar and his family huddled together to buy a 5-cent vacant plot area in the lane where they stayed and set up a gym worth Rs 7 lakh.
Sreeshankar who is also an excellent student proved his mettle in March this year. He leaped an awe-striking distance of 8.26m in Patiala not only smashing the national record but also booking himself a ticket in the Tokyo Olympics bound plane.
"I never had any doubts about myself. It was only a matter of time. If everything falls in place, then I'll make it," Indian Express quoted him as saying.
Currently, he is placed 35th in the World Athletics rankings. He is a part of the Target Olympic Podium Scheme (TOPS) started by the Ministry of Youth Affairs and Sports. Murali Sreeshankar will be the sensation to watch out for at the upcoming Tokyo Olympics. The young lad is on a roll and is only leaping farther and farther.
Also Read: Waiting for qualification is quite 'painful' for Long jumper Murali Sreeshankar