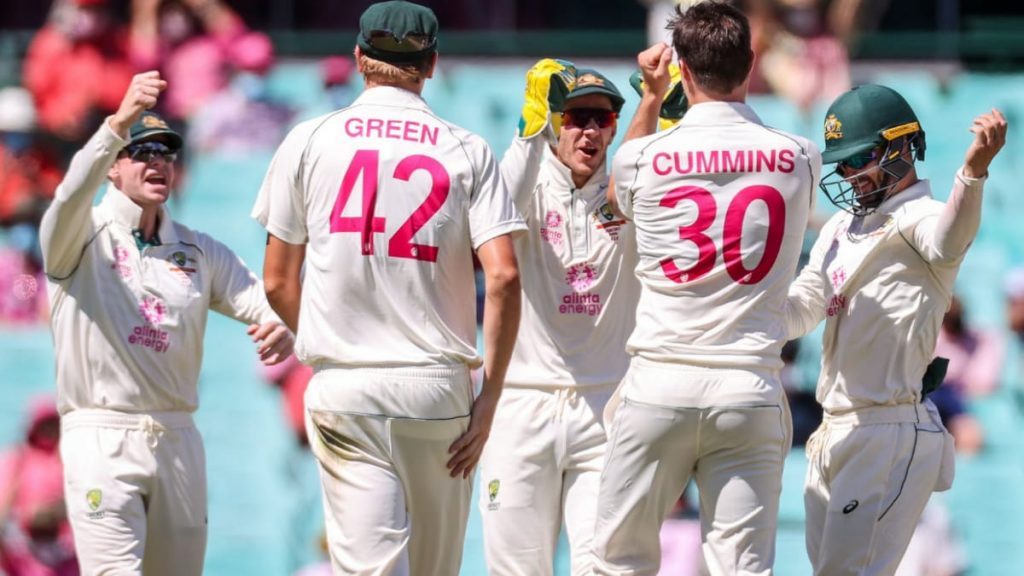 Australia ended Day 3 of the third Test against India at the Sydney Cricket Ground 97 runs ahead and with 8 wickets in the bag. On a day which India began slightly ahead in the Test, it all went wrong as the Aussie bowlers' disciplined bowling and some poor running between the wickets cost India dearly as they were folded out for just 244 runs.
In reply, despite losing two quick wickets – that of their openers, the reliable duo of Marnus Labuschagne and Steve Smith steadied the ship for Australia and took the score to 100 and the lead to 197. Australia are well and truly on top now and should be able to seal victory.
India bowled out for 244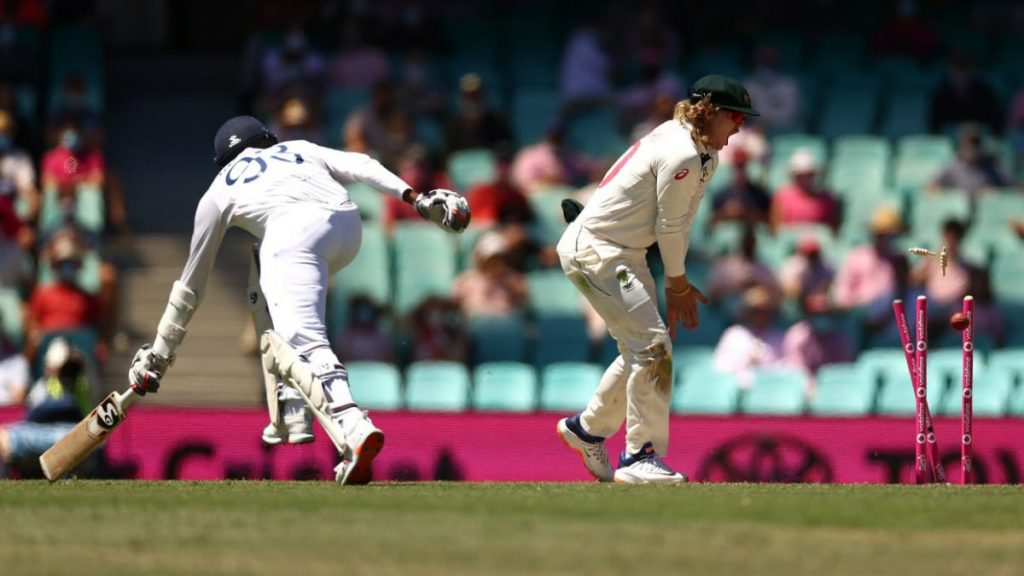 Earlier, Ajinkya Rahane and Cheteshwar Pujara began the day patiently and tried to up the ante a bit. Pat Cummins provided the breakthrough by removing the Indian skipper and then the floodgates opened for Australia. Pujara was out after scoring fifty. The Indian middle-order that followed got starts but was unable to convert it to a big innings. India's poor running between the wickets didn't help either. There were as many as 3 run-outs in the innings. Only Rishabh Pant and Ravindra Jadeja offered some resistance.
In their second innings, the Australians were pegged back early as Will Pucovski was dismissed by Mohammed Siraj and David Warner by Ravichandran Ashwin – his tenth dismissal of the southpaw in Test matches. However, Marnus Labuschagne and Steve Smith weathered the Indian bowling and confidently took Australia's score past 100. Australia are now in a very strong position to go 2-1 up in the series.
Scores
Australia – 1st innings
| | | | |
| --- | --- | --- | --- |
| Batsman | Mode of Dismissal | Runs | Balls |
| Will Pucovski | lbw b Saini | 62 | 110 |
| David Warner | c Pujara b Siraj | 5 | 8 |
| Marnus Labuschagne | c Rahane b Jadeja | 91 | 196 |
| Steve Smith | run out (Jadeja) | 131 | 226 |
| Matthew Wade | c Bumrah b Jadeja | 13 | 16 |
| Cameron Green | lbw b Bumrah | 0 | 21 |
| Tim Paine | b Bumrah | 1 | 10 |
| Pat Cummins | b Jadeja | 0 | 13 |
| Mitchell Starc | c Gill b Saini | 24 | 30 |
| Nathan Lyon | lbw b Jadeja | 0 | 3 |
| Josh Hazlewood | not out | 1 | 6 |
Total – 338 all-out in 105.4 overs
| | | | |
| --- | --- | --- | --- |
| Bowler | Overs | Runs | Wickets |
| Jasprit Bumrah | 25.4 | 66 | 2 |
| Mohammed Siraj | 25 | 67 | 1 |
| Ravichandran Ashwin | 24 | 74 | 0 |
| Navdeep Saini | 13 | 65 | 2 |
| Ravindra Jadeja | 18 | 62 | 4 |
India – 1st innings
| | | | |
| --- | --- | --- | --- |
| Batsman | Mode of Dismissal | Runs | Balls |
| Rohit Sharma | c & b Hazlewood | 26 | 77 |
| Shubman Gill | c Green b Cummins | 50 | 101 |
| Cheteshwar Pujara | c Paine b Cummins | 50 | 176 |
| Ajinkya Rahane | b Cummins | 22 | 70 |
| Hanuma Vihari | run out(Hazlewood) | 4 | 38 |
| Rishabh Pant | c Warner b Hazlewood | 36 | 67 |
| Ravindra Jadeja | not out | 28 | 37 |
| Ravichandran Ashwin | run out (Cummins/Labuschagne) | 10 | 15 |
| Navdeep Saini | c Wade b Starc | 3 | 13 |
| Jasprit Bumrah | run out (Labuschagne) | 0 | 2 |
| Mohammed Siraj | c Paine b Cummins | 6 | 10 |
Total – 244 all-out in 100.4 overs
| | | | |
| --- | --- | --- | --- |
| Bowler | Overs | Runs | Wickets |
| Mitchell Starc | 19 | 61 | 1 |
| Josh Hazlewood | 21 | 43 | 2 |
| Pat Cummins | 21.4 | 29 | 4 |
| Nathan Lyon | 31 | 87 | 0 |
| Marnus Labuschagne | 3 | 11 | 0 |
| Cameron Green | 5 | 11 | 0 |
Australia – 2nd innings
| | | | |
| --- | --- | --- | --- |
| Batsman | Mode of Dismissal | Runs | Balls |
| David Warner | lbw b Ashwin | 13 | 29 |
| Will Pucovski | c (sub) Saha b Siraj | 10 | 16 |
| Marnus Labuschagne | not out | 47 | 69 |
| Steve Smith | not out | 29 | 63 |
Total – 103/2 in 29 overs
| | | | |
| --- | --- | --- | --- |
| Bowler | Overs | Runs | Wickets |
| Japsrit Bumrah | 8 | 26 | 0 |
| Mohammed Siraj | 8 | 20 | 1 |
| Navdeep Saini | 7 | 28 | 0 |
| Ravichandran Ashwin | 6 | 28 | 1 |
Also Read: India vs Australian: 'I was just asking him friendly questions' – Marnus Labuschagne on 'disappointing' on-field conversation with Shubman Gill