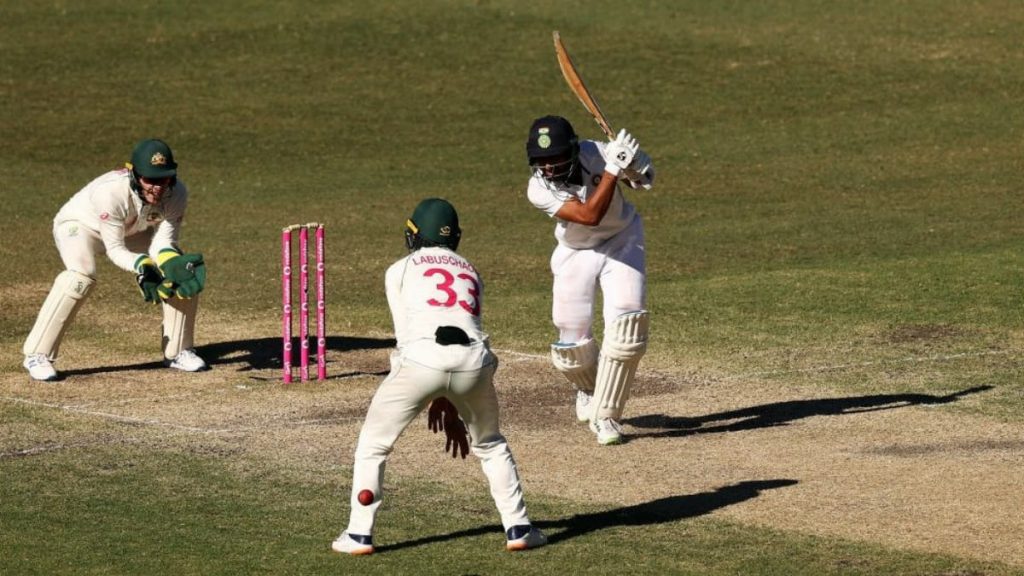 India secured a thrilling draw in the third Test thanks to determined and dogged batting to ensure the Test series against Australia remained locked at 1-1 heading into the final Test. In a fascinating final day's play that saw Test cricket at its finest, each Indian batter contributed hugely in ensuring Australia didn't go 2-1 up in the series.
Beginning the day on 98/2, with Cheteshwar Pujara and Ajinkya Rahane at the crease, India started steadily but lost the latter off Nathan Lyon's bowling. The injured Rishabh Pant then walked in to join Pujara with the Australians firmly in front. But the duo put on a commanding partnership to cause jitters in the Aussie camp.
Pant falls three short of a hundred; Ashwin-Vihari rescue India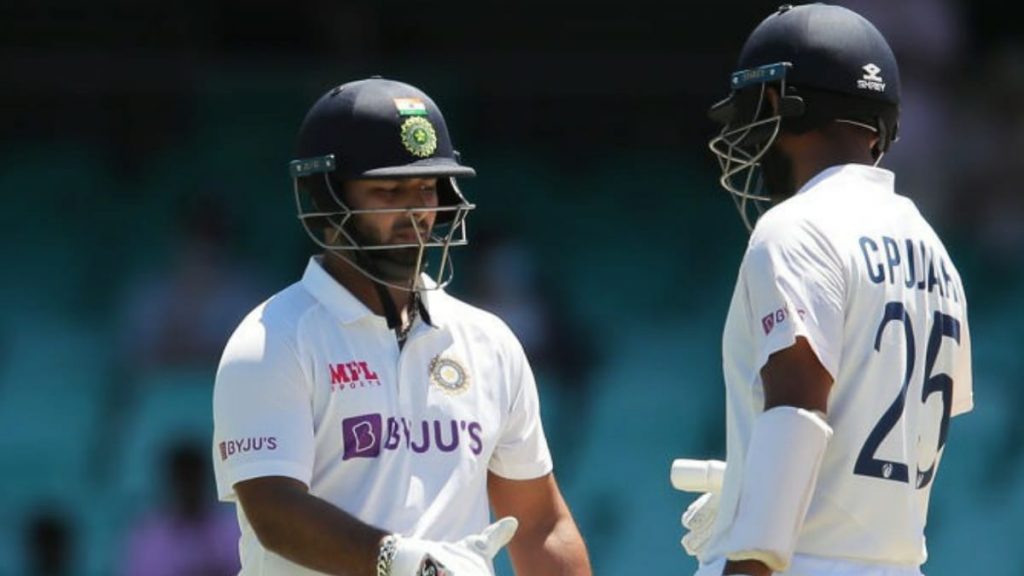 The partnership between Pujara and Pant was wonderfully in contrast. With the former defending every ball, the latter went after the bowlers. An Indian win didn't seem far away when the duo were at the crease having scored half-centuries. However, Australia struck twice quickly to remove both batters – Pant for 97 off Lyon's bowling and Pujara for 77 bowled by a Josh Hazlewood beauty.
With more than 40 overs to negotiate, India seemed down and out and started to play for a draw with Hanuma Vihari and Ravichandran Ashwin at the crease. Ravindra Jadeja with a fractured thumb was padded up and ready to walk in at the fall of a wicket. But the wicket never arrived for Australia. Vihari and Ashwin displayed marvelous spirit to keep the Aussie bowlers at bay. The duo defended each and every ball that came their way, rode their luck and most importantly, survived the entire day.
Ashwin and Vihari batted for over three hours together and survived in excess of 250 deliveries. It was a mind-blowing show of character that helped India escape unscathed. It all boils down now to the fourth and final Test in Brisbane on the 15th of January.
Scores
Australia – 1st innings
| | | | |
| --- | --- | --- | --- |
| Batsman | Mode of Dismissal | Runs | Balls |
| Will Pucovski | lbw b Saini | 62 | 110 |
| David Warner | c Pujara b Siraj | 5 | 8 |
| Marnus Labuschagne | c Rahane b Jadeja | 91 | 196 |
| Steve Smith | run out (Jadeja) | 131 | 226 |
| Matthew Wade | c Bumrah b Jadeja | 13 | 16 |
| Cameron Green | lbw b Bumrah | 0 | 21 |
| Tim Paine | b Bumrah | 1 | 10 |
| Pat Cummins | b Jadeja | 0 | 13 |
| Mitchell Starc | c Gill b Saini | 24 | 30 |
| Nathan Lyon | lbw b Jadeja | 0 | 3 |
| Josh Hazlewood | not out | 1 | 6 |
Total – 338 all-out in 105.4 overs
| | | | |
| --- | --- | --- | --- |
| Bowler | Overs | Runs | Wickets |
| Jasprit Bumrah | 25.4 | 66 | 2 |
| Mohammed Siraj | 25 | 67 | 1 |
| Ravichandran Ashwin | 24 | 74 | 0 |
| Navdeep Saini | 13 | 65 | 2 |
| Ravindra Jadeja | 18 | 62 | 4 |
India – 1st innings
| | | | |
| --- | --- | --- | --- |
| Batsman | Mode of Dismissal | Runs | Balls |
| Rohit Sharma | c & b Hazlewood | 26 | 77 |
| Shubman Gill | c Green b Cummins | 50 | 101 |
| Cheteshwar Pujara | c Paine b Cummins | 50 | 176 |
| Ajinkya Rahane | b Cummins | 22 | 70 |
| Hanuma Vihari | run out(Hazlewood) | 4 | 38 |
| Rishabh Pant | c Warner b Hazlewood | 36 | 67 |
| Ravindra Jadeja | not out | 28 | 37 |
| Ravichandran Ashwin | run out (Cummins/Labuschagne) | 10 | 15 |
| Navdeep Saini | c Wade b Starc | 3 | 13 |
| Jasprit Bumrah | run out (Labuschagne) | 0 | 2 |
| Mohammed Siraj | c Paine b Cummins | 6 | 10 |
Total – 244 all-out in 100.4 overs
| | | | |
| --- | --- | --- | --- |
| Bowler | Overs | Runs | Wickets |
| Mitchell Starc | 19 | 61 | 1 |
| Josh Hazlewood | 21 | 43 | 2 |
| Pat Cummins | 21.4 | 29 | 4 |
| Nathan Lyon | 31 | 87 | 0 |
| Marnus Labuschagne | 3 | 11 | 0 |
| Cameron Green | 5 | 11 | 0 |
Australia – 2nd innings
| | | | |
| --- | --- | --- | --- |
| Batsman | Mode of Dismissal | Runs | Balls |
| David Warner | lbw b Ashwin | 13 | 29 |
| Will Pucovski | c (sub) Saha b Siraj | 10 | 16 |
| Marnus Labuschagne | c (sub) Saha b Saini | 73 | 118 |
| Steve Smith | lbw b Ashwin | 29 | 63 |
| Matthew Wade | c (sub) Saha b Saini | 4 | 11 |
| Cameron Green | c (sub) Saha b Bumrah | 84 | 132 |
| Tim Paine | not out | 39 | 52 |
Total – 312/6 decl in 87 overs
| | | | |
| --- | --- | --- | --- |
| Bowler | Overs | Runs | Wickets |
| Japsrit Bumrah | 21 | 68 | 1 |
| Mohammed Siraj | 25 | 90 | 1 |
| Navdeep Saini | 16 | 54 | 2 |
| Ravichandran Ashwin | 25 | 95 | 2 |
India – 2nd innings
| | | | |
| --- | --- | --- | --- |
| Batsman | Mode of Dismissal | Runs | Balls |
| Rohit Sharma | c Starc b Cummins | 52 | 98 |
| Shubman Gill | c Paine b Hazlewood | 31 | 64 |
| Cheteshwar Pujara | b Hazlewood | 77 | 205 |
| Ajinkya Rahane | c Wade b Lyon | 4 | 18 |
| Rishabh Pant | c Cummins b Lyon | 97 | 118 |
| Hanuma Vihari | not out | 23 | 161 |
| Ravichandran Ashwin | not out | 39 | 128 |
Total – 334/5 in 131 overs
| | | | |
| --- | --- | --- | --- |
| Bowler | Overs | Runs | Wickets |
| Mitchell Starc | 22 | 66 | 0 |
| Josh Hazlewood | 26 | 39 | 2 |
| Pat Cummins | 26 | 72 | 1 |
| Nathan Lyon | 46 | 114 | 2 |
| Cameron Green | 7 | 31 | 0 |
| Marnus Labuschagne | 4 | 9 | 0 |
Also Read: India vs Australia: "Cricket never discriminates" – Sachin Tendulkar speaks out on racism issue