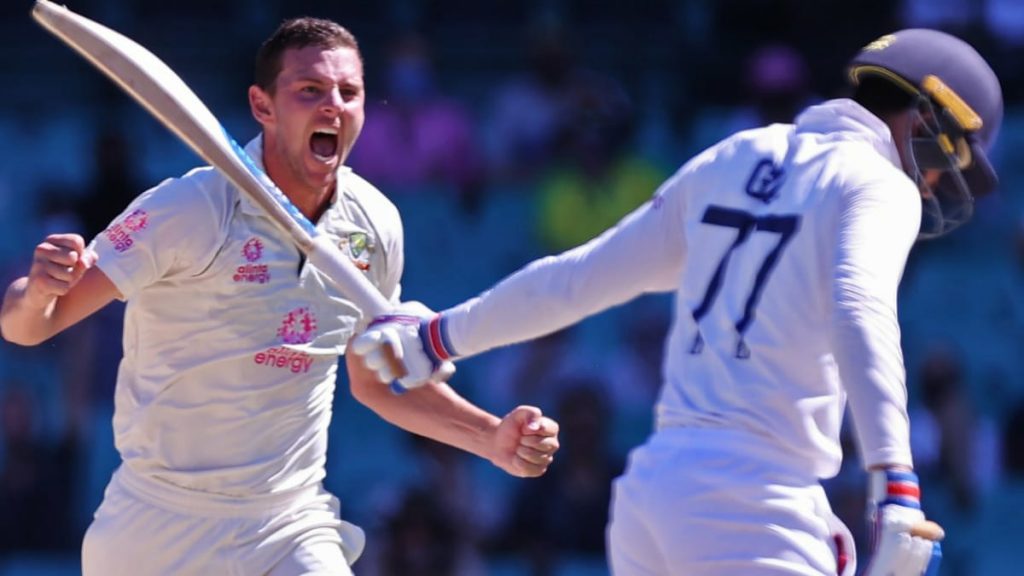 India ended Day 4 of the third Test against Australia in Sydney on a steady note but are staring at what looks like an almost-certain defeat. The hosts batted with intent to set India a huge target of 407 and in reply, the Indian openers began steadily before both Shubman Gill and Rohit Sharma lost their wickets.
At the end of the day's play, India finished on with more runs required to win and needing to bat out an entire day to draw the Test. It is noteworthy that India are without ace all-rounder Ravindra Jadeja as well and Australia will hence, most probably need to pick up 8 more wickets only.
Labuschagne, Smith, Green and Rohit hit fifties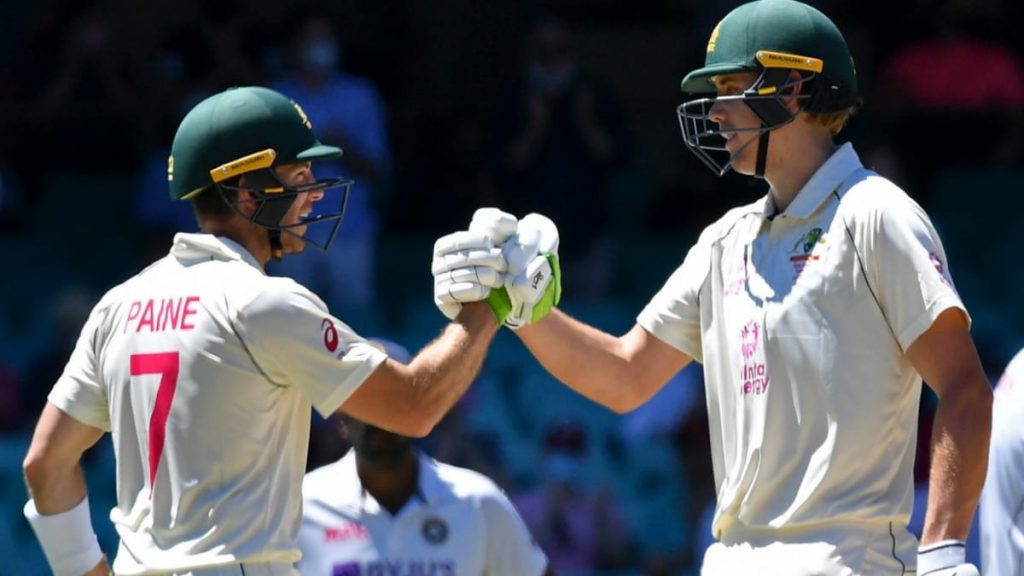 Beginning from their overnight lead of 197, Marnus Labuschagne and Steve Smith showed no discomfort in keeping the scoreboard ticking. Both batsmen got their fifties but were dismissed before they got to triple figures. Cameron Green then compiled an exciting 84-run knock to accelerate the innings along with captain Tim Paine. Australia declared after Green's wicket and set India 407 to win.
In reply, the Indian openers began positively and guarded their wicket well. Just as it looked like the assured batsmen would outlast the day without a wicket, Shubman Gill was dismissed by Josh Hazlewood and Rohit Sharma was sent back after a fifty by Pat Cummins. Pujara and skipper Ajnkya Rahane then saw out the day. By the looks of it, Day 5 is set to see a win for Australia.
Scores
Australia – 1st innings
| | | | |
| --- | --- | --- | --- |
| Batsman | Mode of Dismissal | Runs | Balls |
| Will Pucovski | lbw b Saini | 62 | 110 |
| David Warner | c Pujara b Siraj | 5 | 8 |
| Marnus Labuschagne | c Rahane b Jadeja | 91 | 196 |
| Steve Smith | run out (Jadeja) | 131 | 226 |
| Matthew Wade | c Bumrah b Jadeja | 13 | 16 |
| Cameron Green | lbw b Bumrah | 0 | 21 |
| Tim Paine | b Bumrah | 1 | 10 |
| Pat Cummins | b Jadeja | 0 | 13 |
| Mitchell Starc | c Gill b Saini | 24 | 30 |
| Nathan Lyon | lbw b Jadeja | 0 | 3 |
| Josh Hazlewood | not out | 1 | 6 |
Total – 338 all-out in 105.4 overs
| | | | |
| --- | --- | --- | --- |
| Bowler | Overs | Runs | Wickets |
| Jasprit Bumrah | 25.4 | 66 | 2 |
| Mohammed Siraj | 25 | 67 | 1 |
| Ravichandran Ashwin | 24 | 74 | 0 |
| Navdeep Saini | 13 | 65 | 2 |
| Ravindra Jadeja | 18 | 62 | 4 |
India – 1st innings
| | | | |
| --- | --- | --- | --- |
| Batsman | Mode of Dismissal | Runs | Balls |
| Rohit Sharma | c & b Hazlewood | 26 | 77 |
| Shubman Gill | c Green b Cummins | 50 | 101 |
| Cheteshwar Pujara | c Paine b Cummins | 50 | 176 |
| Ajinkya Rahane | b Cummins | 22 | 70 |
| Hanuma Vihari | run out(Hazlewood) | 4 | 38 |
| Rishabh Pant | c Warner b Hazlewood | 36 | 67 |
| Ravindra Jadeja | not out | 28 | 37 |
| Ravichandran Ashwin | run out (Cummins/Labuschagne) | 10 | 15 |
| Navdeep Saini | c Wade b Starc | 3 | 13 |
| Jasprit Bumrah | run out (Labuschagne) | 0 | 2 |
| Mohammed Siraj | c Paine b Cummins | 6 | 10 |
Total – 244 all-out in 100.4 overs
| | | | |
| --- | --- | --- | --- |
| Bowler | Overs | Runs | Wickets |
| Mitchell Starc | 19 | 61 | 1 |
| Josh Hazlewood | 21 | 43 | 2 |
| Pat Cummins | 21.4 | 29 | 4 |
| Nathan Lyon | 31 | 87 | 0 |
| Marnus Labuschagne | 3 | 11 | 0 |
| Cameron Green | 5 | 11 | 0 |
Australia – 2nd innings
| | | | |
| --- | --- | --- | --- |
| Batsman | Mode of Dismissal | Runs | Balls |
| David Warner | lbw b Ashwin | 13 | 29 |
| Will Pucovski | c (sub) Saha b Siraj | 10 | 16 |
| Marnus Labuschagne | c (sub) Saha b Saini | 73 | 118 |
| Steve Smith | lbw b Ashwin | 29 | 63 |
| Matthew Wade | c (sub) Saha b Saini | 4 | 11 |
| Cameron Green | c (sub) Saha b Bumrah | 84 | 132 |
| Tim Paine | not out | 39 | 52 |
Total – 312/6 decl in 87 overs
| | | | |
| --- | --- | --- | --- |
| Bowler | Overs | Runs | Wickets |
| Japsrit Bumrah | 21 | 68 | 1 |
| Mohammed Siraj | 25 | 90 | 1 |
| Navdeep Saini | 16 | 54 | 2 |
| Ravichandran Ashwin | 25 | 95 | 2 |
India – 2nd innings
| | | | |
| --- | --- | --- | --- |
| Batsman | Mode of Dismissal | Runs | Balls |
| Rohit Sharma | c Starc b Cummins | 52 | 98 |
| Shubman Gill | c Paine b Hazlewood | 31 | 64 |
| Cheteshwar Pujara | not out | 9 | 29 |
| Ajinkya Rahane | not out | 4 | 14 |
Total – 98/2 in 34 overs
| | | | |
| --- | --- | --- | --- |
| Bowler | Overs | Runs | Wickets |
| Mitchell Starc | 6 | 27 | 0 |
| Josh Hazlewood | 8 | 11 | 1 |
| Pat Cummins | 9 | 25 | 1 |
| Nathan Lyon | 9 | 22 | 0 |
| Cameron Green | 2 | 12 | 0 |
Also Read: India vs Australia: 'India won't make 200 in the second innings' – Ricky Ponting predicts the outcome of Sydney Test