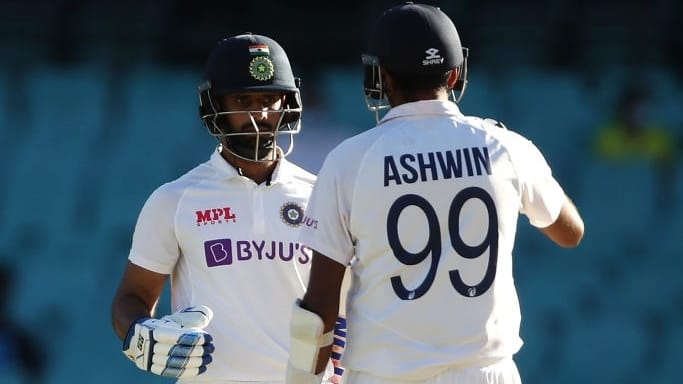 India kept Australia at bay with a dogged effort on Day 5 of the third Test at the Sydney Cricket Ground to secure a draw from a precarious position. The heroes of the initial part of the day were Rishabh Pant and Cheteshwar Pujara who put on an excellent partnership to raise hopes of an unlikely win. However, after their dismissals, it looked like India were headed for a loss.
The pair of Hanuma Vihari and Ravichandran Ashwin were the heroes of the latter part of the day as they went on an all-out defense to frustrate the bowlers in a classic case of a 'blockathon'. The duo batted for more than 3 hours and held firm to secure a draw that meant the series stayed level at 1-1 heading into the final Test.
'Wanted to bat like Faf du Plessis in Adelaide' – Ashwin
Ravichandran Ashwin and Hanuma Vihari spoke to BCCI about their effort on Day 5. The former talked about the mindset they were in and how he wanted to replicate South African batsman Faf du Plessis's similar 'blockathon' in Adelaide in 2012. "Can't really explain how I am feeling. It was really special. We went numb and blank for a while. We were so channelized in keeping on dropping and dead batting everything. From last night, when I went to bed with a sore back, I thought to myself if I can keep deadbatting everything like Faf du Plessis in Adelaide, I can give myself a good chance," Ashwin said.
Vihari spoke about the importance of their partnership and said, "Batting that session was a real experience for me. It was something I could only have dreamed of. Batting on Day 5 of a Test match with the series is at 1-1. If you can do it for the team, it really gives me the satisfaction and I think it will take some time to sink in how big of an effort that was. I think we would have had a chance for a win if I was not injured and Puji stayed for some more time but nonetheless it's a massive result."
The duo were also seen actively communicating with each other on field and Vihari spoke about the same saying, "I was really happy like a elder brother Ashwin was communicating. He was telling me to focus on 1 ball at a time. It is really special."
The fourth Test is scheduled to begin on January 15 in Brisbane.
Also Read: India vs Australia: Virender Sehwag and Wasim Jaffer hilariously troll Ricky Ponting for his wrong prediction