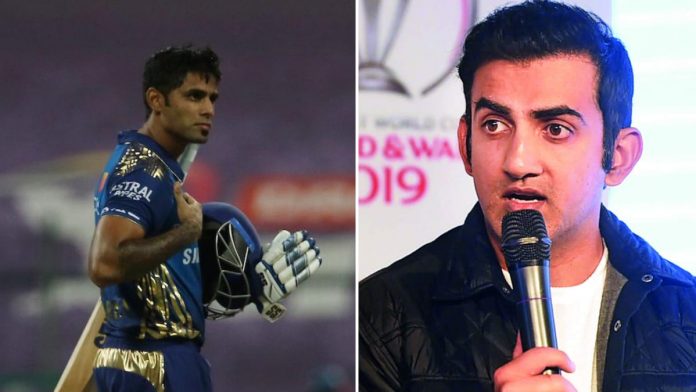 After a scintillating performance in the Test series, India got off on the wrong foot in the T20I leg of the tour. England outplayed the hosts comprehensively in the series opener to draw first blood in the series. Much like the first Test, the visitors dominated India in all aspects of the game as they sealed the first T20I by 9 wickets.
And the credit for the huge loss goes to the hosts' mediocre batting performance. Batting first, India were able to amass only 124 with their top four scoring just 26 off those. Former India opener Gautam Gambhir has come up with some suggestions for Virat Kohli ahead of the second T20I. Gambhir feels that Suryakumar Yadav should make his debut replacing Shikhar Dhawan while Kohli should open the innings.
"I would still wanna have a look at Suryakumar Yadav," Gambhir said on ESPN Cricinfo. "I  would like to see Virat Kohli open the batting. It's going to be unfair on Shikhar Dhawan, after just one opportunity, and I think they would still go ahead with the same batting line-up, but I would still like to see Suryakumar Yadav instead of Dhawan and see Virat open the batting (Surya at No.3)."
"India too one-dimensional on fast bowling front," Gautam Gambhir
India took on England in the series opener with a bowling attack featuring only two pacers. Gambhir feels that the selection made the hosts' bowling attack very "too one-dimensional". The cricketer-turned-politician batted for Navdeep Saini's inclusion in the side at Washington Sundar's expense. Gambhir opines that Saini's express pace will bring some variety into the pace bowling unit.
"India were thin on the fast bowling front. Just too one-dimensional. I know both Axar and Sundar have done well, but India are batting too deep. You don't need Washington batting at No.8. You probably would rather have someone like a Navdeep Saini. I know the English bowlers might cherish India playing a fast bowler, but then again, you've got to have pace in your bowling line-up."
"India at the moment look very one-dimensional. They were spin heavy… You've got Bhuvneshwar Kumar who bowls around 130, Shardul Thakur does not bowl express pace. So I would rather have someone like a Navdeep Saini – purely from a pace point of view – instead of Washington Sundar," Gambhir adds.
India and England will be locking horns in the second T20I tomorrow, Sunday in Ahemadabad. The five-game series is crucial for both sides with the T20 World Cup around the corner.
Also Read | IPL 2021: "He takes his cricket very seriously" – N Srinivasan lauds 'determined' MS Dhoni and 'loyal' CSK side