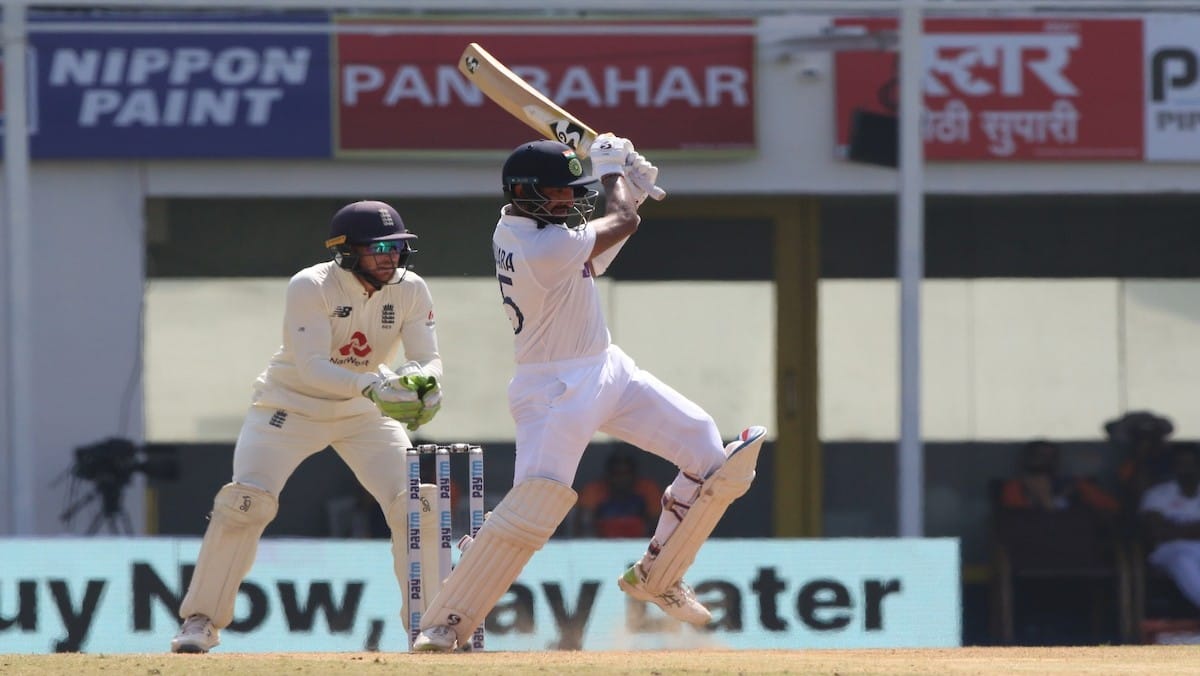 Cheteshwar Pujara and Rishabh Pant were involved in another one of their 'fire and ice' partnerships to rescue India from a very precarious position on Day 3 of the first Test against England in Chennai. Joining hands at 73-4, the two notched up half-centuries and got to a hundred partnership. Pant kept going after the bowlers and hitting them around the park while Pujara was his usual, patient self.
The partnership was broken in the unluckiest of fashions for India as Pujara's perfectly timed-pull ricocheted off the helmet of the silly-leg fielder before looping to Rory Burns. Pant then perished while attempting to take on Dom Bess as he holed out to Jack Leach. Washington Sundar and Ravichandran Ashwin then saw the day out with a patient partnership that lasted for over 17 overs.
Cheteshwar Pujara speaks about batting with Rishabh Pant
Cheteshwar Pujara addressed a virtual press conference after the end of the day's play and spoke about batting with Rishabh Pant saying, "The way Rishabh bats, especially against spinners, I think he likes to take them on and that's the way he will go about it. It's been a crucial partnership for us and I hope it continues, I love batting with him. And if I can be of any help and I can just speak to him – what are the shots he can play and what to avoid at times. I'm really happy overall with the way he's playing. He still has to learn a few more things – he still has to put the team in a commanding position because he is capable of that and he's missing out on hundreds. I'm sure that he will learn from this. It's good that he's in form."
He then spoke about the task at hand for India."The first session tomorrow is the most crucial one, we would like to bat as long as possible on this pitch. There is a little bit of spin now but overall it is still a good pitch to bat on. We would back our tailenders to bat well in these conditions because there is still a lot to play for and we just want to get as close to the total as possible," Pujara added.
"It is still a good pitch to bat on. The first two days it was really really flat and our bowlers did a fantastic job. But it was a pitch where there wasn't much assistance in the first two days and we were expecting a little bit more out of the pitch. Batting wise, we still could have batted a bit better," he added.
India will resume tomorrow on 257/6 tomorrow with Sundar and Ashwin at the crease.
Also Read: India vs England 2021: Dom Bess opens up on Kohli's dismissal, says, 'Was trying to build pressure for a long time, it just happened'